Single Parent Student Loan Programs
Financial Assistance for Non-Traditional Students
Single parents represent a substantial subset of the college student body, so this non-traditional student group is starting to get more attention from scholarship underwriters. If you are juggling kids, a career and college courses, you may be eligible for some financial aid that is reserved for working adults and parents. Until recently, non-traditional college students have been forced to fend for themselves in a college assistance arena that favors recent high-school graduates. But modern social trends are creating a greater need for educational support among college students who are returning to higher education after an absence.
Economic shifts and the globalization of the workforce have contributed to a re-tooling trend among older students who are engaging in post-secondary education. Adults who are retraining to launch second careers are increasingly recognized by scholarships, grants and loans for single parents returning to college. Opportunities for single parents originate from advocacy groups, philanthropic organizations and state and federal programs.
Aid exists at all educational levels, especially since more and more post secondary programs are now geared toward adult learners. Working adults and parents enjoy financial aid for tuition and expenses at institutions like:
Traditional Colleges and Universities
Community Colleges
Career Centers
Online Universities
Technical Schools
Institutions that offer combinations of traditional instruction and distance learning programs
Making Student Loans Work for You
The student loan market is no longer an exclusive realm for recently-graduated high schoolers hoping to become undergraduate college students. Non-traditional students have access to many of the same large-scale student assistance programs that other undergraduates rely on, as well as a stable of resources that specifically target returning students and single parents. Working adults and non-traditional college enrollees are best-served by multi-pronged approaches to landing student aid.
Federal Programs offer the deepest pockets for student borrowers, so due diligence is required pursuing traditional college financing from Uncle Sam. For additional funding, students turn to state-based loans and private loans that are traditionally associated with college-aged 18-24 year olds. Unless a particular student aid program has precise age parameters, adult students and single parents are invited to apply. Use all the resources at your disposal to fund your education, here's how:
Federal Student Loans for Adult Learners
Federal student loans are widely tapped resources for college students of all ages. They are affordable, accessible and provide low-interest financing without credit-checks. Students enrolled in college at least half-time are eligible for federal loans, either through the Direct Federal Loan Program or the Federal Family Education Loan Program (FFELP). Federal Direct Loans, subsidized and unsubsidized, are by far the most popular guaranteed loans for university students.
Requesting federal financial aid starts with submitting a standardized form called the Free Application for Federal Student Assistance (FAFSA). The application gathers data about your personal financial picture relating to college, and your and your family's ability to meet expenses. Your school then uses information drawn from your FAFSA to determine what your on-campus funding needs are. Blending your Expected Family Contribution (EFC) with available student assistance programs, college financial aid offices craft individual packages of aid that address your particular college financing needs.
FAFSA requires students to file as dependent or independent applicants. The good news for returning students and single parents is that independent status generally prevails, allowing them to qualify for higher levels of assistance than students whose parental income is included on the application. And if you are worried about your credit history, Federal Direct Loans provide one of the friendliest no credit check borrowing options around.
Private Student Loans Suit Many Non-Traditional Students
Federal loans don't always cover expenses for single parents, so private lending alternatives should be explored. Unfortunately, some applicants are excluded from the get-go based on credit requirements. Private lenders subject student borrowers to the same formal credit checks faced by other adults borrowing money, so without solid credit, you'll need to enlist the help of a student loan cosigner.
Private student loans are a double-edged proposition. On one hand, they provide valuable resources that bridge the affordability gap that's left when other aid doesn't get the job done – but they do come with limitations. When student loans are used without discretion, student loan debt accumulates at a rate that exceeds some students' ability to keep pace with repayment. And some private loans feature high interest rates and rigid repayment terms.
Proper college budgeting and making prudent borrowing decisions are fundamental to meeting expenses without creating unmanageable student loan burdens for college graduates.
Solution for Poor Credit
Lenders require credit histories that exhibit long-term credit management success. If you don't have enough entries on your credit record, it can impact your ability to borrow – just as if your credit were poor. Even returning students and single parents find themselves without adequate borrowing power. Absent, or even poor credit doesn't completely exclude you from the private student loan market, but the loans will likely be secured with the help of creditworthy co-signers.
By adding another income and credit history to your application, your ability to repay is guaranteed by another individual. Once you have made a certain number of on-time payments, your co-signer may be removed from responsibility for the loan. Until such time though, his or her neck is on the line for you, so the arrangement should not be entered into lightly by either party.
Popular Private Student Loans
If your post-secondary education financial aid strategy includes private student loans, consider these examples of popular loan products for single parents, professionals and adults studying online.
Sallie Mae, one of the most recognized names in lending, offers loans products that suit lifestyle needs of single parent students:
Career Training Loans offer flexibility to put low-interest college assistance toward technical or online degree programs that lead to greater employability. If your credit is not so good, the lender may request participation from a co-borrower willing to sign with you. Qualified applicants may borrow up to the balance of program costs, including fees and related expenses.
Smart Option Loans are the bread and butter of the Sallie Mae student lending portfolio. In practice, the loans are similar to federal PLUS loans - even carrying similar interest rates. Flexible repayment plans, including interest-only repayment, fixed-amount and deferred options make them attractive alternatives to government sponsored loans.
Chase Select Private Education Loans are similar to Sallie Mae products, with multiple borrowing options that are tweaked to provide custom individual college financing packages. In most cases, single parents with excellent credit or worthy cosigners are eligible to borrow as much as $40,000 for college.
Alternative Forms of Financial Aid for Non-Traditional Students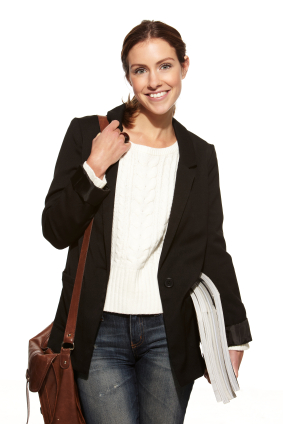 Non-traditional students are seasoned life-players, having filled more professional employment roles than most of their college peers. As a result, many embrace the significant values found in tuition repayment programs and loan forgiveness initiatives that support certain professions.
When your studies are focused in high need fields like nursing and teaching, financial aid opportunities open up that don't exist within other professions. Depending upon your academic major and career aspirations, you may be eligible for programs that offer a practical college financing option: exchange your professional service for loan repayment.
The Federal TEACH Program, for instance, gives student grants in exchange for service commitment. Would-be teachers agree to provide service at high-need schools, usually serving low-income families, to qualify for education grants. Graduates who successfully satisfy their end of the deal are released from further obligation. For education and teaching majors, programs like these equate to free higher education, so they should be aggressively pursued – under the right circumstances. Grants that are not validated by service are immediately converted to student loans that require repayment – including interest.
As an established employee and single parent, your valuable years of service on-the-job provide opportunities for workplace education financing. Many employers invest in the future workforce by supporting education. Tuition loans and reimbursement programs originate from employers committed to your future, so consult your human resources department to see if your company offers an earn-as-you-go college education.
Paying Back Student Loans
For working adults, single parents and professionals with limited financial means, repaying student loans creates financial strain that can lead to problems if managed improperly. Always tackle financial aid issues head-on, to avoid late payments and defaults.
Consolidate Your Loans
If you struggle with loan payments, there is a federally-backed program in place to get you back on track. College students and graduates with more than one federal loan are eligible for consolidation plans that provide affordable payment alternatives. Federal Direct Consolidation Loans allow students to extend loan repayment periods, in order to establish lower monthly payment structures. The plans enable college students and recent graduates to stay on pace with important credit-building student loan payments, rather than allowing them to default. Private lenders also offer their own brands of consolidation.
Consolidation carries a price tag that doesn't make sense for all students. By extending the term of repayment, you are committing to costlier interest contributions over the course of the loan. Taking practical steps to head off student loan default; however, is sometimes the only prudent course to take. Once consolidated, your loans are repaid by submitting a single monthly payment.
Depending on the terms of your original loans, significant savings can be realized on your consolidation interest rate, but it goes the other way too: Make sure that consolidating won't impact important benefits that came with your original loans.
Loan Repayment Terms
Under normal circumstances your loan is subject to user-friendly conditions designed with repayment cushions for graduates entering the workforce. Deferments and grace periods are built-in, so students have a window in which to secure employment before repayment begins.
Direct Loans, formerly known as Stafford Loans, come with six-month grace periods following graduation. If your Direct Loan is subsidized, the Federal Government pays the interest during the grace period, after which your regular repayment schedule commences. Not the case with Federal Direct Unsubsidized Loans: Instead, you begin paying the interest as soon as the loan is funded.
Background Information
Loan Type
Federal Loan Programs
Consolidation
Degree Type
Course of Study
Credit Rating
School Type
Lenders
More Educational Resources