Pay for Medical School with Loans for Graduate Students
Federal, Private, and Repayment Programs
Medical school is usually the most expensive form of professional training you can find, and very few families can afford to pay all costs for a medical degree without some form of financial aid. The following information is a brief introduction to loans for medical students.
Federal Loans For Medical School
What was once the Federal Family Education Loan program has moved to the Direct Loan program, and that is now the primary source for federal student loans. You should always take the maximum in federal student loans, because of their relative cheapness and the likelihood of receiving more flexible terms.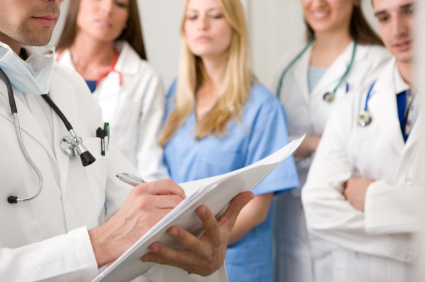 Direct Unsubsidized Loans
Unlike Direct Subsidized Loans, which are cheaper, the Direct Unsubsidized Loans are available for graduate students, and there is no requirement that you demonstrate financial need. Your school will consider how much it will cost you to attend medical school, including the offset from your other financial aid, and calculate how much you need to borrow.
Direct Unsubsidized Loans require that you pay interest throughout the lifetime of the loan, whether or not you are also required to pay on the principal. If you do decide to defer your interest payments while you are in school or during your grace period, that interest will continue to collect and will be added to your loan principal, which means you will have more debt to pay off.
Another factor that affects the amount of your loan is the federal cap on your annual and total borrowing. In general, Direct Loans are limited to $20,500 per year in graduate school and $138,500 in federal loans overall (no more than $65,500 of that amount can be in the form of subsidized loans). However, there are expanded limits for students training in certain health professions: your overall debt cap is $224,000 in those cases.
Student loan interest rates are subject to change via legislation at any time, but as of 2012 the interest rate for Direct Unsubsidized Loans made to graduate students from July 1, 2012 to June 30, 2013 is 6.8%, and that for Direct PLUS Loans is 7.9%. Both rates are fixed.
Direct PLUS Loans
Another difference between Direct Unsubsidized and Direct PLUS Loans is their origination fees. Unsubsidized loans charge 1% and PLUS loans, 4%. The third important difference is found in the lending criteria.
Although unsubsidized loans are not credit-based, the PLUS loans are not made to borrowers with negative history. That changes if you can find what the federal government calls an endorser and most banks call a "cosigner" to assume the loan debt together with you.
The amount of your PLUS loan is also determined by your school, as above, and it enters repayment status once the loan proceeds have been paid out in full. All graduate students will receive a temporary deferment if they remain enrolled at least half-time and for an extra six months thereafter. During deferment, your loan continues to draw interest although you are not required to make payments, and that unpaid interest is added to your loan balance.
Health Professions Student Loans
The Health Resources and Services Administration (HRSA) of the U.S. Department of Health and Human Services provides funding for Health Professions Student Loans (HPL), which are administered through individual schools. You can find details on how they work through your school's financial aid office, and the information will look something like this page posted by the University of Michigan (UMich).
If you can show financial need and you are pursuing a degree in dentistry, optometry, pharmacy, podiatric medicine, or veterinary medicine full-time, you may be eligible for an HPL loan. You must also be a citizen, a national, or a legal permanent resident to qualify.
Different schools administer the HPL program in slightly different ways. For example, UMich specifies half-time enrollment is acceptable, but restricts the loans to students in the pharmacy and dentistry programs. UMich also distributes other HPL loans made under the Loans for Disadvantaged Students, which are reserved for needy students from disadvantaged backgrounds.
Primary Care Loans
The Primary Care Loans (PCL) program, also sponsored by HRSA, sends funding directly to medical schools, which then lend it to their students. It is a revolving loan fund, meaning new funds become available as old funds are repaid. As with HPL loans, each medical school sets its own terms for administration, but in general you may not borrow more than your educational costs. You must be studying allopathic or osteopathic medicine and able to prove financial need.
Note: the calculation of financial need must include your parents' information. For all federal loans, you must fill out the Free Application for Federal Student Aid (FAFSA).
Other Funding for Medical School
As always, you may opt for a private loan, but do remember that private lenders will want to make a profit on lending to you. You will not receive the same consideration for your student status in the private market, so be very careful about choosing a loan. The amount of debt you will need to assume for a medical education makes this caveat of particular importance.
In recent years, loan repayment programs for medical students have gained popularity. Loan repayment usually means that in exchange for a year of service at a designated care center, a fixed dollar amount of your loan is paid off on your behalf. That means if you attend an expensive school, you may need to give more than a year of service in order to pay off a year's tuition, so bear that in mind when selecting a school.
For example, the HRSA's National Health Service Corps currently lists three separate loan repayment options for primary care providers and fourth-year medical students in allopathic or osteopathic training plus a set of plans for primary care providers that can be obtained through individual states.
Background Information
Loan Type
Federal Loan Programs
Consolidation
Degree Type
Course of Study
Credit Rating
School Type
Lenders
More Educational Resources