Student Loan Options for Teachers
Benefits Abound for Repayment
The United States continues to experience a critical shortage of qualified teachers, and that puts students who are pursuing careers in education at a distinct advantage when it comes to financial assistance. Not only are there a wide variety of grants and scholarships dedicated to the next generation of teaching professionals, there is a surplus of college loan opportunities specifically designed to benefit students studying hard to become teachers. Moreover, there are a number of loan forgiveness and loan cancellation programs that will repay a teacher's student loans in exchange for a period of service teaching in a critical need school district or area of expertise.
College loans for students pursuing degrees in education and careers in teaching are offered by Federal and state governments, as well as by private lending institutions. Loan forgiveness programs for teachers are mostly sponsored by Federal and state governments, though some are supported by professional associations interested in increasing the availability of qualified teachers in certain high demand disciplines.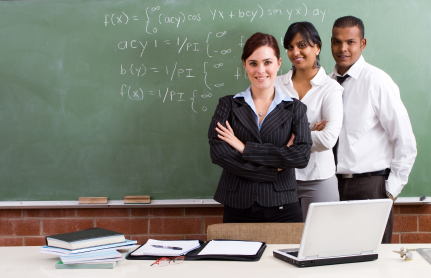 Federal Loans for Students in Teaching Programs
Federal student loans are the most popular, and most affordable, college loans in the United States. They provide financial assistance for thousands of students every year, and should be every college-bound student's first choice when it comes to securing a loan to finance their education. Students pursuing careers in teaching and education will find that Federal loans offer lower fixed interest rates and more attractive repayment options than private lender loans.
The following student loans are offered by the Federal government and the U.S. Department of Education:
Federal Student Loan Forgiveness for Teachers
Students who have received either a Federal Direct Subsidized Loan or a Federal Direct Subsidized Loan may be eligible for the Federal government's Teacher Loan Forgiveness Program. This program offers students up to $17,500 in loan forgiveness in exchange for service teaching in high demand fields or school districts serving low-income communities. To participate in the Federal Loan Forgiveness Program teachers must agree to teach full time for five consecutive years at a designated elementary or secondary school. Students who have received a Direct PLUS Loan are not eligible to take part in the Federal Student Loan Forgiveness Program for Teachers.
State-Based Student Loans for Teachers
State governments do not, as a rule, directly offer student loans. However, the Department of Education in many states does work closely with private lenders to establish affordable loan programs for resident students. A list of "preferred lenders" can be found by visiting the dedicated websites for your state's Department of Education or Commission on Higher Education. For links to your state's higher education authorities see our section on State-Based Financial Aid.
State Based Teacher Loan Forgiveness
Many states across the country are experiencing a shortage of qualified teachers. While these states can not offer direct loans for students, they often offer substantial loan forgiveness programs for students who agree to teach in a designated critical need facility or school district following graduation. The criteria for these programs will vary from state to state, but all will require that participants fully complete a service obligation in order to receive any loan forgiveness or loan cancellation. Interested student teachers should visit their state's Commission on Higher Education or Department of Education for details on loan forgiveness programs for which they may be eligible.
The following examples should illustrate the types of loan forgiveness programs for teachers that are available at the state level.
The Texas Education Agency offers Student Loan Forgiveness for Teachers to educators who agree to work in designated low-income school districts, or who specialize in critical need areas such as bilingual education, mathematics, science or special education. Teachers may receive partial loan forgiveness in exchange for completing a service contract with the state.
The California Student Aid Commission offers the Assumption Program of Loans for Education. This program offers teachers between $11,000 to $19,000 in loan forgiveness in exchange for a term of service teaching in subject areas that are experiencing a critical shortage of qualified instructors. Critical need subjects include mathematics, science, special education and foreign languages.
The Iowa College Student Aid Commission offers the Iowa Teacher Loan Forgiveness Program for educators who agree to a term of service teaching a critical need subject as designated by the state. Candidates for the program may have up to 20% of their outstanding student loans repaid by the state in exchange for fully discharging a service contract.
These are typical of the types of loan forgiveness programs for teachers that are offered by states around the country. Students should contact their state's Department of Higher Education or Commission on Student Financial Aid for details on programs for which they may be eligible.
Private Bank Loans for Student Teachers
Even with scholarships, grants and Federal loans, many students will still fall short of meeting the costs of their college education. Private student loans, sometimes called alternative student loans, are often the answer. Private loans play a key role in helping students cover any unmet need in their college fund. That being said, private lender loans should be the last stop on the search for college funding. Private student loans typically have higher interest rates and more stringent repayment terms than their Federal counterparts, and should only be considered when all other sources of college funding have been exhausted.
Private lender loans are typically harder to secure than Federal loans, and eligibility is determined solely on the basis of credit history and projected income. Students with little or no credit history may need to engage a co-signer in order to secure a private lender loan to help pay for their college education.
Popular sources for private student loans include:
Students pursuing careers in teaching are likely to find that they will need to consider a private lender loan at some point in there college career. As ever, students are advised to enter into any student loan agreement with caution. Be sure that you understand every aspect of the loan agreement, and that you understand your rights and responsibilities as a borrower.
Students who are pursuing a degree and career in education are encouraged to see our section on Private Student Loans for more information on private lenders and the advantages and possible pitfalls of a private loan for college.
Background Information
Loan Type
Federal Loan Programs
Consolidation
Degree Type
Course of Study
Credit Rating
School Type
Lenders
More Educational Resources