Student Specific Grants
Grant Funds Available for All Types of Students
As access to higher education continues to increase, the student body at United States colleges and universities grows more and more diverse. As a result, the financial aid landscape is dotted with opportunities that target certain student groups. Cash-strapped college students seeking financial aid use individual traits to refine their searches for relevant programs. What and where you study, for instance, each open doors to specific student assistance. Your degree-level also dictates eligibility for student aid that targets undergrads, graduate students and doctoral candidates.
America's ethnic melting pot simmers with unique cultural input, allowing college students to use their heritage to qualify for financial aid. Other unique features like gender and what school you attend constitute opportunities for student assistance. Students emerging from non-traditional situations to participate in higher education programs also benefit from grants that promote educational mobility.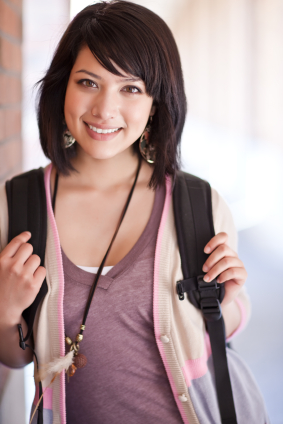 Returning students and military veterans capture funding that supports college education. And disabled individuals also earn grants for tuition and related school expenses. Even private high school students qualify for financial aid that pays their secondary school tuition.
Prudent financial aid strategies exploit every possible individual advantage for landing assistance, including race, state of residence, academic major, marital status and other personal traits. A top-down approach accounts for large-scale federal programs first, like Pell Grants and Direct Loans. Where college funding gaps remain, student-specific aid provides valuable supplemental assistance.
Grants for Students Exist at Every Degree Level
Tuition taxes student budgets at every level of education, so grants and scholarships are reserved for undergraduate students, as well as PhD candidates. Your particular academic pursuits influence your financial aid picture, so campus financial aid offices are best-equipped to furnish up-to-date information about grants for your program.
Grants for High School and Undergraduate Students
High school students and undergraduates seeking grant money tap a mother lode of State and Federal Government resources, as well as student specific initiatives presented by universities and private organizations. Grants are generally issued to the neediest applicants, so your financial eligibility is supported by a standardized application for financial aid. The Free Application for Federal Student Aid (FAFSA) is a required document on most campuses, so file it according to school deadlines.
Your FAFSA gathers data used by administrators to gauge your precise level of college need. Income, what school you attend, how many siblings you have in college, and a host of other factors influence your financial outlook. FAFSA information is distilled to determine your Expected Family Contribution (EFC), the number used by campus officials to assemble your aid package. Students with low EFC qualify for Federal Pell Grants, while those with the greatest levels of financial hardship are also offered supplemental grants through the Department of Education's Federal Supplemental Education Opportunity Grants (FSEOG) program.
Grants for Grads and Doctoral Students
Graduate students receive funding from research-heavy universities, government programs, and private corporations dedicated to innovative research. Intensive graduate studies prevent other gainful employment, so qualified researchers rely on stipends and fellowships to cover living expenses. Advanced education grants are competitive, but provide rich resources for doctoral candidates and cash-strapped graduate students.
Grants for Students Issued By States
State grants provide supplemental resources when Pell and other programs leave students under-funded. Programs carry state-specific eligibility requirements, but many state grant portfolios include these types of grants:
General need-based state grants mirror Pell in function – to provide increased access to higher education for economically disadvantaged high school students. General education grants provide tuition assistance for students enrolled in four-year degree programs.
Grants for students enrolled in community colleges and state vocational schools. For example, California's Cal Grant program, which benefits a majority of in-state college students. New York's Tuition Assistance Program is another prolific state education grant program for applicants attending state-funded institutions.
Special incentive grants for high need fields of study include grants for nursing students and tuition-for-service arrangements designed to recruit qualified student teachers.
Non-Traditional Student Grants
Traditional higher education keeps students rolling along immediately following high school, into college degree programs and vocational study tracks. The paradigm still dominates enrollment trends, but more and more students are forging alternative paths to educational fulfillment. Adults beyond the typical age of most college students are returning to school in larger numbers. Mothers and single parents are finishing degrees and earning credentials that were put on hold for family life.
Big business, State and Federal Governments, colleges and universities, and other grant funding agencies are all paying attention. Grants and other aid for alternative students is available on most campuses. Financial assistance for non-traditional students allows adults to earn degrees while managing family and job responsibilities.
The growing presence of online education opportunities has spawned additional grant resources for adult learners. Many distance-learning institutions have expanded financial aid programs that appeal to unconventional students – like scholarships and grant programs that apply specifically to financially needy adult learners.
Grants for Disadvantaged Students
Grant programs, like Federal Pell Grants, are inherently designed for students with financial need paying for college. Not all Pell participants receive the same amount of funding, because needs vary. For those individuals with the greatest financial disadvantage, like at-risk students and students from low-income households, programs like FSEOG increase access to higher education.
Students challenged with physical and intellectual disabilities also receive grant money that provides the financial leverage they require to attend college. Resources include advocacy groups, philanthropic associations, state and local governments, institutions of higher learning, as well as corporate benefactors dedicated to equal opportunity.
Grants for Minorities and Women
Ethnic minorities qualify for financial support because grant funding organizations are dedicated to providing equal opportunity, and increasing access to higher education. Financial aid awards for women and minorities are issued according to individual eligibility requirements; which can be merit-based, or strictly tied to financial need.
Students of African American, Native American, Asian or Hispanic lineage earn grant funding that lifts targeted groups into degree programs. Some aid is aimed at general diversity, benefiting a number of ethnicities, while other programs reserve funds for applicants of particular ancestry.
Women earn gender-based grants that are often tied to other qualifications like specific professions and schools. Advocacy organizations fund college tuition grants for women from abusive backgrounds, as well as single women with children, and women pursuing degrees in traditionally male-dominated fields..
International Students and Study Abroad Grants
Annual grant programs make it possible for international students to attend college in the U.S. Domestic colleges and universities welcome scholars funded by prestigious programs like Fulbright and other competitive grant agencies. Initiatives like Fulbright designate funds for U.S. students studying abroad, as well as awards for international scholars studying in the U.S.
Student Type
Browse Grants
Academic
Government
More Educational Resources