Private Elementary School Loans
Find Out What Financial Tools Exist for K-12 Education
Private elementary schools remain popular choices for parents seeking high-quality and consistent education for their children. About 10 percent of all K-12 students attend private schools – a trend that is increasing in some parts of the country, and losing ground in other areas. College comes with expected tuition concerns, but for parents who select private primary education, university-scaled educational expenses begin in elementary school.
Private elementary schools carry annual tuition obligations in the tens-of-thousands of dollars. For example, Hamden Hall Country Day School in New Haven, Connecticut costs between $15,000 and $20,000 annually for grades K-6. and grades 7-12 cost even more than that.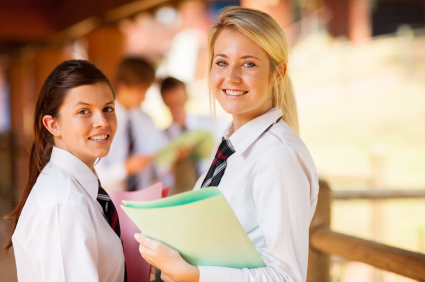 Loans help parents meet the costs associated with private K-12 education, and demographics illustrate that it is not just the upper-crust who utilize private schools. Middle class families use primary school loans to cover private education debt, based on income and the actual cost of attending.
Private Education Options
Types of private institutions that create the need for education loans and other financial aid, at the primary and secondary levels:
College Prep School
Montessori and Waldorf Schools
Catholic or Parochial School
Military School
Special Needs School
How are parents paying for their kids' private school and saving for college?
Parents spend savings, take out second mortgages, and apply for private loans from lenders who offer financial products for primary education.
Financial Aid from Private Schools
Lar5ge-scale education assistance programs, like Pell Grant and Direct Loans, are not intended for K-12 education, so alternative resources are sought by private students. Individual schools offer campus-specific primary and secondary financial aid for qualified enrollees. Loans, and sometimes educational grants, aim to accommodate certain student groups.
By offering financial assistance to targeted segments of the student body, private schools diversify the student population in ways that s and make quality education more accessible and affordable to lower and middle income applicants.
Tuition payment plans are common financial management tools for parents of privately educated grade-schoolers. Individual schools typically partner with financial institutions, which help private grade school financial aid administrators manage payment plans for qualified candidates.
Many schools are affiliated with the National Association of Independent Schools (NAIS), a clearinghouse for private school information and financial aid resources. The Parent's Financial Statement (PFS) is a common financial aid evaluation tool that your school may require you to complete.
Private Student Loans for K-12 Education
Private loans bridge the affordability gap for private primary school students of limited means. Schools are allied with lenders like Sallie Mae, to facilitate tuition payment plans and other financing solutions for private school families. Interest free payment plans allow tuition to be paid in installments – instead of making full-tuition payments before each term.
Recent financial aid initiatives for private school students include these K-12 financing opportunities:
Schools like Oak Hill Academy, which is an is an equestrian-oriented institution for high school students, work with Your Tuition Solution to bring loans within reach for families with limited cash flow. The school also provides need-based grants for qualified candidates, when appropriate, but funding limitations prevent every student from receiving aid.
Attending ultra-exclusive institutions, like Massachusetts' Deerfield Academy, exceeds $75,000 in annual educational expenses for each student enrolled. As a result, the school offers financial aid for needy applicants. Full-Need Grants, and Middle-Income Grants are used to diversify enrollment and lift talented students into private education.
Children's Scholarship Fund provides educational financing for students who seek alternatives to public education. The assistance offered by the organization brings diversity to private education, and creates opportunities for high-quality education among groups traditionally under-represented in private education.
Primary Students Earn Education Dollars
It is never too early to start securing merit-based financial aid, so motivated primary school applicants compete for awards like these:
Gloria Barron Prize for Young Heroes benefits students aged 8-18, with educational funding worth $2500 to each winner. Awards are dispensed to applicants exhibiting courage and high moral standards, and to those organizing extraordinary community projects that help others. Successful applicants are nominated by faculty members familiar with each student's accomplishments.
Ayn Rand Essay Contests benefit talented students, who earn education assistance by writing about a variety of topics inspired by the famous author's works. As many as 600 prizes are distributed annually, to winners of Rand essay competitions.
Background Information
Loan Type
Federal Loan Programs
Consolidation
Degree Type
Course of Study
Credit Rating
School Type
Lenders
More Educational Resources