Distance Education Loans
Taking College Classes Online? Find the Loans that Work
Distance education, or distance learning, is the evolutionary product of the correspondence course, in which classes were offered by mail and communication between student and teacher relied on the postal service. Remote instruction proved to be such a successful method of disseminating knowledge that classes were next offered through radio and television when those media became available.
Finally, widespread access to the internet gave distance education yet another pathway, and one so convenient it has taken over the market. The "open universities" previously developed around the world moved online, and traditional universities followed suit, offering distance courses and degrees comparable to those obtained in a classroom setting.
Students pursue distance education because an online curriculum can adapt to individual schedules, and that flexibility is especially helpful for those currently in careers who want to earn an additional degree online. You should always investigate institutions offering distance education very carefully, because it's much easier to pretend to educational credentials when a student can't visit a campus and talk to administrative representatives in person to form an opinion. The Department of Education recognizes accreditation offered by an organization called DETC (Distance Education and Training Council), so you can consider DETC's roster a reliable guideline to distance learning providers.
The entry of traditional universities into the distance education market has the benefit of offering coursework of high quality, but those courses are priced accordingly. That means most students will need loans in order to afford an online degree. The Department of Education has a very helpful page with a great deal of information on college costs and financial aid, including loans for distance education.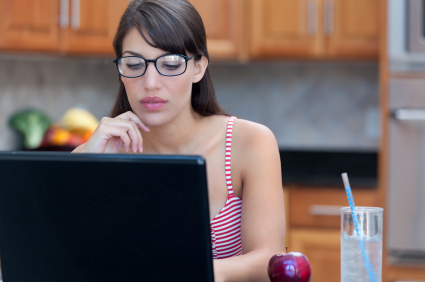 Federal Loans and Online Degrees
When online education came into being, the government did not make student loans available for that purpose, because of the unregulated nature of what was offered. Now federal student loans are given to students in some online degree programs, but a school's eligibility is determined on a case-by-case basis. You must check with your school's financial aid office before each year's enrollment to make sure you remain eligible for federal loans.
Note: The ability to receive a federal loan for tuition at any given institution, whether or not it is online only, should not be construed as an endorsement of the quality of the education provided. You should always check institutions through the Better Business Bureau, your state's higher education authority and that of the state in which the business is registered, and the attorneys general for both states to make sure your choice is honest.
When Your Online Degree is Eligible for the Federal Loan Program
You can apply for federal loans to fund your distance education in exactly the same manner as you ordinarily would, by filling out the Free Application for Federal Student Aid (FAFSA), which is also required for most private loans. Complete the form online, print and mail a paper form, or request a paper copy by mail.
Federal Direct Loans
You should seek advice from your school's financial aid office about which type of federal loan best suits your circumstances, but most students enter the Direct Loan program, choosing among four different types of loan:
Direct Subsidized, to undergraduates with some financial need
Direct Unsubsidized, to graduate and professional students as well as undergraduates, no demonstration of financial need required
Direct Plus, to parents of undergraduates as well as graduate and professional students, intended to cover educational expenses not paid by other forms of aid
Direct Consolidation, in which you roll all your existing federal loans into one large loan, with a single monthly payment to one loan servicer.
Federal Perkins Loan Program
If you can demonstrate exceptional financial need, you may receive a Perkins Loan with an especially low interest rate (5% in 2012). Not every school makes these loans, because the school serves as the lender and there is administrative overhead involved in that task. But if you are eligible, the Perkins Loan is an excellent borrowing opportunity.
Repaying Your Federal Student Loans for Distance Education
Most federal student loans need not be repaid as long as you continue to attend school at least half-time. The exception is the PLUS loan, repayment of which begins when the proceeds have been fully disbursed. Some loans do have a short grace period after the time for repayment to begin, and in that period you may elect to withhold payment, but usually interest does continue to accrue.
Again, the PLUS loan has no grace period, but other loans give you six months. You can read more about loan repayment here.
If You Have Trouble Making Payments
The government offers eight different modes of repayment:
Standard
Extended
Graduated
Pay as you earn
Revised pay as you earn
Income contingent
Income-based
Income-sensitive repayment
so you should be able to find at least one method that suits your financial circumstances. Remember, the lender wants to work with you to make repayment possible. Student loan deferment and forbearance options make allowances for short-term setbacks such as job loss, temporary reduction in work hours and income, and other situations in which your ability to pay is temporarily compromised.
For long-term loan management, consolidation loans may make better sense. If you have multiple federal and/or private distance education loans, you could be a candidate for student loan consolidation, meaning you will then have one large federal or private student loan to pay off.
Private Distance Education Loans
You should seek a private student loan for your online education if you've been awarded federal loans that do not cover all your educational expenses, or if you are ineligible for federal loans, which are the cheaper alternative. Any of a wide variety of private loans may work: standard private loans, continuing education loans, and career loans. Ask your lender to recommend the private loans that best meets your needs.
Background Information
Loan Type
Federal Loan Programs
Consolidation
Degree Type
Course of Study
Credit Rating
School Type
Lenders
More Educational Resources