Selecting Federal Loan Programs
Put Government Funding First
The U.S. Department of Education administers an extensive array of financial aid programs designed to elevate access to higher education for high school graduates across the country. Pell Grants provide desirable gift-aid options that do not require repayment, solidifying the program as a go-to resource for most students. Although Pell is a need-based program, it is not exclusively structured for highly disadvantaged applicants – students of moderate means also qualify for Pell funding.
Additional grant programs like FSEOG are maintained for the neediest college families, providing supplemental government aid for applicants with Expected Family Contributions (EFC) at or near zero. Military candidates and those students entering certain fields – like teaching – are eligible for additional financial assistance programs backed by Uncle Sam. TEACH Grants target education majors who are willing to trade post-graduate work commitments for college tuition grants.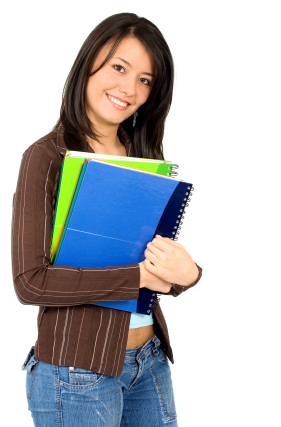 When expenses prevail beyond the scope of free-money grant awards, college students turn to loans for additional assistance. Unlike scholarships and grants, loans are eventually repaid, so prudent borrowing keeps student loan payments low, following graduation. Far and away, the best borrowing options for students of higher education originate from the Federal Government.
Federal Loans Carry Favorable Features:
Federal loans are not tied to formal credit evaluations; making them accessible to almost everyone. Students with good credit, bad credit or no credit at all are invited to borrow from the William D. Ford Federal Direct Loan Program..
Interest rates on federally funded loans are more favorable than private market-driven rates. Government backed loans are commonly issued with interest rates below 4%.
In addition to low interest rates, student loans carry fixed-rates, which are not subject to drastic inflation over the course of a loan's life. Fixed-rates allow for budgeting and consistent repayment.
Federal loans offer several flexible repayment alternatives that facilitate timely payments and affordably structured terms. Income-based plans allow borrowers to make payments according to what is being earned, and students experiencing financial hardship choose from deferment and loan consolidation, to stay on track.
Federal Financial Aid Requires Timely FAFSA Filing
The Free Application for Federal Student Aid (FAFSA) constitutes square-one for student borrowers. The standardized government application gathers family data; especially financial information, to help determine how you'll pay for college. Income, assets and the actual cost of the academic programs you choose are evaluated to identify your Expected Family Contribution (EFC).
Once your level of need is understood, financial aid administrators from government agencies and individual university campuses work to assemble financial assistance packages to meet your college funding needs. Grants and loans are used to cover tuition, room and board, books and other college fees.
It is important to remember that FAFSA applications are also used by states, colleges and universities, and other student aid administrators to gauge financial need. And sometimes filing deadlines are earlier than federal guidelines – so timely FAFSA filing requires students to abide by unique deadlines. Consider these alarming FAFSA stats:
Nearly 8 million students fail to file FAFSA applications annually.
According to most estimates, a generous sampling of those who fail to file would qualify for some sort of federal aid.
Nearly a million of those students might qualify for Pell Grants1
FAFSA applications can be filed online, including a Spanish version, found here.
William D. Ford Federal Direct Loan Program
Student lending has undergone a recent shift. In the past, Stafford Loans were the cornerstones of the federal student lending program. Loan amounts were determined by schools and government administrators, and then students entered into loan agreements with private lenders who supplied the funds. Under the terms of the Health Care and Education Reconciliation Act of 2010, Federal Direct Loans are issued straight from the Department of Education; thus reducing administration costs.
Federal loans are either Subsidized or Unsubsidized; distinguished by who pays the interest during certain periods of repayment.
Subsidized Loans are currently offered with 3.4% interest rates, and qualified borrowers are not responsible for interest payments:
While the borrower is enrolled in school
During a six-month grace period after a borrower leaves school*
During qualified periods of loan repayment deferment
* An important change to Direct Loans repayment terms stipulates that loans issued after July 1st, 2012 do not qualify for government interest payments during the six-month grace period following school. Student borrowers are responsible for interest during the grace period, so unpaid interest is added to the total loan debt.
Unsubsidized Loans originate from the Direct Loan Program with slightly different terms. Interest rates are fixed at 6.8%, and loans are available for undergraduate and graduate-level studies. Borrowers pay interest at all times during repayment and landing unsubsidized loans does not require applicants to demonstrate financial hardship.
PLUS Loans: Flexible, Affordable Aid for Parents and Graduate Students
Graduate school expenses often eclipse those accumulated during undergraduate studies. As a result, the Federal Government provides another borrowing option for graduate students and for parents of undergraduates who want to actively participate in educational borrowing. PLUS Loans provide unsubsidized funding from the Department of Education, at 7.9% interest.
Unlike other government-backed lending options for college students, PLUS loans are secured with formal credit checks. Students and parents with adverse credit histories are excluded from the program, unless loans are guaranteed by cosigners with positive credit histories. In addition, student applicants must adhere to general federal financial aid eligibility requirements.
Perkins Loan: Campus-Based Aid for Needy Students
Perkins Loans are administered by individual campus financial aid departments, to supplement other available student assistance. Financially disadvantaged students who have outstanding higher education expenses; even after scholarships and government grants are applied, qualify for campus-based Perkins Loans.
Qualified Perkins participants attend more than 1700 schools enrolled in the program. In addition to FAFSA filing requirements, Perkins candidates must submit signed promissory notes. Each campus maintains its own revolving Perkins account, so loan resources are limited by available funding. Students counting on Perkins Loans are advised to apply early, so adequate funding is locked-in before annual campus resources run out.
Background Information
Loan Type
Federal Loan Programs
Consolidation
Degree Type
Course of Study
Credit Rating
School Type
Lenders
More Educational Resources