Loans for Overseas Study
What You Need to Know to Get Financial Aid Done
There are numerous websites advertising "study abroad loans" that do not lend money at all, but refer you to various private lenders. Private lenders should always be your last option in financing your college education, because their products are more expensive and their terms less favorable than federal loans.
The two recommended methods of obtaining loans to study abroad are 1) choose a study abroad program through a college or university that lets you use your existing financial aid to pay for that course of study, and 2) study at a foreign college that accepts American federal loan payments. You will need to complete your college enrollment, select a program of foreign study and tally your costs to see what you will need to borrow, fill out your Free Application for Federal Student Aid (FAFSA) well in advance, and then synchronize the timing of your federal or private student loan with the bill presentment for your studies.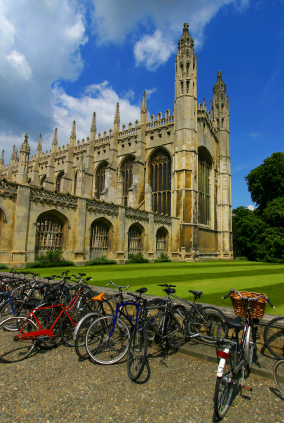 That can be a challenging exercise in logistics, and different schools that let you take your loan money abroad explain how their processes work.
Schools That Let Your Financial Aid Travel With You
One Example: How It Works At Rhode Island College
Rhode Island College (RIC) provides a lucid explanation of how to use your existing financial aid in another country here, and a perfect example of the sort of procedure your school will ask you to follow. RIC permits students to use federal loans (Direct and Perkins loans) and what they refer to as alternative loans, meaning supplemental loans from private lenders to cover the extra expense of studying abroad.
Three steps must be completed before your financial aid can be transferred to the external study program: obtaining an approval letter from RIC's Study Abroad Office, submitting a budget to RIC's financial aid office, and receiving the credit authorization form. Credit authorization refers to arranging for the class credits you earn at the external institution to enter your school record at RIC.
Once you've made your way through that paperwork, you can ask your representative at the study abroad institution to fill out your consortium agreement, which is necessary for your aid money (including loans) to be passed on to you. You'll need to orchestrate all those arrangements so that your payment is available two weeks prior to your departure.
Many American colleges offer their own study abroad courses, but RIC emphasizes courses given by professional study abroad organizations like the American Institute for Foreign Study and the Center for International Studies. In fact, RIC has posted a list of those third party providers that shows you the discounts each one awards students from RIC.
Federal Loans To Study Abroad
The U. S. Department of Education (USDOE) maintains a very helpful page on funding your international education with federal loans, which you can do to study for a semester, a year, or a full four years in order to obtain a degree. If you choose a semester or year, you'll need to complete the requisite paperwork for an American school as well as a foreign school, and if you choose the full four years, you'll be managing forms for only one school abroad.
For four-year students intending to take a degree abroad, you will need the current copy of this 2012 list of foreign schools that accept student aid from the American government. Most of the schools listed are in Australia, Canada, England, and Germany, but there are many other countries listed (including exotic locales like Argentina, Hong Kong, and the Czech Republic).
The USDOE keeps other statistics on the international medical schools that accept federal student loans, such as pass rate on American medical licensing exams and completion rates for American medical students at those universities, which will help you decide on a school.
Which Federal Loans Will Support My Overseas Study?
The USDOE recommends any of the Direct Loan products for this purpose. Undergraduates can use a Direct Subsidized or Direct Unsubsidized loan, and graduate students can take out Unsubsidized or Direct PLUS loans (also available to parents of dependent undergraduates). One drawback: federal grants are not accepted for overseas study, so you will have to depend on other forms of aid.
The USDOE lists practical tips for successful planning of your foreign study program and the financing it will take for you to achieve it. Here's a brief summary of their suggestions:
Fill out your FAFSA and lay the groundwork for your financial aid package as early as possible, because if you wait until the last minute to apply that could jeopardize your trip. Build extra time into your schedule.
Your research into foreign school options should be thorough. Make sure you understand degree requirements, all applicable costs for tuition, fees, housing, books, food, and so on, medical insurance plans, and travel expenses.
Keep a well-organized checklist of tasks you must finish in order to travel and live abroad. For instance, you'll have to obtain a passport and maybe immunizations. You may need a student visa also, and you may have to register with local law enforcement.
Keep all your paper documentation in one secure but accessible location. It's also a good idea to keep backup images of all that paper; at the very least, it will make it simple to supply copies of important documents.
Stay in touch with your financial aid contact at the foreign school during the application process, and establish a contact at the school's office for international students to find answers to your general questions.
Background Information
Loan Type
Federal Loan Programs
Consolidation
Degree Type
Course of Study
Credit Rating
School Type
Lenders
More Educational Resources