Nursing School Student Loans
Special Programs Aim for Nursing Students
The United States is currently experiencing a critical shortage of qualified nursing professionals at both the regional and national levels. This has led to an increase in the availability of financial aid programs designed to specifically benefit nursing students at every level of their education. While grants and scholarships can provide some assistance, education loans remain the backbone of every student's college fund.
In many ways nursing students have an advantage when it comes to securing low interest student loans. The high demand for qualified nurses has produced a wide range of low cost loans designed to address the educational needs and career goals of students entering the healthcare profession. These loans typically have low interest rates, and offer flexible repayment plans that often include loan deferment options that give nursing students the time they need to secure a permanent position in a hospital, doctor's office or primary care facility. Moreover, many state governments offer loan forgiveness programs that provide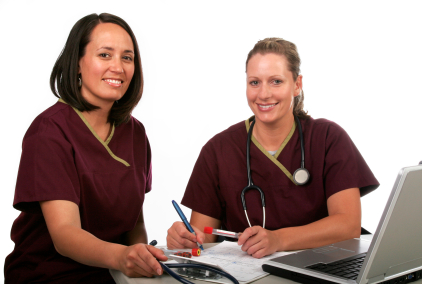 repayment opportunities for licensed nursing professionals who agree to take positions in designated critical need facilities or communities.
Education loans for nursing students are supported by a number of different sources, including:
The Federal Government
State Governments
Private Lending Institutions
Student Loans and the FAFSA
Most students are aware of the Free Application for Federal Student Aid and its role in determining eligibility for grants and scholarships. But the FAFSA is also used to determine a student's eligibility for all Federal student loans and state supported student loan forgiveness programs. Banks and other private lending organizations also use the FAFSA, in combination with other information, to verify a student borrower's income and to decide their eligibility for an alternative loan. Nursing students, whether intending to apply for a grant, scholarship or education loan, should make submitting their FAFSA a priority in their search for college funding.
Federal Loans for Nurses
The first stop on any search for student loans is the Federal government. The U. S. Department of Education offers a number of low interest college loans designed to help students of all types finance their post-secondary education. Federal Direct Student Loans put an emphasis on financial need, as opposed to credit history, and as such will be available to a broader range of applicants. Government supported college loans offer much better terms than their private sector counterparts, and most offer loan deferment options that allow students to postpone repayment until after they have graduated.
Students pursuing a degree, and ultimately a career, in nursing should consider the following Federal education loan programs:
The Federal Direct Subsidized Loan is available to undergraduate students who are enrolled at least half-time at an accredited college or university, and who can demonstrate the requisite level of financial need. Students who receive a Subsidized Loan will have their accruing interest paid by the U. S. government for as long as they are enrolled in school, and for a six month grace period following graduation.
The Federal Direct Unsubsidized Loan is available to both undergraduate and graduate students enrolled at an accredited college or university. The Direct Unsubsidized Loan has no financial need requirements. Unlike the Subsidized Loan, students are responsible for all accruing interest. Federal Direct Unsubsidized Loans offer low interest rates, and flexible repayment plans, including a loan deferment option that allows students to postpone repayment of their loan for up to six months following graduation.
The Federal Direct PLUS Loan is available to graduate level and professional degree seeking students enrolled at an accredited U.S. college or university. The Direct PLUS loan offers a low fixed interest rate of 7.9%, and offers a deferment option for students enrolled at least half-time. Eligibility for a Direct PLUS Loan is determined by credit history, though students may engage a co-signer if necessary. The maximum loan amount is cost of attendance as determined by the student's school, less any financial aid already received.
Nursing Loans from the U.S Department of Health
In addition to the Federal Direct Loan program which is open to all United State's citizens attending an accredited college or university within the country, the Health Resources and Services Administration] offers a number of loans, and loan repayment programs, targeted to students pursuing a career in the healthcare industry. The HRSA is a division of the U. S. Department of Health and Human Services, and all loans and loan repayment programs are funded by the Federal government.
The following programs are available to nursing students through the HRSA:
The HRSA Nursing Student Loan offers long term, low interest, loans to financial needy students pursuing an associate, baccalaureate, or graduate degree in nursing. Eligibility for this loan is determined by the financial aid department of the applicant's school of attendance. Loan amounts are determined by financial need, and total cost of tuition.
The HRSA Nursing Loan Repayment Program is designed to alleviate the national shortage of qualified nurses by offering loan repayment assistance to registered nurses and nurse practitioners who agree to work in a designated critical need facility. In exchange for a 2 year commitment, participants may have up to 60% of their outstanding qualifying student loans repaid by the Federal government. A further 25% in loan repayment funds may be available for an additional third year of service.
The HRSA Faculty Loan Repayment Program offers up to $40,000 in loan repayment funds to students from disadvantaged backgrounds who agree to serve on the faculty of an accredited health professions college or university for a minimum of 2 years. To be eligible, applicants must be a licensed Registered Nurse or Nurse Practitioner.
State Supported Loan Forgiveness Programs for Nursing Students
Many states across the country are experiencing the same critical shortage of licensed nurses that is affecting the nation at large. To combat these regional shortages, many states have instigated a variety of loan forgiveness programs designed to encourage and support students pursuing degrees and careers in nursing. While these are not direct student loans, they do offer additional support to students pursuing a career in nursing. As with all state supported financial aid, programs are subject to change according to the availability of funding. Nursing students should contact their state's Department of Higher Education, and Department of Health and Human Services, for information on available programs.
The following examples should illustrate the types of loan forgiveness programs that are available to nursing students at the state level.
The state of Florida offers the Nursing Student Loan Forgiveness Program for licensed LPN's, RN's or ARNP's who agree to work within the state at a designated critical need facility. Approved participants in this program will be eligible to receive up to $4000 in loan repayment for every year of employment at a state authorized healthcare facility. Participants may take advantage of Florida's Nursing Student Loan Forgiveness Program for up to four years.
The Illinois Student Assistance Commission offers the Nurse Educator Loan Repayment Program. This program offers loan forgiveness opportunities to licensed nursing instructors who are working at an approved Illinois institution. Participants may receive up to $5000 in loan repayment funds for every full year of teaching service. The award is renewable for as long as the applicant can meet the state's eligibility requirements.
The New York State Higher Education Services Corporation supports the NYS Nursing Faculty Loan Forgiveness Incentive Program . To be eligible applicants must hold a master's or doctoral degree in nursing, and must be licensed to practice in the state of New York. For each year of qualified service teaching at a designated state institution, participants may receive up to $8000 in loan forgiveness. Total loan forgiveness may not exceed $40,000.
Private Loans for Nurses
Private loans, sometimes referred to as alternative loans, play a vital role in helping students to finance their college education. However, students should be sure to exhaust all other avenues of financial aid before considering any private lender loan. By first applying for all possible grants and scholarships, as well as applying for any Federal loan programs for which they may be eligible, students can reduce the amount of money they need to borrow from a private institution. This is an important consideration for all students.
While private loans may seem more convenient, they are much less affordable than their Federal counterparts. Private loans typically have higher interest fees, application and processing costs, and financial penalties for early repayment. By first exhausting all other financial aid possibilities, students can minimize the amount of money they need to borrow from a private lender, and better manage their overall student debt.That being said, most, if not all, nursing students will ultimately need to consider some form of private lender loan. Nursing students typically incur higher education costs than other liberal arts or professional degree seeking students. Above and beyond tuition, books and housing, nursing students also have the added expenditure of lab fees and equipment costs.
Most banks and savings and loans offer student loans for undergraduate and graduate students. Many private banks also now offer loans specifically tailored to the needs of professional degree seeking students, including those pursuing careers in the healthcare industry. As with any private or alternative loan, borrowers are approved on the basis of credit history. For many students this can present an obstacle to securing the loan they need, and it will be necessary for them to engage a cosigner with good credit in order to be approved for a loan.
The following private lenders offer competitive student loan packages that may be of interest to nursing students who are trying to finalize their college financial plans.
In recent years peer-to-peer student loans have become an increasingly large part of the student loan arena. Peer-to-peer lending does offer an added opportunity for securing the loans necessary to complete a degree in nursing. However, it should be noted that peer-to-peer lenders are not regulated by the same laws as other private lending institutions, and students should understand that they may not have the protections afforded them when borrowing from a bank or savings and loan.
Students considering any private lender loan should do so carefully, and should take the time to review any and all documents before signing a loan agreement. Many college students have been undone because they agreed to a loan contract they did not fully understand. Discuss your loan choices with the lending agent, ask detailed questions, and only sign the agreement when you are certain you fully understand your responsibilities as a borrower.
Background Information
Loan Type
Federal Loan Programs
Consolidation
Degree Type
Course of Study
Credit Rating
School Type
Lenders
More Educational Resources