Private High School Loans
Wanted: High Quality College Prep Curriculum
Private high schools are popular learning institutions among college-bound students. Most exclusive private high schools deliver top-notch college prep curriculums, so they are viewed favorably by university admissions offices, and fortify students' mobility within the education system. The academic edge gained through private high school enrollment comes with a price tag. And while tuition is in line with some universities, private high school students don't qualify for the post-secondary financial aid programs that help college students succeed.
Federal Direct Loans and Pell Grants are not designed to offset education expenses for high-schoolers, so the choice between public and private education often boils down to simple economics. Where you live, who you are and what educational goals you have set for yourself are all important considerations when weighing the merits of a private high school education.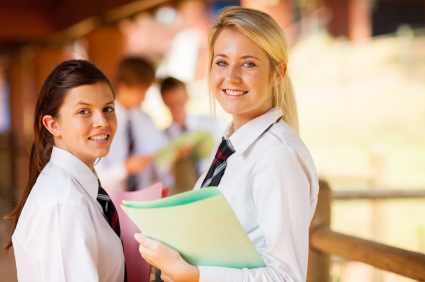 A variety of learning institutions serve private students in unique ways. Religion, educational philosophy and desire for the best education money can buy are strong motivators for private high school candidates.
Types of private institutions—day schools and boarding schools— which may create the need for education loans and other financial aid:
College Preparatory School
Catholic or Parochial School
Hebrew School
Montessori or Waldorf Schools
Military School
Special needs School
The Cost of Private School
Annual tuition costs at private high schools range between $10,000 and $50,000, rivaling the cost of college tuition.
Over the past five years, median tuition costs are up over twenty-five percent at some private high schools – and economic conditions don't favor drastic reductions in the near future. Resident room and board can exceed 50K at exclusive schools, and a growing trend works in the face of the neediest students who wish to attend. Diversity is a valuable consideration, but schools are faced with economic realities that skew the way they distribute aid.
Rather than issuing high-levels of aid to needy students who can afford to contribute very little toward the cost of education, some private high schools are instead offering tuition offsets to wealthy people. Applicants who are of sufficient means to cover large portions of tuition expenses are given financial aid bumps to push them the rest of the way. As a result, families that make $150-$300 thousand are prime candidates for student assistance.
Parents committed to the value of private school education, but without the necessary resources to send their children to quality private schools, are drawn to creative financial aid solutions. These financial aid varieties illustrate some of the funding avenues available for needy private school families:
Campus-specific financial aid from schools.
Tuition payment plans.
Education loans from private lenders.
Financial Aid from Private High Schools
Most independent high schools have well-managed financial aid programs from which students draw grant money and loans. Direct aid and tuition payment plans are used to craft workable solutions for private high school financing. The National Association of Independent Schools stands as a valuable resource for specific information about private education. A few examples of private high school financial aid successes:
Saint Thomas More High School - Through the Jennie Fund and other endowments, STM provides financial assistance for educational pursuits.
Oak Hill Academy is an equestrian school for upper-class high school students. The school works with Sallie Mae and Your Tuition Solution to bring loans within reach for cash-strapped families. The school also provides need-based grants when appropriate, but funding limitations prevent every qualified student from receiving aid.
Choate Rosemary Hall in Connecticut is one of the Northeast's top private high schools. The school awards much of its campus-specific financial aid in the form of direct student grants that do not require repayment. For 11th and 12th grade students who require additional assistance, Choate administers its own Independence Foundation Loan. Loans are worth $2000 and $2500 for qualified students who choose to accept them.
Deerfield Academy in Massachusetts costs close to $30,000 a year for non-boarding students. According to the academy, over $5,000,000 is distributed to student families, to help offset set tuition expenses each year.
Padua Franciscan private high school in Cleveland costs about $9,350 for one year's passage. The Ohio school utilizes generous support for the Padua Fransiscan High School Endowment Trust and Alumni Association to fund financial aid programs for families who need it.
Schools partner with lenders like Sallie Mae to extend tuition payment plans that create affordable financing solutions for private high school families. Interest free payment plans break total tuition obligations into manageable chunks, which are paid back in installments – instead of all at the beginning of the school year. Campus programs vary in size and scope, so each situation should be addressed with high school representatives.
High School Financial Aid From Private Sources
Foundations, associations and other private sector forces are at work educating private high school students. Grants and scholarships target specific student groups, as well as particular programs of study.
Ayn Rand Essay Contests - High school and college students with aptitude for the craft are invited to apply for scholarships issued by the famous author's foundation. Several hundred students benefit annually from this writing-inspired tuition grant contest.
Children's Scholarship Fund provides tuition assistance for children seeking alternatives to faltering public education systems. The group has helped over 25,000 secondary school students succeed in private schools. Awards are distributed based on financial need.
Student Loan Products that Work for Private High Schools
Student loan providers, banks and credit unions have helped fill a high school tuition student loan vacuum that existed among private school parents. Affordable repayment structures and extended terms allow parents to put quality of education first, by financing the total cost of private school over time.
Popular student loans for private high school include:
The Sallie Mae K-12 Family Education Loan is available to anyone with good credit who may be responsible for all or part of a child's educational expenses. Qualified applicants are eligible to borrow from $1000, up to the entire cost of annual tuition and expenses. Books, computers, sports equipment, musical instruments and theatre gear are approved expenses for private high school students who secure Sallie Mae financing. Loan repayment terms are structured for 1-3 year terms.
Your Tuition Solution offers low interest fixed rate K-12 loans designed to bridge the affordability gap for parents and legal guardians struggling to keep up with private school tuition payments. Qualified applicants are eligible to borrow the full cost of student tuition, up to $40,000. Repayment terms range from 24 to 84 months, with no penalties for prepayment. Unlike other K-12 loan programs, there are no origination fees, and loan rates are currently fixed at 3.99%. Loans may be applied to approved expenses at over 2400 participating learning institutions.
Background Information
Loan Type
Federal Loan Programs
Consolidation
Degree Type
Course of Study
Credit Rating
School Type
Lenders
More Educational Resources