Military School Loans
Special Loans and Repayment Programs for Military Students
Members of the U.S. Armed Forces receive priority consideration from the Federal Government, as they engage in higher education and seek advanced degrees. To reward them for their service, long-standing financial assistance programs provide college tuition abatement and grants, which increase access to undergraduate degrees, for military staffers.
The Montgomery G.I. Bill, for example, provides tuition credits for veterans and active duty soldiers who enroll in college programs. The initiative is administered in two parts: The Montgomery GI Bill – Active Duty, and The Montgomery GI Bill – Selected Reserve. An additional distinction is made between the original program, and the Post 9/11 GI Bill. Service members who utilize the program earn free college education, in exchange for service.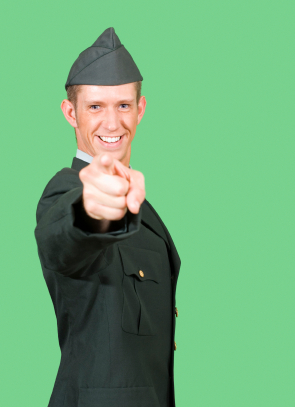 ROTC – Reserve Officer Training Corps programs are active on campuses across the country, providing financial assistance for participants. Naval ROTC and Army ROTC benefits include competitive scholarships that go to stand-out candidates who make commitments to the military.
Individual campus programs include those from iconic military universities like Virginia Military Institute, West Point and The Citadel. Once male-only, many college-level academic programs offered by military colleges have opened enrollment to female applicants. For students committed to the military way of life, and on-track academically, scholarships and incentives from these perennial institutions of military education provide foundations for educational success.
Save Your Money: Get Paid to Go to Military School
The largest and most respected military academies in the country, funded in part by the U.S. military, offer extensive financial aid packages for worthy candidates. West Point and U.S. Naval Academy education is facilitated by campus-programs that cover tuition, and pay stipends for those who attend. Sound appealing? Make no mistake, these competitive scholarships don't come easily, and while these universities may not send you a bill, you had better be prepping for a lifelong career in the military. West Point and the U.S. Naval Academy are two of the most competitive academic institutions in the country, so standards are high for the next generations of military leaders, who are educated at these prestigious schools.
The United States Military Academy, a.k.a. West Point, spends its resources training the next highly-educated, disciplined generation of Army officers. It is the premier proving ground for students to make their mark to pursue an Army career. The academy boasts a balanced degree program, designed to engage cadets in a heterogeneous learning environment.
The United States Naval Academy trains midshipmen to serve as the next generation of Naval and Marine officers. Candidates are chosen from academically talented applicants.
Loans From Military Colleges
Military colleges generally participate in the federal Direct Student Loan program, and other large-scale Federal financial aid initiatives. On the road to military education, you may also qualify for undergraduate student grants or graduate school loans. For example:
The Citadel, one of the most well known military colleges in the Southeast, provides cadets with top-notch undergraduate and graduate programs of study. The same rules for federal loans apply at The Citadel, as other colleges, so application is encouraged. Students must apply each year, by filing the FAFSA application, just like other college students. In addition to federal loans, students are eligible for South Carolina Teachers Loans, which offer incentives for students who are pursuing teaching positions at South Carolina public schools, after graduation.
Private Loans Help Fund a Military Education
Where government-backed funding does not quite get the job done, private lenders step-in with products suitable for student borrowers – including those in pursuit of military credentials.
Private loans carry higher interest-rates than their public-sector counterparts, and repayment options may not include flexible plans offered by the Federal Government. And while Department of Education financing is secured without formal credit requirements, private loans from banks and credit unions call for student-borrowers to illustrate worthy credit. For applicants who cannot go it alone, credit-strong cosigners can be added to secure loans, and provide assurances for lenders.
Special Military Loan Programs
The Military College Loan Repayment Program is designed to stimulate recruitment into various branches of the service. The program repays certain percentages of outstanding student loans for new recruits who will engage in active duty or reserve duty. The Army and Navy are willing to repay up to $65,000 worth of outstanding student debt, provided student loans were spent on qualified educational pursuits.
Branches of the military that participate in the CLRP include:
Army (active duty and reserve) minimum 3 years and 6 years, respectively.
Navy (active duty and reserve) minimum 4 years and 6 years, respectively.
Air Force (active duty) minimum 4 years.
Air National Guard (for high need jobs) minimum 6 years.
How the Military CLRP works:
In order to be eligible for loan repayment, each participating branch requires a minimum number of years of enlistment - outlined above. Qualified applicants are first-time enlistees. Depending on current requirements and work force shortages, participants may be required to enlist for specific job roles or prove certain academic eligibility requirements. Ask a recruiter for the latest details about the CLRP that pertains to you.
Background Information
Loan Type
Federal Loan Programs
Consolidation
Degree Type
Course of Study
Credit Rating
School Type
Lenders
More Educational Resources