Scholarships from Military Sources
Cut Your College Costs with Your Benefits
Every branch of the United States military offers some form of educational assistance for its enlisted personnel. Over the years, military service has offered a great many students the opportunity to serve their country while earning money to help pay for a college education. Scholarships and grants from the U.S. Military are a valuable source of financial assistance for students struggling to meet the rising costs of college tuition. However, students considering any branch of the military as a source for scholarships or grants should understand that these are all award-for-service programs. Students will be required to enlist in a branch of the armed services, and will be expected to fully complete their service contract. Students should carefully weigh the benefits of military service against their responsibilities as active-duty service-members.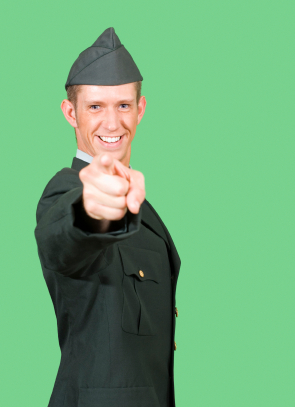 The Montgomery G.I. Bill
Before discussing the scholarships and grants that are available from the individual branches of the United States military, it is important to mention the Montgomery G.I. Bill. While not a scholarship, the G.I. Bill is one of the most successful financial assistance programs ever developed for military personnel. Since its introduction in 1944, the G.I. Bill has helped retired and active-duty military personnel to afford a college education. It is not too much to say that the G.I. Bill almost single handedly built the American middle class. Following the end of World War II, the Montgomery G.I. Bill made it possible for more American's than ever before to pursue a college education, and to move into the professional workforce.
While it has undergone many changes over the years, the G.I. Bill continues to help military service-members and their families to achieve their educational and professional ambitions.
Scholarships Based on Branch of Service
Each branch of the military offers scholarships and grants for its service-members. Often these scholarship programs are subject-specific, providing the necessary funds for service-members to pursue degrees in areas that are of particular value to the military. General scholarships are also offered by many branches of the U.S. Military, either directly or through auxiliary organizations that are dedicated to the welfare of service-members and their families. Eligibility requirements for these programs will vary, depending on the military branch that supports them. Interested students should consult with their recruiting officer for information on available scholarships or grants. Active-duty personnel will want to speak to their C.O or division commander for information on educational opportunities funded by their branch of the U.S. Military.
The United States Army
The following scholarships are offered by the United States army, or its auxiliary organizations, for active duty and/or retired service-members.
The United States Navy
The U.S. Navy does not directly offer scholarships or grants for its enlisted personnel. That doesn't mean that the Navy isn't interested in helping its service-members gain a college education. Quite the opposite. The United States Navy provides its sailors with some of the most intensive and comprehensive training available. They also encourage and support all of their sailors in the pursuit of a college education. Through the Navy's educational assistance programs sailors are given the opportunity to pursue undergraduate and graduate studies both on base and at traditional colleges and universities. Moreover, the Navy is prepared to pay most, if not all, of the costs of their service-member's education.
Undergraduate Programs – The Navy offers two distinct paths for undergraduates who wish to pursue their education while serving in the U.S. Navy. The Navy College Program makes it possible for sailors to receive college credit for on the job training, and to complete coursework while on base or during deployment. The Navy's Tuition Assistance Program pays up to 100% of the cost of courses taken at an accredited college or university during a sailor's off-duty hours.
Graduate and Professional Programs – Active duty officers in the Navy can pursue their Master's or Ph.D. at the Naval Postgraduate School in California. Degrees are available in engineering, business, and information sciences.
Healthcare Programs – The U.S. Navy offers a wide range of educational opportunities for sailors interested in pursuing careers as physicians, dentists, nurses or healthcare administrators. Financial support ranges from full or partial tuition to paid salary during coursework and paid internships.
The United States Air Force
Like the U.S. Navy, the Air Force places a high premium on continuing education. The United States Air Force has a number of programs in place to help commissioned officers and enlisted personnel in their pursuit of a college education. These programs consist of scholarships, tuition assistance programs and enrollment in the Air Force's own community college. Students looking to pursue a college education while serving their country in the armed forces will hardly find better opportunities than those offered by the United States Air Force.
The following scholarships and tuition assistance programs are offered by the U.S. Air Force.
The Airman Scholarship and Commission Program – The ASCP offers enlisted personnel the opportunity to earn a commission while working towards their Bachelor's degree. Participants will receive up to $15,000 in scholarship funds plus $600 for books and supplies.
The Nurse Enlisted Commissioning Program – The NECP offers active-duty airmen the opportunity to earn a commission while working towards a Bachelor's degree in nursing. NECP students will complete their nursing education at an accredited college or university with an active ROTC program. Participants will receive up to $15,000 in scholarship money, plus a $600 one time payment for books and supplies.
The Air Force Tuition Assistance Program – The ATAP is designed to encourage active-duty personnel to continue their education while off-duty. The program provides up to $4500 per year to cover tuition costs at a two-year or four-year college or university. Students may attend class either on, or off, base.
Scholarships for Outstanding Airmen – The SOAR program administers 50 annual scholarships for enlisted airmen who want to go to college. Recipients will separate from the Air Force for the duration of their studies, but will be required to return following graduation to complete their tour of duty. Award amounts are determined by total cost of tuition.
The Health Professionals Scholarship Program – This program provides full tuition scholarships for commissioned officers who are working towards advanced degrees in pharmaceutical science, optometry, nursing, and clinical psychology. The scholarship covers all tuition and and fees, plus a monthly allowance for living expenses.
These are just a few of the programs the Air Force offers to help its officers and enlisted airmen pursue a college education.
The United States Marine Corps
Beyond their ROTC programs, the United States Marine Corps offers very few scholarships for active-duty service-members. The Marine Corps ROTC program helps students pay for their undergraduate education, after which they will enter the corps as a Second Lieutenant. As a midshipman, enlisted marines may be eligible to receive funding to complete their Bachelor's degree at an approved college or university.
The few additional scholarships available to marine corps personnel include:
The Frederick C. Branch Scholarship – This program was named in honor of the marine corps' first African-American officer. The program offers two, three, and four year scholarships to students who are planning to attend one of the country's Historically Black Colleges and Universities.
The Colonel Richard A. Christie Memorial Fund – This program provides scholarship funds to marines who are leaving the service to pursue a Bachelor's degree. Recipients will receive up to $3000 per year in scholarship funds.
The Women Marines Association Scholarship – This scholarship is open to active duty marines, their spouses and children. The maximum award is $1500, which can be used at any accredited college, university or trade school.
The Coast Guard
The United States Coast Guard Academy accepts roughly three hundred students every year. The academy offers a tuition free education in exchange for five years of service in the U.S. Coast Guard. The Coast Guard also offers one scholarship program, the College Student Pre-Commissioning Initiative, which covers up to two years of tuition and fees for eligible sophomores and juniors. Scholarship recipients will be required to serve a minimum of three years as an officer in the U.S. Coast Guard following graduation.
The ROTC Route
Students considering the military as their route to a college education will find that the most valuable sources of financial aid are made available through the Reserved Officers Training Corps. All four main branches of the U.S. Military operate ROTC programs which provide students with money for college in exchange for their enlistment. Again, students must understand that these programs require a commitment on their part to fulfill a military service contract in exchange for college funding. ROTC programs have helped thousands of students to pay for a college education, but the programs should not be entered into lightly.
The Army ROTC offers four year scholarships to graduating high school seniors who have demonstrated a high level of academic achievement. Additional two and three year scholarships are available to students who have already completed their first year of college. Scholarships range from partial to full tuition scholarships. Recipients must sign a binding agreement to take up a position in the U.S. Army following graduation, where they will be expected to fulfill their service contract.
The Naval ROTC serves both the Navy and the Marine Corps, and offers two-year and four-year scholarship programs for students who meet the academic requirements. Participants in the Naval ROTC program will be expected to serve a minimum of eight years as a commissioned officer following graduation.
The Air Force ROTC offers four year scholarships to students who can meet the eligibility requirements. Participation in the Air Force ROTC is determined by test scores, academic achievement, community service and leadership qualities. Student cadets will be expected to complete a four year service commitment in the Air Force. Additional scholarships are available for Air Force ROTC recruits who are planning to study to become pilots. In exchange for the additional funding, students will be required to serve a minimum of ten years in active service.
Further Information on Financial Aid from the Military
Joining the military is a noble calling that can also help students pay for their college education. In addition to the various ROTC programs and scholarships mentioned here, interested students should also refer to our section on Grants From Military Sources.
The United States military also has a long history of looking after the families of its service-members. For students with a military family background, scholarships and grants may be available as an added reward for their relative's service to their country. Interested students should also refer to our sections on Scholarships for Military Dependents, Scholarships for Military Family Members, and Scholarships for Military Spouses.
Military Branches
Other Military Related
Browse Scholarships
Resources
More Educational Resources