Review of Upstart

In 2012, Anna Counselman, Dave Girouard, and Paul Gu launched Upstart in San Carlos, California. These three ex-Google employees wanted to combine artificial intelligence along with a machine's learning capabilities to help define a borrower's credit rating. It has been a success, and to date, Upstart is the first lending company to develop a default prediction and income model. The company uses this model to screen any potential borrowers, and this helps to determine a borrower's creditworthiness. This means that Upstart looks at more than the traditional criteria to determine if a borrower is approved for a loan or not.
How Does Upstart Work?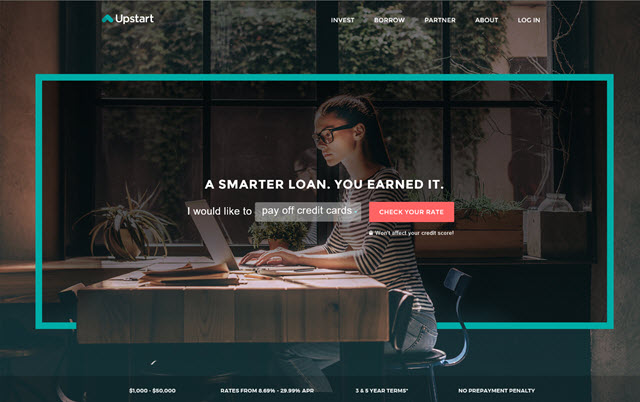 Upstart offers personal loans in three and five-year terms. They are an entirely online loan provider. Because this company uses a default prediction and income model, people who usually wouldn't be approved for a loan may be eligible with Upstart. This model has made this company very popular among people with moderate incomes, thin credit files, and lower credit scores. It allows the company to get access to things like job history, areas of study, and your college degree, and this helps borrowers get approved.

What are Upstart's Lending Terms?
If you choose to apply for a personal loan through Upstart, you can choose from a flexible three or five-year loan with a fixed interest rate. You will pay around $28 for every $1,000 you borrowed each month. So this means if you borrowed $5,000 you would pay $140 a month until the loan is paid off. The minimum loan you can apply for is $1,000, and it goes up to $50,000 per loan, except if you live in Ohio or Massachusetts, then your minimum loan price goes up to $6,000 and $7,000, respectively. Since the interest rate is fixed, the interest rate you get when you first obtain your loan will be the interest rate you keep throughout the life of your loan. These fixed interest rates range from 6.37 percent to 29.99 percent.
What Can You Use These Loans For?
When you apply for one of the loans from Upstart, you will have to put down what you want the loan for. Several categories are accepted, and they are listed below.
Education. This company is one of the few lending companies that will give you discounts and credit if you're going into a technological field. This category is for college, grad school, continuing educational course, or boot camp expenses.
Large Purchases If you want to buy a vehicle, RV, ATV, or other significant expense; you can choose the large purchase category.
Miscellaneous Expenses. If you have a friend or family member who is having an emergency and you want to help them, Upstart has a loan for that as well. This is also the loan category you would choose if you want to either start a new business or expand a current one.
Personal Expenses. If you get hospitalized and need cash to cover your medical bills, this company can help you secure a loan. You can also get a loan for rent, moving expenses, unexpected tax expenses, weddings, or for house-related expenses.
Refinancing. This option is one of the most popular reasons borrowers use Upstart. They offer refinancing on student loans, credit card debt, and debt consolidation.
Who is a Good Candidate for an Upstart Loan?
Since Upstart looks at much more than traditional lending companies, it appeals to a broader range of borrowers.
1. Below Average Credit. If you have a credit score of 620 or slightly higher, this is a viable option, also if the loan's interest rate is better than your credit card's interest rate, this could be a good fit.
2. Modest Income. Upstart does not have a minimum income level, but most of the borrowers have a modest annual salary at $44,000 to $48,000.
3. Someone Who can Get Approved on Their Own.This lending company does not allow co-signers or joint applicants on their loans. These are personal loans, and you have to be able to meet the eligibility requirements with your information.
4. Thin or Short Credit History. Since Upstart takes more factors into consideration when it's screening potential borrowers, people with thin credit histories or short payment records are more likely to be approved.
| Upstart Borrower Snapshot | |
| --- | --- |
| Annual Percentage Rate | 6.37% to 29.99% |
| Credit Score | 620 |
| Debt-to-Income Ratio | N/A |
| Income | $44,000 to $48,000 |
| Loan Size | $1,000 to $50,000 |
Fees and Penalties
When you accept the terms and conditons for an Upstart loan, it is important to read everything. Upstart has fees and penalites you may not realize until they're charged to you. The first fee is a late payment fee, and this is either $15 or 5 percent of the past due amount that will be added to your existing balance. There is an insufficent funds fee of $15 or 5 percent, and this fee is per check that is returned, so it can add up quickly. Finally, Upstart charges an origination fee of zero to six percent.
The Upstart Application Process
If you fit the minimum credit score criteria, you can apply for a loan quickly through their website. You will pre-screened after you input your name, birthday, address, e-mail, telephone number, credit information, and social security number. Upstart will take this information and do a soft credit check, and you will find out within minutes if you are approved or declined. If you're approved, you can move on to the next step.
The second step of the application process is inputting more in-depth information. You will have to answer questions about how much you want to borrow and what you want to take out a loan for. You will also put your education history, your area of study or degree, bank account information, and work experience as well. You may be asked to upload proof into your account, and they'll want:
Proof of Identity - Driver's License or Passport
Residency Proof - Utility Bill, Signed Lease, or Your Driver's License with the Current Address
Income Proof - Pay Stubs or Income Tax Paperwork
Education - Copy of Your Transcripts or Diploma
Once you have all of this information uploaded, Upstart will open a screen with loan offers. You should read through them and choose the one that suits your needs the best. You'll have a chance to review the loan you chose and then accept your loan's conditions and terms. You can accept them and they e-sign the loan documents. As soon as this is done, you'll get a confirmation sent to your email, and the money will be deposited within one business day. If your loan is being used for education purposes, it can take up to three days to be deposited.
How Does Upstart Compare Other Lenders?
| | Lending Club | OneMain | Prosper | SoFi | Upstart |
| --- | --- | --- | --- | --- | --- |
| APR Rates | 5.99% to 35.89% | 12.99% to 35.99% | 5.99% to 35.9% | 5.70% to 14.24% | 6.37% to 29.99% |
| Funding Time | 14 Days | Same Day | 3 to 5 Days | Several Days | 1 to 3 Days |
| Loan Amounts | $1,000 to $40,000 | $1,500 to $25,000 | $2,000 to $35,000 | $5,000 to $100,000 | $1,000 to $50,000 |
| Minimum Credit Score | 660 | No Minimum | 640 | 640 | 620 |
| Origination Fee | 1% to 6% | Varies by State | 0.50% to 4.95% | None | 0% to 6.00% |
| Soft Credit Check | Yes, review | Yes, review | Yes, review | Yes, review | Yes |
Loan Repayment
Once you get your loan, you have a one month grace period before you have to start repaying it. You can set up automatic, recurring payments when you're filling out your loan application. If you don't do it at this time, you can go back into your account and set this up before the due date. Upstart will let you choose your payment due date, and there is a ten day grace period for late payments. You will also be able to set more than one automatic payment a month if you want to pay your loan off faster, and you can cancel one if financial problems come up. Upstart will report any accounts that are more than 30 days late on payments to the three major credit bureaus, and this could drop your credit score.
What Makes Upstart Unique?
The main difference between Upstart and other peer-to-peer lending company is their default prediction and income model. This allows them to look at a broader range of qualifications for its borrowers, and this allows more young people to become qualified for a personal loan.
Upstart also offers funding option for coding boot camp. If you're attending one of their partner companies, you can use a personal loan from Upstart to pay for tuition and miscellaneous expenses. As long as the borrower has proof they are enrolled in or attending this boot camp; they don't need a job or a college degree to qualify for the loan. The borrowers also get a little more flexibility with repaying this loan with the ability to choose the number of payments per month and the due date. There are also various repayment options available if you run into any financial difficulties or hardships.
Reviews and Accreditations
Since Upstart is so popular with Millennials and its primary loan target are college students or young people, it makes sense that there are a lot of online reviews. Merchant Maverick offers insight from different online reviewer sites and takes those opinions into consideration when they give their final verdict. They said the three negative things consumers say about Upstart is rejections, origination fees, and customer service. However, most of Upstart's reviews are positive with the most praise going to the areas of the easy application process, lenient underwriting, quick funding time, and flexible repayment options.
| Upstart Company Reviews | Rating |
| --- | --- |
| Better Business Bureau | A+ Rating |
| Trust Pilot | 9.2/10 |
| AAA Credit Guide | 4.5/5 |
| Consumer's Advocate | 4.5/5 |
| Credit Karma | 4.8/5 |
| Merchant Maverick | 4.6/5 |
| Average Score* | 9.3/10 |
*Based on an equal weight from each of the above reviews, with BBB scored 10/10 for A+ rating.
Further Information
Wikipedia published a background article on the company here. Customers & prospective customers can contact Upstart at +1 (855) 438-8778.
Background Information
Loan Type
Federal Loan Programs
Consolidation
Degree Type
Course of Study
Credit Rating
School Type
Lenders
More Educational Resources