Review of Peer-to-Peer Lender SoFi
SoFi is the more commonly known name for the personal finance company Social Finance, Inc. SoFi was founded by four Stanford School of Business students Dan Macklin, Ian Brady, James Finnigan, and Mike Cagney in 2011 to help with mortgages, personal loans, and student loan refinancing. The four founding members wanted to find a way to make the debt from higher education easier to manage for new graduates
The first funding pilot was held at Stanford, and it raised $2 million from 40 alumni who invested around $50,000 for every 100 students. Baseline Ventures led the second phase of funding with backing from DCM and Renren in 2012, and it raised over $70 million before the round ended. By the end of 2013, SoFi released a statement saying it had raised over $500 million, and it would use this equity and debt to both refinance and back student loans. The $500 million in capital came from four sources:
$300 Million from Banks
$151 Million in Debt from Bancorp and Morgan Stanley
$90 Million in Equity
$9 Million from Private Investors
SoFi utilized this financing, and by late 2013 it had provided over 2500 borrowers from 100 schools more than $200 million in student loans. In this same year, a collaboration between Barclays, Morgan Stanley, and SoFi created peer-to-peer student loans that were bond backed
SoFi began expanding its capabilities and broke into the mortgage industry in 2014, and the personal loan industry in 2015. It has since expanded to over 20 states and has reached funding for over $2 billion in various loans. The newest update came in 2016 with SoFi launching the SoFi at Work program. SoFi at Work's primary goal is to reduce employee debt and promote financial stability.
How Does this Company's Lending Process Work?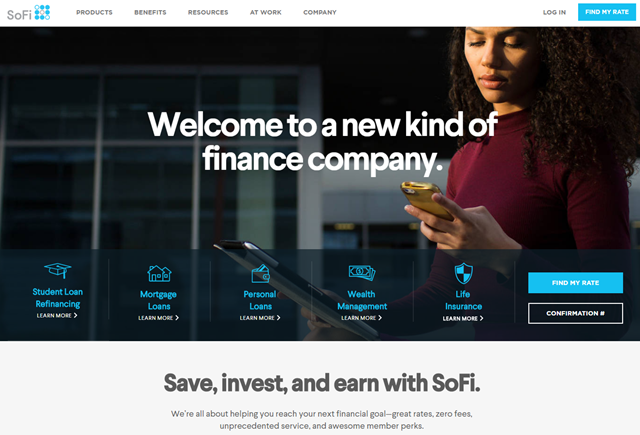 SoFi is an entirely online, virtual platform. Because it's all virtual, this means that there are less underwriting costs involved and SoFi can potentially offer lower interest rates and faster turnaround times. It is a niche company and was the first peer-to-peer lending branch designed to refinance student loans. This has made it extremely popular among graduate students who want to begin their careers with the best loan repayment terms possible.
What are the Lending Terms?
If you apply for a loan with SoFi, you can choose from either a fixed-rate or a variable-rate loan. These loans can range in price from the low end of the spectrum at $5,000 to the high end of the spectrum at $100,000. This company features flexible repayment terms over a span of three, five, or seven years. If you live in Arizona, Massachusetts, Kentucky, or New Hampshire, it is good to know that the minimum loan amount is higher than the traditional $5,000. If you pick a loan with a variable-rate, the rate goes from 4.78 percent to 10.88 percent, with a maximum cap of 14.95 percent. A fixed-rate loan carries an interest rate of 5.74 percent to 14.24 percent annually.
What Loans Does SoFi Offer?
Since it launched, SoFi has expanded to add several more types of loans from its initial student and person loans. You apply for each of these loans online, and they all follow the minimum eligibility requirements.
Mortgage Loans. SoFi offers mortgage loans in 40, 30 and 15 years with fixed terms as well as 7/1 ARM and 7/1 ARM Interest-Only options. If you qualify, you get access to exclusive rates, and will only pay 10 percent down.
Mortgage Refinancing. If you have a mortgage and want to refinance with SoFi, you can refinance through the traditional route, cash-out refinance, and student loan payoff refinance. Mortgage refinancing is a perfect option for someone who has high-interest debt or wants to do renovations.
Parent Loans. A parent loan is a way for a student's parents to help pay for their college degree. There are no hidden fees, and the interest rates are low. In addition, the student will get access to career support coaches.
Parent PLUS Refinancing. If you have parent loans and want to combine them into one easy payment, refinancing with SoFi is an option. When you refinance, you simplify your overall monthly payments.
Personal Loans. If you have multiple payments you're making every month on different credit cards, consider a personal loan. These loans offer low-interest rates and an easy application process to help you get out of debt faster.
Student Loan Refinancing. Many students have to take out multiple student loans to cover the cost of their education, and they will have multiple monthly payments when they start repaying them. Refinancing them and turning them into one low-interest monthly payment might be a viable option.
Term Life Insurance. SoFi now offers life insurance at a low rate with an easy application process. You could get approved for up to $1 million in coverage.
Wealth Management. SoFi Wealth has combined smart technology with expert advisors that offer live support and advice in investment management. You will be able to invest your first $10,000 with no added fees.
Who Would be a Good Candidate for a Personal Loan from SoFi?
To qualify for a personal loan from SoFi, there are a few requirements you have to meet. There is no minimum credit score, but the average borrower has a score of 700 or better. There is no maximum debt-to-income ratio or minimum credit history life. They look at cash flow along with your past of on time payments to determine if you'd be a good fit.
1. Anyone Who Has an Excellent or Good Credit Score. SoFi borrowers have a credit score range beginning in the 680s and going up to 850 with the average rating coming out at 730.
2. Earners with High Incomes. The average yearly income for a SoFi borrower is right at $114,000.
3. Someone Who Can Get Approved On Their Own. SoFi doesn't let more than one person borrow on the same loan. If you know your credit rating and income level won't be good enough to secure a loan by yourself, you should consider another option.
4. Someone Who Likes an Online Platform. SoFi is an entirely online platform. You apply and get approved online, and you will get your loan deposited directly into your bank account.
5. Someone Who Has a Thin Credit History. If you have a thin credit history, this could be a viable option for you. SoFi doesn't look at the age of your credit history; it looks at your on-time payment history and responsible credit card use.
| The Average SoFi Borrower Snapshot | |
| --- | --- |
| Annual Percentage Rate | 8.5% |
| Credit Score | 730 |
| Debt-to-Income Ratio | N/A |
| Income | $114,000 |
| Loan Size | $14,739 |
Penalties and Protections
SoFi will add penalties and fees on if you're late on your loan payment or miss a payment altogether. This means that you'll end up paying back more than you owed even with the interest rate because these penalties and fees get added on top of your balance
Late Payment Fee. If you're late paying your monthly installment on your loan, SoFi will add a fee of either 4 percent of your balance total or $15 per late payment. It will choose whichever fee is less expensive.
Unemployment Protection. SoFi is one of the only peer-to-peer lending companies that offer unemployment protection. If you find yourself jobless, you can apply to have your monthly loan payments suspended for up to a year without any penalty or credit score decline. However, you should know that you will continue to add interest to your loan during this time whether you're paying on it or not. You will have to do three things to get the unemployment protected enacted:
Prove You're Actively Looking for a Job
Prove You're Receiving Unemployment Benefits
Sign up and Work With SoFi's Career Strategy Service
Applying for a Loan with SoFi
If you're trying to decide if you should request a loan with SoFi or not, check your credit score and request your credit reports to see if you meet the minimum score
If you've gotten your credit score and it meets the minimum requirements, you can move on to the next step. The first thing SoFi will do is a soft credit check after you've input your name, birthday, address, telephone number, and social security number. They will be able to tell you in a matter of minutes if you're approved or if you have been declined
Once you get the initial approval, you move on to the more in-depth application. You'll be asked to add your employment information, banking information, loan amount, and monthly income. SoFi will then pull up both the initial variable-rate and fixed-rate loans you're tentatively approved to get. The actual rates you're approved for will depend on SoFi's findings when they check your financial history and current standing
SoFi will ask you to upload documentation to prove your income level like pay stubs, US citizenship, driver's license, and verify the bank account the loan will be deposited into. The final step is to e-sign the loan agreement and get your funds deposited into your account. Any borrower who signs up for the optional automatic electronic withdrawals from your checking account will get a 0.25 percent discount off of your rate.
How Does SoFi Stack Up Against Other Peer-to-Peer Lenders?
| | Lending Club | OneMain | Prosper | SoFi | Upstart |
| --- | --- | --- | --- | --- | --- |
| APR Rates | 5.99% to 35.89% | 12.99% to 35.99% | 5.99% to 35.9% | 5.70% to 14.24% | 6.37% to 29.99% |
| Funding Time | 14 Days | Same Day | 3 to 5 Days | Several Days | 1 to 3 Days |
| Loan Amounts | $1,000 to $40,000 | $1,500 to $25,000 | $2,000 to $35,000 | $5,000 to $100,000 | $1,000 to $50,000 |
| Minimum Credit Score | 660 | No Minimum | 640 | 640 | 620 |
| Origination Fee | 1% to 6% | Varies by State | 0.50% to 4.95% | None | 0% to 6.00% |
| Soft Credit Check | Yes, review | Yes, review | Yes, review | Yes | Yes, review |
Ratings
SoFi has been the recipient of many prestigious ratings since it's launch in 2011, and the response of the companies that have rated SoFi have been overwhelmingly positive in nature. SoFi became the first marketplace lending corporation to receive Moody's highest rating. Moody's primary goal is to help investors help gauge the trustworthiness of a creditor so the investors can make sound financial decisions. Moody's has a range of 21 possible different scores ranging from Aaa to C, with the highest rating possible being Aaa. It bases its rating assignment on the ability of the company its rating to pay back short-term debt quickly and efficiently.
| SoFi Company Reviews | Rating |
| --- | --- |
| Better Business Bureau | A+ |
| Moody's | Aaa |
| Credit Karma | 4.5/5 |
| Consumer Affairs | 3.5/5 |
| Average Score* | 9/10 |
*Based on an equal weight from each of the above reviews, with BBB scored 10/10 for A+ rating & Moody's 10/10 for Aaa credit rating.
Further Information
Wikipedia published a background article on the company here. Customers & prospective customers can contact SoFi at +1 (855) 456-SOFI (7634).
Background Information
Loan Type
Federal Loan Programs
Consolidation
Degree Type
Course of Study
Credit Rating
School Type
Lenders
More Educational Resources