Review of Peer-to-Peer Lender Prosper

Prosper Marketplace was established in 2005 in San Francisco, California as America's first peer-to-peer lending company. It was a pioneer in an industry that has grown exponentially ever since. It is co-founded by Chris Larsen and John Witchel. Prosper officially opened to the public in 2006. It went quiet from 2008 to 2009 until it became authorized to issue promissory notes to its lenders. The company has many notable backers including Accel Partners, Agilus Ventures, Benchmark Capital, BlackRock, QED Investors, and more. This company is run on an entirely online platform, and it acts as a broker between borrowers and lenders. It will match debtors with debt investors and take a small fee for doing so, making money by charging borrowers a one-time fee & collecting a yearly loan servicing fee from its investors.
In the early years from 2006 until 2009, this company used the variable rate model. It was set up like an eBay auction site where the borrowers and lenders ultimately set the loan rates. In 2010, this changed and Prosper now sets rates by evaluating everyone who wants to borrow from the company's credit history and score. Prosper loans are issued in USD, and every borrower and lender have to be a United State's citizen. The most recent update from Prosper came in 2016 when they launched Prosper Daily. This is an app that is designed to help its customers make sound financial investments and track their buying and spending trends.
What Types of Loans Does Prosper Offer?
Prosper offers a broad range of loans and loan amounts. These loans are all unsecured, and this means you won't have to come up with any collateral to be eligible.
1. Auto and Vehicle Loans. These loans are used for emergency repairs, unexpected costs, or to purchase a new or used vehicle.
2. Debt Consolidation Loans. This is one of the most popular loans Prosper offers. Debt consolidation loans are used to get out of credit card debt and streamline many monthly payments into one easy payment.
3. Green Loans. Prosper's green loans are used to finance environmentally friendly projects. They can also be used for green housing or business upgrades like solar panel installation.
4. Home Improvement Loans. These loans can be used to renovate your home or improve existing issues.
5. Military Loans. Prosper takes the hassle of active duty military personnel applying for loans. These loans can be accessed from anywhere and can be used to cover moving expenses, home improvements, or new household items.
6. Short Term or Bridge Loans. Sometimes you just need a small, short-term loan you can repay within 3 to 5 years. Prosper offers those as well.
What is the Process of Applying for a Loan?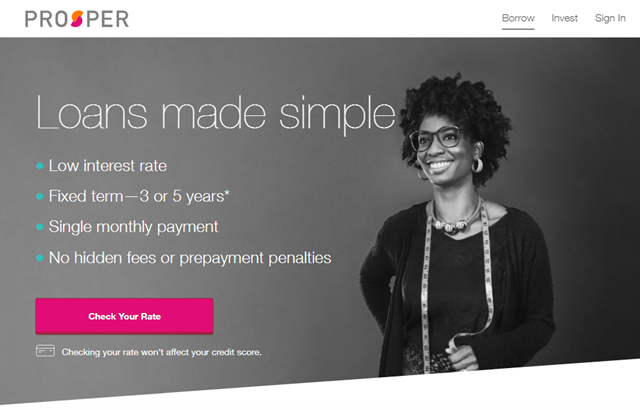 If you're thinking about using Prosper for applying for a loan, the first thing you have to know is your credit score. Prosper has a minimum credit score of 640, and the average rating of Prosper's borrowers is 700 and up. If you don't know your score, you can get a free credit report by clicking here.
| Prosper Average Borrower Snapshot | |
| --- | --- |
| Annual Percentage Rate | 16.99% |
| Credit Score | 707 |
| Debt-to-Income Ratio | 17.50% |
| Income | $78,046 |
| Loan Size | $12,774 |
If you are found to be eligible, you can fill out the application. This application will include your name, address, phone number, valid bank account, social security number, and proof of US citizenship. You will have to provide your employment information and your monthly income. Prosper may ask you to provide evidence of this information like pay stubs. The company will also want to know the amount of the loan you need and what you need it for.
Prosper will take all of the information and perform a soft credit check, and you will know within minutes if you're eligible. You must also have had no bankruptcies within the last twelve months, and have a current debt-to-income ratio of less than 50 percent. You could also be turned down if you have less than three open credit cards or loans in good standing, and if you've had over seven credit inquiries in the past six months.
You will usually know within minutes if you are approved. However, Prosper may also call your bank to verify the account number you gave, and they will want proof uploaded as well. This can make the process take up to seven business days to complete. Once you qualify for your loan, Prosper will do a 'hard' credit check, and this will show up on your credit report. A page will open with a list of eligible loans. You choose the one that suits your needs the best, and you submit it. Prosper will take your loan and list it as available to investors in its marketplace.
Prosper will assign your loan a rating based on what they find in the hard credit check, and you will not know this score. It ranges from AA, A, B, C, D, E or HR, and the lower your score is, the higher of a risk you are seen as. This will also drive interest rates up on the loan. Investors can now view your loan and decide if it looks like a sound investment or not. They can anonymously choose to fund a portion of your loan or fund the entire thing. Once you've paid back the loan, the investors will get a percentage.
If no investor chooses to fund your loan, it will be removed from the site, and you can reapply using the same process over again. It is a good thing to keep in mind that if you've been late on a Prosper loan before, or are currently behind you may be denied a second loan.
| | Lending Club | OneMain | Prosper | SoFi | Upstart |
| --- | --- | --- | --- | --- | --- |
| APR Rates | 5.99% to 35.89% | 12.99% to 35.99% | 5.99% to 35.9% | 5.70% to 14.24% | 6.37% to 29.99% |
| Funding Time | 14 Days | Same Day | 3 to 5 Days | Several Days | 1 to 3 Days |
| Loan Amounts | $1,000 to $40,000 | $1,500 to $25,000 | $2,000 to $35,000 | $5,000 to $100,000 | $1,000 to $50,000 |
| Minimum Credit Score | 660 | No Minimum | 640 | 640 | 620 |
| Origination Fee | 1% to 6% | Varies by State | 0.50% to 4.95% | None | 0% to 6.00% |
| Soft Credit Check | Yes, review | Yes, review | Yes | Yes, review | Yes, review |
Who Would Benefit the Most From a Prosper Loan?
Anyone with Good to Excellent Credit. Prosper has a minimum credit score of 640 and up. The average credit score of Prosper members is around 707.
Anyone who Wants to Improve their Credit Score. Prosper reports to all three major credit bureaus. If you want to improve your credit score and you are able to make your payments on time, this is a good option for you.
High-Income Earners. If you have a high yearly income, this can be a good choice for you. The average Prosper borrower has an income of $78,000 per year.
Low Debt-to-Income Ratio. This ratio is the amount of debt you have compared to your monthly income level. You want a lower level, and you should know this ratio before you apply.
Someone who Doesn't Need a Co-Borrower. Prosper does not allow for joint applicants, so it is a good idea to double check to make sure you can obtain this loan with your credit score and income level.
Fees and Penalites
If you take a loan with Prosper, you are subject to various fees and penalties. You should make sure you know what each of these is so you don't get caught unaware. You don't want to add any additional penalties onto your loan balance.
Late Payment Fee - Prosper will assign a late payment fee if you pay after the due date. This fee is either 15 percent of the loan balance or $15, whichever one is higher.
Monthly Installment Fee - If you don't have enough cash in your account to cover the monthly payment amount, you'll be charged a fee of 5 percent of the balance or $15, whichever one is larger.
Origination Fee - Prosper will charge an origination fee for matching investors to borrowers. This fee ranges from 0.50% to 4.95%, and it depends on your credit report.
Prosper Investors
If you're looking to add diversity to your investing portfolio, look no further than Prosper. This company features a seamless and straightforward application process for investors. Investors choose to work with Prosper because it has the potential to give them an average of 8.1 percent returns.
The first step is opening an account with Prosper. This process is straightforward. You input your information and verify everything is correct. You'll have to have the following information on hand:
First and Last Name
Birthday
Proof of US Citizenship
Social Security Number
Verifiable Bank Account
There are a few different account types you can choose from when you sign up. You can simply choose an individual account, or they have IRA accounts as well. Prosper also offers Roth IRA accounts and 401(k)s as well. As soon as Prosper has verified you, you can deposit your funds you plan to use to invest in various loans.
You will be directed to the borrower platform when you browse the loans manually, or you can input parameters and Prosper will auto select the best options that fit your guidelines. You can choose loans based on their ratings with AA being the safest option and HR being more of a high-risk investment. You can also set Prosper to invest in a certain loan as a one-time investment, or you can set it up as a reoccurring investment that will invest in loans within your set guidelines. There is a minimum investment of $25 per loan. You will be paid a percentage of the original loan amount once the borrow has repaid the balance.
Accreditation and Reviews
Prosper has been around for years, and this is more than enough time to get several reviews and accreditations from different sites. The most notable reviewer listed is the Better Business Bureau. The BBB has a file opened for Prosper since 2006, and currently, have it rated as an A+ company. They determine this rating by the following criteria:
Business size
Number of the complaints against the business
Number of resolved complaints
Age of the complaints
Age of the business
Transparent business practices
Licensing and government actions
Credit Karma base their reviews on combining the BBB's statistics and their own customer reviews. The author of Investor Junkie opened an account and invested to get first-hand experience with how the process works from a investors perspective. He stated that the site is slightly more high-risk, but if you're selective about the loans you choose they should pay off. He also stated the borrower profile is one of the most detailed he has ever seen. He notes that the fact Prosper shows if a certain borrower has had loans through the company before, and their payment history.
| Prosper Company Reviews | Rating |
| --- | --- |
| Better Business Bureau | A+ rating |
| Credit Karma | 4.6/5 |
| Investor Junkie | 4/5 |
| Average Score* | 9.07/10 |
*Based on an equal weight from each of the above reviews, with BBB scored 10/10 for A+ rating.
Further Information
Wikipedia published a background article on the company here. Customers & prospective customers can contact Prosper at +1 866-615-6319.
Background Information
Loan Type
Federal Loan Programs
Consolidation
Degree Type
Course of Study
Credit Rating
School Type
Lenders
More Educational Resources