Review of OneMain Financial

If you're in the process of rebuilding your credit, or if you have poor to fair credit and you need a loan, OneMain Financial might be an option to look into getting. OneMain Financial was founded in 1912 in Baltimore, Maryland under the name of Commercial Credit. Its aim was to provide loans and capital to building contractors and manufacturers. The company changed hands several times, ending with Citicorp in 1998, and it officially changed the name to OneMain in 2011, and to OneMain Financial in 2015.
Interstate Finance Corporation was founded in 1920 in Evansville, Indiana. This company was sold several times, eventually ending up with AIG Group in 2001. It was purchased again in 2010 by Fortress Investment Group and underwent a name change to Springleaf Financial Services in 2011. Springleaf Financial Services announced plans to buy OneMain Financial in 2015 from Citigroup. This process was completed in late 2016 after 127 assets and branches were sold to Lendmark Financial Services, LLC. CEO Jay Levine oversees all of the daily operations.
What is OneMain Financial?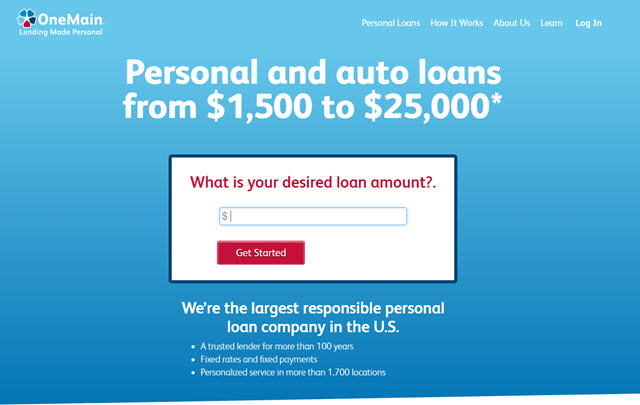 OneMain Financial is a lending group that is a hybrid of online and in-person financing. Anyone who wants to obtain a line of credit from OneMain Financial begins the process by applying online. However, they will have to go into one of the branch offices and have an interview before they can get their funds. OneMain offers almost 2,000 offices in the United States, except in Alaska, Arkansas, Connecticut, Massachusetts, Rhode Island and Vermont. This lender provides secured and unsecured personal loans to borrowers who have fair or poor credit. These loans tend to be smaller than what most lenders offer, and this is because there is more risk involved.
What Factors are Considered When You Apply for a Loan?
OneMain Financial will look at your credit score and take it into consideration, but there is no minimum credit score to be eligible for a loan. OneMain will pull your credit history and look for things like a decent credit length, your history of making on-time payments, your current monthly income, and what you have to put up for collateral.
Who is This Loan Designed For?
Anyone Who Prefers Traditional Banking. Many lending companies are done entirely through an online platform, and if you like the more traditional aspect of banking, OneMain offers that. You begin the process of applying online, but you will have to go and sit down with a representative to finish the loan and sign the paperwork.
Below Average Credit. This company is designed for people will poor to fair credit scores, and there is no minimum score. However, the average credit rating for OneMain Financial borrowers is around 622.
Joint Applicants. OneMain will allow more than one person on a single loan application. This will give you a higher chance to get approved because there will be multiple incomes on one application.
Modest Income. If your yearly income level is more moderate, you have a better chance of qualifying for a loan from OneMain. The average annual earnings for OneMain borrowers is $47,700.
Willing to Use Collateral. If you're having trouble applying for an unsecured loan and you're willing to use collateral, you can use OneMain will let you reapply for a secured loan using a vehicle or RV as collateral.
| An Average OneMain Financial Borrower Snapshot | |
| --- | --- |
| Annual Percentage Rate | 27% |
| Credit Score | No Minimum, Average Rating is 622 |
| Debt-to-Income Ratio | N/A |
| Income | $47,700 |
| Loan Size | $6,500 |
OneMain Financial's Fees and Lending Terms
Before you apply for a loan through OneMain Financial, you should take a look at the different fees and lending terms. The first fee you'll have to calculate into your loan is the origination fee. This is a percentage based on the amount of your loan, and OneMain will take this right off the top of your loan's balance. For example, if you're approved for a $10,000 loan and you get charged an origination fee of 3.5 percent, your loan amount that is deposited into your account will be $9,650. Even though you don't get the full $10,000, you'll still have to pay the original amount before the origination fee was taken out back to OneMain. The loans that you can apply for have a price range of $1,500 to $25,000 and the fixed annual percentage rate ranges from 12.99 percent to 35.99 percent. The interest amount you end up with depends on your credit history and your payment history.
Two small fees come with making your loan payment either over the phone or a Wal-Mart service desk. If you choose to pay over the phone by credit or debit card, you'll be charged a fee of $2.95 per payment. If you go to Wal-Mart and pay by the service desk, you'll pay a $1.00 to $1.50 fee for each payment.
If you miss a loan payment or pay your loan later than the due date, you'll get a late payment fee added on to the existing balance. This fee varies depending on the state you live in. If one of your payments is returned to you because of insufficient funds, you will get a late payment fee added to your balance, and this price varies state by state as well.
How Do You Apply for a Loan?
OneMain Financial's loan process is a hybrid set up. You start by creating an account on their website, and you fill out and submit your application online. You will input your full name, address, birthday, social security number, employment information, banking information, and monthly income. They will also want to know the total amount you want, and what you are going to use it for. You will have to have these items as well:
Government Issued ID - Driver's License or Passport
Proof of Income - Income Tax Return or Pay Stubs
Proof of Residence - Driver's License with Your Current Address, Signed Lease, or Utility Bill
Social Security Card
OneMain Financial will ask you to upload copies of these documents so they can verify everything you put into your application. They might ask for additional documentation in unique circumstances.
Once you apply, OneMain will do a soft credit check to verify your credit rating. If you pass this, they will do a hard check and pull your credit report to look at your payment history, rating, and open lines of credit. If they find that you're a good fit, they'll send you a confirmation within minutes. The entire application process takes around 10 minutes to complete and get your approval confirmation.
When OneMain has sent you a confirmation that you're eligible and approved for your loan, you can move to the next step. This is where the hybrid setup comes in. You will have to go to your local OneMain Financial branch office and do a short interview with a representative. If you have to use collateral, now is the time you bring it with you. If you're using your vehicle or RV, you'll need to bring the title with you. When you finish this interview, you'll sign your loan documents in person, give the representative the collateral paperwork, and the loan amount will be deposited into your account within one business day, or you can opt for a same-day check.
How Does OneMain Financial Compare to Other Lending Companies?
| | Lending Club | OneMain | Prosper | SoFi | Upstart |
| --- | --- | --- | --- | --- | --- |
| APR Rates | 5.99% to 35.89% | 12.99% to 35.99% | 5.99% to 35.9% | 5.70% to 14.24% | 6.37% to 29.99% |
| Funding Time | 14 Days | Same Day | 3 to 5 Days | Several Days | 1 to 3 Days |
| Loan Amounts | $1,000 to $40,000 | $1,500 to $25,000 | $2,000 to $35,000 | $5,000 to $100,000 | $1,000 to $50,000 |
| Minimum Credit Score | 660 | No Minimum | 640 | 640 | 620 |
| Origination Fee | 1% to 6% | Varies by State | 0.50% to 4.95% | None | 0% to 6.00% |
| Soft Credit Check | Yes, review | Yes | Yes, review | Yes, review | Yes, review |
When It Comes Time to Repay the Loan, What Options Do Borrowers Have?
OneMain Financial makes it very easy to repay the loan once the time comes. This company wants to make it as easy as possible for borrowers to repay their loans on time each month.
App. OneMain Financial has an app that allows you to make your monthly payment. This app is available on either Android or iOS systems, and once you download it and log in, you simply select 'make a payment.' You can pay your bill by an ACH checking or savings account, or a debit card.
In Person. You can visit the OneMain branch office that you got your loan from and make a payment in person. This option lets you have the most options to pay your bill with. You can pay by cash, debit card, personal or payroll or government check, cashier and traveler's check, money order, bank draft, insurance draft, and ACH (Automatic Clearing House).
Mail. OneMain allows you to mail in your payment each month by traditional mail. You send your check, money order, or cashier check to the PO box listed on your monthly statement.
Phone. If you choose to pay your loan payment by phone, you have two options. You can make your payment by calling the customer service number that is listed on your monthly statement, or you can call the OneMain branch where you obtained your loan. You can pay on your loan either by an ACH checking or savings account or by debit card.
Online. You can log into your OneMain account and make a payment this way. They accept ACH and debit card payments, and you can set it up as a one-time payment or as a Direct Pay reoccurring payment.
Wal-Mart Service Desk. If you go to your local Wal-Mart service desk, you can make a CheckFree payment on your balance. There will be both a $2.95 and a $1.00-$1.50 fee charged separately from your payment with this option.
Accreditations and Reviews
Since OneMain Financial has been in operation since 1912; it has several reports by different companies listed on the internet. The Better Business Bureau is considered to be one of the most reliable review sites for businesses, and OneMain Financial is registered with a favorable rating. The Better Business Bureau obtains it's company rankings from these criteria:
Advertising Review
Bankruptcy
Government Actions
Licensing
Mail that is Returned
Out of Business
The company has been accredited and updated by the Better Business Bureau since March 1985. There are currently 667 complaints listed on the BBB website, with 225 being from advertising issues, 220 from products and services.
| OneMain Financial Company Reviews | Rating |
| --- | --- |
| Better Business Bureau | A+ Rating |
| Best Company | 5.6/10 |
| Consumer Affairs | 3.5/5 |
| Credit Karma | 4/5 |
| Average Score* | 7.65/10 |
*Based on an equal weight from each of the above reviews, with BBB scored 10/10 for A+ rating.
Equity Investors
OneMain Financial is traded on the New York Stock Exchange under the ticker symbol OMF. As of the publication of this article, their market capitalization was $3.56 billion & their shares traded at $26.21.
Further Information
Wikipedia published a background article on the company here. Customers & prospective customers can contact OneMain Financial at +1 800-961-5577.
Background Information
Loan Type
Federal Loan Programs
Consolidation
Degree Type
Course of Study
Credit Rating
School Type
Lenders
More Educational Resources