Review of LendUp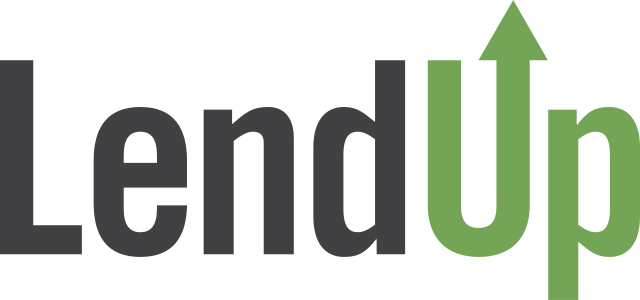 LendUp is a financing company that caters to people with bad or poor credit. This company was co-founded by Sasha Orloff and Jake Rosenberg in 2012 to act as an alternative to traditional payday loans. The first round of funding came from the company Y Combinator, and this company chooses two companies a year to finance. It will give them startup money, connections to other lenders and advice in exchange for a 7 percent company stake. Once the chosen company has been founded, its founders meet weekly with other entrepreneurs for advice and networking opportunities.
LendUp's second round of financing brought their equity and debt financing up to $325 million, and this came from companies like Google Ventures, Caufield Byers, and Kleiner Perkins. As of early 2017, LendUp has passed the $1 billion mark for loan originations.
How Does LendUp Work?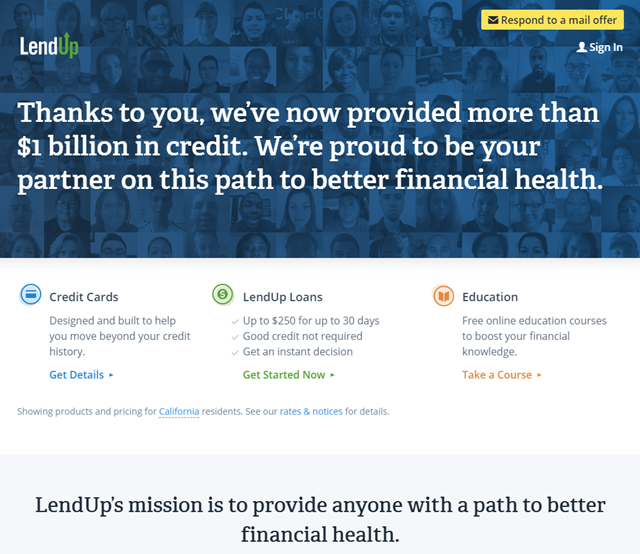 LendUp is designed for borrowers that a traditional financial institution will decline. They offer short term loans along with a few credit card options to buyers with poor credit scores. These loans are usually high-interest, and the borrower is supposed to pay the full amount plus interest back out of their next paycheck. However, it is a good thing to keep in mind that a typical loan through LendUp comes with a significant interest added on to it. For example, if you live in California and borrow a $100 loan for a term of 30 days, you will be paying back $117.30, and this puts the annual percentage rate for this loan of just over 210 percent. You do have the option to refinance these loans, however paying it off as quickly as possible is the best choice.
The LendUp Ladder
This company uses what it calls the LendUp Ladder to help determine the interest rate on each loan. The theory is the more you use LendUp, the more points you earn. You can also earn points by referring people to LendUp and taking the financial education courses they offer. These points will put you in position for lower interest rates. The LendUp ladder is a graduated system, and it has several tiers to go through. The ladder starts at the Silver level, and you work your way to Gold, Platinum and then Prime positions. However, it is good to know that this ladder varies from state to state with different criteria, so the process for a California loan will differ from the Wisconsin loan's standards. LendUp will also reevaluate its borrowers occasionally to give them access to higher lines of credit. The six main ways to earn points and climb the ladder are listed below.
Free Education Courses - If a borrower watches LendUp's short financial education video series, they are awarded points.
Free Education Bonus - You will receive bonus points if you watch each of their educational finance videos.
Refer a Friend - Each time you refer someone to LendUp, and they take out a loan and mention your name, you will earn points.
Repaying Your Loan on Time - If you repay your loan on time and for the full amount, you will get points each time you do this.
Share Your Story - LendUp may ask you to share your personal story about how using this company helped you, etc. They offer points as an incentive to share.
Taking Out Your First Loan - LendUp will give you a few points for taking out your first loan with the company.
The goal is to move up this ladder as quickly as possible because the higher up you are, the better interest rate and higher credit lines you will have access to. Once you reach Platinum or Prime level, LendUp will begin reporting your loan status with your payments to the three credit bureaus. As long as you're paying on time, this can help raise your credit score by a few points. This factor is what makes LendUp different from almost every other payday loan company, as they don't report your usage to help you improve your credit score.
What Type of Borrower Does LendUp Work For?
The biggest thing LendUp has for borrowers is that it accepts very poor or bad credit scores. It will still give borrowers short term loans and credit cards despite this fact.
Anyone Who Wants to Improve Their Credit Knowledge. If you're a borrower who wants to learn about debt and expand your credit knowledge, LendUp is an option to look into. Once you watch the free educational videos, there is a short quiz to make sure you understood the materials.
Anyone Who Needs Quick Funds. If you have an emergency or car issues and need access to money quickly, LendUp can do that for you. Once the borrowers fill out the application, they are typically approved within one hour.
Improve Credit. Once you use LendUp a few times and work your way up the Lending Ladder, your credit score has a chance to increase with on time payments. LendUp will report your loans and payment history to the credit bureaus, and this can move your credit score up a few points.
Poor Credit. If you have very poor credit and can't get approved for a loan at a traditional lender, you may be able to get approved for this company. They specialize in getting loans and credit cards to borrowers with less than stellar credit ratings.
What Types of Credit Lines Does LendUp Offer?
LendUp offers three separate types of credit lines for eligible borrowers. You can choose which option suits your situation the best and apply for that one.
1. Credit Cards. LendUp is one of the few lenders who offer credit cards for their borrowers to help rebuild their credit scores. These cards usually carry a higher interest rate than a traditional credit card, but these are designed for individuals with poor credit. A borrower is seen as a higher risk client, and the interest rates reflect that.
2. Single Payment Loans. This company has smaller loans that are typically under $250 that are intended to be paid back in a single payment. These are the first loans you will be able to secure through LendUp until you earn enough points to move up the ladder to higher credit lines.
3. Installment Loans. You will be able to get loans for around $1,000 with an installment loan once you've earned enough points. These loans will be reported to the credit bureau, and you pay them back over the course of nine months to a year.
LendUp's Terms
This company specializes in offering short term fixed-rate loans to borrowers. The first few loans you can get approved typically range from $100 to $250, and they are payable within 7 to 31 days depending on your individual needs, and your state's laws. LendUp also offers credit-reporting installment loans in many states. These loans range in price from $500 to $1,000 and are payable in terms of nine or twelve months.
You should also be aware that LendUp charges an origination fee for each loan it approves. This fee varies depending on the loan amount and on the state you live in. For example, you take out a $100 loan with an origination fee of $18.21 percent origination fee. You will add this fee on top of your $100 loan amount, so you'll pay back $118.21 plus the annual interest rate over the life of the loan. When you're applying for a loan, keep this fee in mind as it can quickly add to the amount you'll owe when it comes time to repay your loan.
You repay your loan in the form of a fee and depending on the interest rate attached; this can be quite expensive. For example, for a two week, $100 loan, the annual percentage rate can be as high as 235.42 percent to 625.71 percent, and this depends on your state. If you use the ladder system, you can work your way to a 29% annual percentage rate over time.
| Average LendUp Borrower Snapshot | |
| --- | --- |
| Annual Percentage Rate | Varies between 200% to 625.71% |
| Credit Score | No Miminum |
| Debt-to-Income Ratio | N/A |
| Income | No Mimimum |
| Loan Size | 100 to $1,000 |
Penalties
The company has a few penalties if the borrowers don't follow the original terms and conditions after they have accepted the loan.
Early Repayment. If you choose to repay your loan earlier than the due date with a debit card or a MoneyGram, you'll be charged a fee for this service.
Insufficient Funds Fee. If you don't have enough money in your account to cover your monthly deposit, you'll be charged a $15 non-sufficient funds fee for each payment that you don't have enough money to cover.
Quicker Deposit. If you sign up for the quicker 15 minute fund deposit, you'll be charged a small fee for this service.
The Application & Repayment Process
LendUp offers a fast and easy application process for any potential borrowers. This is an entirely online system of lending, and this means everything from the initial application to getting the money deposited into your account is done virtually.
The first step is to fill out the application. You will need things like your full name, birthday, current address, banking information, income, employment information, and your social security number. LendUp will take this information and ask you to upload your two most recent pay stubs or banking information so they can verify your income level.
Once all of this is done, LendUp will let you know within minutes if you are approved or not. They do not check your credit score, so there is no damage to your rating. You will be able to repay the loan through automatic payments, debit card, personal check, or MoneyGram.
How Does LendUp Compare to Other Companies?
| | LendUp | Avant | Traditional Payday Loan |
| --- | --- | --- | --- |
| APR Rates | 200% to 625.71% | 9.95% to 35.99% | 391% to 3,733% |
| Funding Time | 15 Minutes | 1 to 2 Business Days | 15 Minutes |
| Loan Amounts | $100 to $1,000 | $1,000 to $35,000 | $100 to $1,000 |
| Minimum Credit Score | 550 | None, Average Rating is 650 | No Minimum |
| Origination Fee | Varies | 0.95% to 4.75% | Varies |
| Soft Credit Check | No | Yes, read review | No |
LendUp's Controversy
In late 2016, LendUp was fined over $6 million dollars, including a $1.8 million fine from the Consumer Financial Protection Bureau and a $100,000 fine for violating laws from the California Department of Business Oversight. LendUp got caught inflating interest rates, as well as charging fees to borrowers who took their money out the same day it was made available. It also charged borrowers extra fees if they asked to extend their repayment period from 15 days to 30 days. LendUp advertised that it had loans available in all 50 states as well, when the majority of the loans were only available in California. Finally, this company promised that it would pass good payment behavior on to the three credit bureaus to help the clients improve their credit scores and never did. All of these practices happened between the years of 2012 to 2014, with the various fines beginning in late 2016.
Reviews and Accreditations
Since LendUp is an entirely online entity, it attracts multiple reviews from different sites and companies. A lot of potential borrowers use this information to choose if they should use LendUp or go with another company.
| LendUp Reviews | Rating |
| --- | --- |
| Better Business Bureau | Revoked Status |
| Best Company | 5.8/10 |
| Credit Karma | 3.5/5 |
| TrustPilot | 9.5/10 |
| Average Score* | 5.58/10 |
*Based on an equal weight from each of the above reviews, with BBB scored 0/10 since their status was revoked.
Further Information
Wikipedia published a background article on the company here. Customers & prospective customers can contact LendUp at +1 (855) 2LENDUP / +1 (855)-253-6387.
Background Information
Loan Type
Federal Loan Programs
Consolidation
Degree Type
Course of Study
Credit Rating
School Type
Lenders
More Educational Resources