A Comprehensive Review of P2P Lender Lending Club

Lending Club was founded in 2006 by Renaud Laplanche and has become a huge player in the peer-to-peer lending company field. This company was initially launched using the Facebook platform, and it was one of Facebook's first applications. This lending company is run entirely online. It received over $10 million in funding from Canaan Partners and Norwest Venture Partners. This money came from a Series An investment opportunity where Lending Club offered shares of company stock in exchange for Canaan Partners and Northwest Venture Partners investing in the enterprise. They entered a dormant period in early 2008 while the company waited to get the go ahead to issue promissory notes to its lenders. Lending Club kicked off a Series B funding and investment round in early 2009. Morgenthaler Ventures led this effort, and it raised $12 million in financing. In mid-2014, Lending Club started to offer loans to small businesses, and this expanded to car loans and mortgages in 2015. They also partnered with tech giant Google to be able to give credit lines to smaller companies that use Google's services for business.
Who is Lending Club a Good Fit For?
Lending Club is a good fit for a variety of people if you fit their criteria. This is an excellent way to build credit and increase your debt to income ratio.
Anyone with Good to Excellent Credit. Lending Club has a minimum credit score of 660 and up. The average credit score of lending club members is around 670. It is a good idea to check your credit score before you apply.
Anyone who Wants to Improve their Credit Score. Lending Club reports to all three major credit bureaus. If you want to improve your credit score and make your payments on time, this is a good option for you.
High-Income Earners. If you have a high yearly income, this can be a good choice for you. The average Lending Club borrower has an annual income of just over $76,000.
Joint Applicants. Lending Club will allow multiple borrowers on a single loan. This can potentially lead to a higher line of credit.
Low Debt-to-Income Ratio. This ratio is the amount of debt you have compared to your monthly income level. You want a lower level, and you should know this ratio before you apply.
How Does Lending Club Work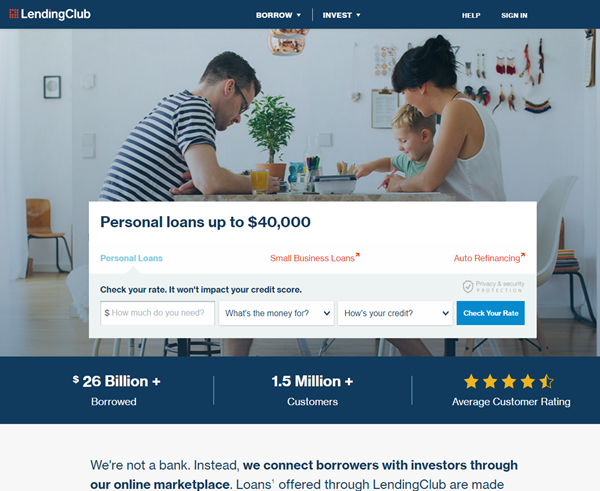 Since Lending Club is a peer-to-peer lending company, the entire process is very straightforward. A borrow goes to the Lending Club site and sees if they meet the minimum requirements to be eligible for a loan. If they do, they can move on to the application process. The requirements are:
18 Years Old or Older
Credit Score of 660 or Higher
Long Credit History with Significant Credit Lines
Low Debt to Credit Ratio
United States Citizen or Possess a Long Term Visa
Verifiable Bank Account
If you meet all of these requirements, you can begin the application process. Once your application is approved, it will go up on the Lending Club site.
Investors will go through this platform and look at the different loans and choose the ones they want to invest in. The investors are trying to build a portfolio of various loans, and they do this by investing in different loans. The minimum monetary investment they can make is $25 per loan.
While this is happening Lending Club is busy verifying and vetting the borrower. If the borrower passes the qualifications, their loan will become available for investors to put money on. If the loan gets full funding, the borrower will receive the money, minus an origination fee. If the borrower fails to pass the qualifications, the loan will be deleted, and the money that has already been invested will be returned. The loan can stay on the Lending Club Platform for two weeks before it is removed. The borrower has 30 days to start repaying the loan after they initially received it.
How do You Apply?
Applying for a loan from Lending Club is a convenient, easy, and quick process. You begin by putting your necessary information into the online application. You'll need to know things like your credit score, annual income, whether you're applying individually or jointly, what you need the loan for, and the amount of money you want.
Once this is complete, Lending Club will perform a soft credit check to verify your information. This credit check won't affect your credit score, and you'll know within a few minutes if you qualify.
If you do qualify for the loan, a chart with options tailored to you will be displayed. It will have loans a little lower and a little higher than your asking amount as well as the fixed monthly payment with interest rates for 36 and 60-month loan terms.
When you find a loan offer that suits your needs, choose your offer and complete the online application. You'll need a current address, social security number, income information, and employment information. Once you input this, Lending Club will ask for verification of your email address, income level, and employment status. If you skip this step, your loan will be denied.
Next, you wait while Lending Club reviews your application. This is the stage where they will assign you a letter grade that ranges from A to G. This grade will help determine what terms and interest rates you are eligible for, with a grade of A being the more favorable. There are 35 grades in total, and they range from A1 at the highest down to G5 at the lowest. The grade of A carries an interest rate of just over 5 percent, and the typical G grade interest rate is just over 30 percent, which is a huge difference. This is where your credit history factors in. The better overall credit history a borrow has, the better their grade will be.
| | Lending Club | OneMain | Prosper | SoFi | Upstart |
| --- | --- | --- | --- | --- | --- |
| APR Rates | 5.99% to 35.89% | 12.99% to 35.99% | 5.99% to 35.9% | 5.70% to 14.24% | 6.37% to 29.99% |
| Funding Time | 14 Days | Same Day | 3 to 5 Days | Several Days | 1 to 3 Days |
| Loan Amounts | $1,000 to $40,000 | $1,500 to $25,000 | $2,000 to $35,000 | $5,000 to $100,000 | $1,000 to $50,000 |
| Minimum Credit Score | 660 | No Minimum | 640 | 640 | 620 |
| Origination Fee | 1% to 6% | Varies by State | 0.50% to 4.95% | None | 0% to 6.00% |
| Soft Credit Check | Yes | Yes, review | Yes, review | Yes, review | Yes, review |
Possible Fees and Penalties
If you secure a loan through Lending Club, make sure you're aware of the fees and penalties that can add up.
Late Payment Fee - You have a 15-day grace period to pay any late payments. If you fail to do this, you'll be assigned a late payment fee of 5 percent of the unpaid balance or $15.
Monthly Installment Fee - If you don't have enough funds in your account to cover the monthly payment fee, you'll be charged an additional $15.
Origination Fee - 1 to 6 percent depending on how your credit is.
Pay by Check - There is a $7 pay by check fee, and no fee if you set up a debit account. There is no penalty for paying your loan off early.
Accrediation, Consumer Complaints & Consumer Reviews
Lending Club is accredited by the Better Business Bureau with a grade of A+. Lending Club has been certified since January of 2008. To be accredited, the business must meet several standards and be in compliance with the Better Busines Bureau's standards. The A+ rating is the highest rating the BBB can give a business. The rating is based on several criteria including:
Complaint Volume Filed with BBB for a Business of this Size.
Length of Time the Business had Been in Operation
Response to the Complaints Filed Against the Businesses
Resolution to the Complaints Filed Against the Business
There were 223 customer complaints filed with the BBB in the last three years. The majority of these complaints were advertising issues and problems with services. To date, each of these complaints has been resolved.
| Lending Club Company Reviews | Rating |
| --- | --- |
| Better Business Bureau | A+ |
| Credit Karma | 4.7/5 |
| NerdWallet | 4.5/5 |
| Investor Junkie | 3/5 |
| Consumer Affairs | 3/5 |
| Average Score* | 8.1/10 |
*Based on an equal weight from each of the above reviews, with BBB scored 10/10 for A+.
Lender Prespective
If you're a lender that is looking to getting started with Lending Club, the process is straightforward and simple. Lenders choose to work with this company because it an give them a cash flow of 2 to 5 percent per month. You will also gain access to the consumer credit asset class. This class has historically only been offered to large institutions and banks.
The first thing you have to decide is what type of account you want to have with Lending Club. You can choose an individual account, a retirement account with either a Traditional IRA, Roth IRA, or a 401k Rollover. There are also multiple alternative accounts available to choose from as well. There are corporate accounts, custodial/minor accounts, joint accounts, and trust accounts.
Once you have settled on an account, it is time to choose your investment strategy. You set up a risk profile, and Lending Club can perform automated investing based on your parameters. You can decide to go with A and B weighted portfolios, D through G weighted portfolios, platform mix or custom mix. The D through G category has historically seen higher returns, but there is also an increased risk associated with that group. There is an option for manual choice as well. You can browse a wide variety of loans and choose the ones that look the best to you to invest with.
The final step is to put funds into your Lending Club account so you can begin investing. The minimum amount is $1,000 per account. You can put the funds into your account by an automated clearing house, check, or wire. Once you have deposited this money, you can withdraw it again at any time.
Equity Investors
Lending Club is traded on the New York Stock Exchange under the ticker symbol LC. As of the publication of this article, their market capitalization was $2.1 billion & their shares traded at $5.19.
Lending Club Controversy
Almost every company will experience some
controversy
at one point or another during its operation and Lending Club is no different. In May of 2016, the founder and Lending Club's chief executive Renaud Laplanche resigned after an internal probe reported findings that the company sold an investor $22 million worth of loans that the investor didn't want.
Renaud Laplanche's resignation comes at an inopportune time in the investment world as investor's interest in loans is waning. This waning interest could lead to more defaults and tighter regulations for the industry. When this happened, Lending Club's total value was just one-fifth of its original value when it first came onto the market in 2014. There were three additional managers fired after the probe's report went public. Lending Club did purchase the $22 million worth of loans back, so the United States bank lost nothing.
These reports resulted in Lending Club's disclosures being reviewed by the U.S. Securities and Exchange Commission. The new regulations are expected to go live in the next few months, and these regulations will include more protection for the consumers. Traditionally, regulations for online companies have been mostly nonexistent, but this is changing.
Further Information
Wikipedia published a background article on the company here. Customers & prospective customers can contact LendingClub at +1 888-596-3157.
Background Information
Loan Type
Federal Loan Programs
Consolidation
Degree Type
Course of Study
Credit Rating
School Type
Lenders
More Educational Resources