Review of Avant Credit

The peer-to-peer lending company Avant was founded in 2012 in Chicago by Al Goldstein, John Sun, and Paul Zhang. They got the inspiration for this business when John Sun attempted to apply for a loan after he graduated from the Y Combinator startup program. He found the entire process to be frustrating as well as time-consuming, and he wanted a better option for borrowers. They had worked as interns of the company Goldstein's at Enova, and they saw this as a chance to partner with them to get Avant up and going. They set up their company's headquarters in Chicago, and the first round of funding brought them over $1 million.
Avant began developing software that is focused on minimizing fraud and default risk by using machine learning techniques and technology. They've been working to be an entirely online lending platform, with every aspect of the loan process being done virtually. This will simplify the borrowing process, as well as cut traditional costs. As of early 2015, Avant has raised just over $1 billion in funding and launched the Avant Institutional Marketplace. The Avant Institutional Marketplace allows investors to buy loans that were made through Avant technology, and this, in turn, works to diversify Avant's sources of funding.
Since early 2015, Avant has been the recipient of several recognitions and awards. It was named on Forbes America's Most Promising Companies in slot #6, Moxie Award for Breakthrough Digital Company of the Year, and it was listed on Forbes Next Billion Dollar Startups as well. Avant's founders have also received recognition as one of the 30 Under 30, and the Entrepreneur of the Year Midwest.
What Kind of Loans Does Avant Offer for Borrowers?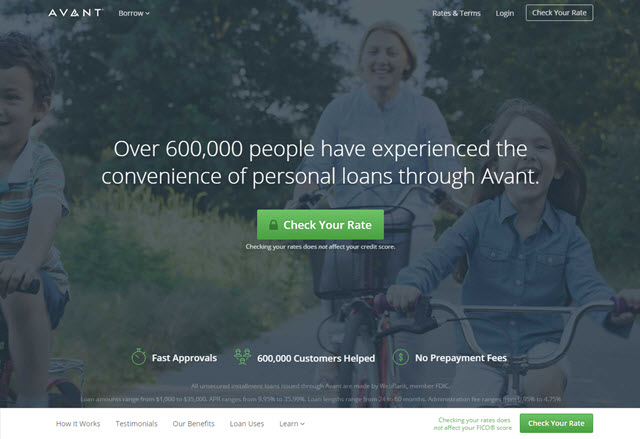 Avant offers personal unsecured fixed interest rate loans through a quick and easy application process. These loans are available in three different categories, and those categories are listed below.
1. Debt Consolidation. Debt consolidation is the most popular reason most people take out unsecured loans. Debt consolidation is where a borrower takes two or more loans or bills and pays them off with the Avant loan. This streamlines the repayment process as the borrower only has one payment to worry about instead of multiple ones each month. The interest rate is fixed, so the borrower knows exactly what amount their monthly payment will be, every month for the life of the loan.

2. Emergency Loans. If you have an unexpected bill, you know what a strain this can put on the household's finances. You can take out an Avant loan to cover your emergency expenses and repay it with Avant's flexible repayment plans. An emergency loan could be used for a home or vehicle repair, medical or dental bills, or lost valuables.

3. Home Improvement. You can use an Avant loan to update parts of your home without having to refinance or using equity to get approved. You can use this loan money to buy new furniture or a security system, finish your attic or basement, or plant a garden.

4. Start Ups. If you want to start your own business, but you don't have the money to do so, Avant can help you. They will loan you funding for starting a new business or refinancing your current business.
Who Would Be a Good Fit For an Avant Loan?
Several things can make Avant a good fit for borrowers. However, if you have very good credit, you should look at other options as Avant is geared toward average credit scores.
Average to Slightly Below Average Credit. A loan through Avant is a good idea if you have an average credit rating. You should have a credit score of 650 to 695.
Flexibility in Your Payments. If you want flexibility in your payments, this lender could be a good fit. Avant will forgive your first late payment after you pay the next few on time.
Modest Income. Avant offers loans to borrowers who have an average income level of at least $40,000 annually.
Someone Who Doesn't Need a Co-Borrower. Avant doesn't allow more than one person to be on a single loan. You have to qualify with your personal credit history and credit rating.
Fees and Penalties
Before you apply for a loan through this company, you'll want to know the various fees and penalties you could end up getting for things like paying late or not having enough money in your account to cover the monthly payment.
If you don't have enough money in your account to cover your monthly payment and it comes back to Avant, you'll get a $15 fee added to your balance. If you're late on a payment, you'll be charged a $25 late fee, but this fee price ranges from state to state. If you make the next three payments on time, Avant will refund this $25 fee. Finally, this company will charge an origination or administration fee that ranges anywhere from 0.95 percent to 4.75 percent, and the company won't disclose how this decision on the amount you get charged is made.
Avant's Lending Terms
This company offers personal loans that start at $1,000 and go up to $35,000, but you'll have to check with Avant what the minimum loan amount is in your state because it varies state by state. Depending on your creditworthiness, your fixed interest rate will range from 9.95 percent to 35.99 percent annually. You will get a term quote after your initial application, and this is based on your payment history, your repayment time, and the loan amount you want.
| The Average Avant Borrower Snapshot | |
| --- | --- |
| Annual Percentage Rate | 9.95% to 35.99% |
| Credit Score | 650 |
| Debt-to-Income Ratio | N/A |
| Income | $40,000 to $100,000 |
| Loan Size | $8,000 |
How Do You Apply for a Loan Through This Company?
To begin the application process, go to the Avant website and click the 'get my rate' button. This is where Avant will pre-screen your for eligibility. A form will open and you'll put in your full name, current address, income information, and your social security number. Avant will perform a soft credit check, and you will know within a few minutes if you're approved or not. It is a good idea for you to check your credit score before you apply. You can check it by clicking here.
A new page with a chart will open once you're approved. This page will have a calculator that displays a table with different loan options that are available. You will be able to see each loan's fixed monthly payment, along with the repayment length and the interest rates for each loan.
The third step is inputting your repayment information and dates. You'll be shown the total balance of your loan and what Avant is subtracting for its origination fee. The new total will be shown as what is getting deposited into your banking account.
The final step is to input your banking information and electronically sign all of your loan paperwork. Avant will now do a hard credit check that will drop your credit rating by a few points, and within one or two business days the money will be deposited into your account.
Repayment Options
When you're applying for your loan, Avant will ask you to put one of the following repayment options to make this process as seamless as possible. You will also get to choose the length of time you want to pay your loan back, and this ranges from 24 to 60 months.
Automated Clearing House.(ACH) If you choose this option, the company will automatically debit the payment amount from the checking or savings account you put on your loan paperwork on the due date.
Credit and Debit Cards. Avant accepts every major credit card lender including American Express, Diner's Club, Discover, JCB, MasterCard, UnionPay, and Visa. You call customer support each month and pay your balance over the phone.
Paper Checks, Cashier Checks, and Money Orders. You mail your payment to the PO box that is listed on your monthly statement. You should allow five to seven days for the payment to post to your account, so you should send it early. You will have to put your customer id number and your loan id number on each check or money order you send.
Remotely Created Checks. Avant will create an electronic check that you have pre signed, and cash it on the day your payment is due each month.
How Does Avant Compare to Other Lending Companies?
| | Avant | LendUp | Money Source |
| --- | --- | --- | --- |
| APR Rates | 9.95% to 35.99% | 210.42% to 625.71% | 200% to 650.50% |
| Funding Time | 1 to 2 Business Days | 15 Minutes | 1 Hour |
| Loan Amounts | $1,000 to $35,000 | $100 to $1,000 | $100 to $1,500 |
| Minimum Credit Score | None, Average Rating is 650 | 550 | 525 |
| Origination Fee | 0.95% to 4.75% | Varies | Varies |
| Soft Credit Check | Yes | Yes, read review | Yes |
What Makes This Company Stand Out?
Avant stands out from other lending companies by offering a couple unique, flexible features. It's lending process is designed to help borrower's with low credit obtain personal loans, and there is no minimum credit score. This company also offers missed payment forgivness, which is unusual. If you miss a payment but make the next three on time, Avant will wipe out the missed payment from your loan repayment history.
Company Reviews
Avant has many online review from different companies. Each of these companies has their own way of rating Avant, but the majority of them base their final verdict on consumer reviews, as well as how quickly and efficiently the company responds to complaints and works to resolve them. They also take the time the company has been in business averaged out against the number of complaints they have. The companies that reviewed Avant stated that the biggest things that were negative were contacting customer service to re-apply for a loan, as well as some of the interest rates. The positives were the quick and easy application process along with the broad range of credit scores Avant will approve for a loan.
| Avant Company Reviews | Rating |
| --- | --- |
| Better Business Bureau | A+ Rating |
| AAA Credit Guide | 4.8/5 |
| Credit Karma | 4.5/5 |
| Merchant Maverick | 4/5 |
| Average Score* | 9.15/10 |
*Based on an equal weight from each of the above reviews, with BBB scored 10/10 for A+ rating.
Further Information
Wikipedia published a background article on the company here. Customers & prospective customers can contact Avant at +1 (800) 712-5407.
Background Information
Loan Type
Federal Loan Programs
Consolidation
Degree Type
Course of Study
Credit Rating
School Type
Lenders
More Educational Resources