Peace and Conflict Studies Scholarships
Get Your Piece of the Pie
The dichotomy of peace and conflict is the cake and ice cream of higher education – they are mutually exclusive and yet go so very well together. Students wishing to get their feet wet in this complicated, and yet ultimately very rewarding, field should be committed beyond a doubt. In fact, to test this level of dedication, most scholarships for peace and conflict studies require applicants to write an essay on their career goals, hoping that they will adhere to them as their studies turn into real world application.
For the serious, willing, and motivated student of this political pursuit, there are significant opportunities to study with scholarships at institutes and organizations where world leaders, scholars, and students may all come together to work for a more peaceful co-existence.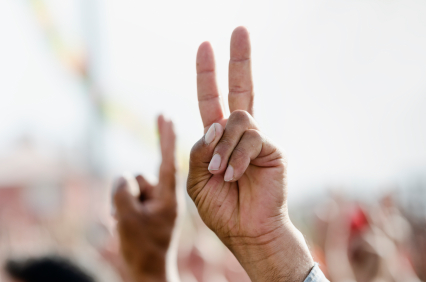 Private Funding
Rotary World Fellows
Rotary International is one of the leading providers of scholarships for students who are uniquely interested in humanitarian aid or peace programs. The Rotary Peace Fellowships program gives outstanding graduate students the opportunity to study with worldwide leaders in peace and conflict and choose from a handful of the finest international universities around the globe. The fellowship can be used to either pursue a Master's degree or a professional development certificate in aid or peace studies. Rotary Peace Fellows study and work in the areas of greatest worldwide need for the both simple and complex resources such as food, medical supplies and hope. Students must apply through their local chapter of the Rotary club, which can be located on their website.
United States Institute of Peace
The United States Institute of Peace is an organization established by the United States government as a herald of our pursuit of a cohesive and just social world. USIP is put to the task of acting as a resource and collaborative environment in which international leaders and scholars may come together to join efforts to help resolve conflict between nations and peoples. Fellowships offered by USIP include:
The Jennings Randolph Fellowship Program funds the research efforts of graduate students, post-graduate scholars and political and social movers and shakers who wish to study at the institute. These fellowships generally last about ten months, but shorter options are also available.
The Peace Scholar Dissertation Program funds the research of outstanding doctoral candidates whose dissertation takes them into USIP territory. Ten of these awards are given out every year, particularly toward students who are writing on international peace, conflict, and security.
Alliance for Conflict Transformation
The Alliance for Conflict Transformation works hard at bridging the global differences in the world by bringing together leaders, scholars, students and organizations dedicated to a more peaceful world. ACT provides a changing list of scholarships that help students and others with travel expenses and tuition and program costs. See their website for more resources and contact information.
Peace and Collaborative Development Network
This resource is not only valuable in terms of networking in the peace and conflict arena, but provides access to dozens of scholarships and fellowships specifically targeted towards students of this study. The website's forums on Fellowships and Research contain running lists of new opportunities. Additionally, the network maintains a overview of many other peace and conflict related organizations which you may contact to explore further aid awards. The Peace and Collaborative Development Network also provides advice to students on writing successful scholarship and fellowship applications in their specific field of interest, making it a great overall resource for students who are just getting started.
College Scholarships
Ralph J. Bunche Scholarship
Minority students at several undergraduate programs may qualify for the Ralph J. Bunche Scholarship in Peace and Conflict Studies. The program emphasizes the inclusion of underrepresented populations in the field that critically needs a multicultural viewpoint. The scholarship, started by a Nobel Peace Prize winner, is available to students at Wayne State University, UCLA, and Colby College, among others.
Juniata College Service and Peacemaking Scholarships
If you are a student who has already participated in humanitarian or peace programs and you want to continue in this route of service and study, you might take a look at Juniata College in Pennsylvania where there is an extremely generous scholarship in peace studies. The Juniata College Service and Peacemaking Scholarships award up to three deserving students up to the cost of a full ride at Juniata. One scholarship is given for full tuition as well as room and board, and two are given for full tuition only. The winner not only must prove their academic and personal devotion to world peace, but must also write a stellar essay on the direction of their career.
Matsunaga Institute for Peace
The Matsunaga Institute for Peace at the University of Hawaii offers several scholarship incentives to outstanding and eligible students pursuing peace studies or conflict resolution or a synthesis of the two. The Betty Jacob and Philip Jacob Peace awards range from $500 to $100 depending on need and availability of funds. Candidates must complete an essay that makes a legitimate and passionate argument for their choice of peace and conflict studies. Applicants must also have high academic scores and a well-defined project.
Matsunaga also offers the Nobumoto Tanahashi Peace Fellowship and Scholarship for Undergraduate and Graduate Students, which ranges from $2000 to $5000 in award amount. These awards were established after their namesake legacy, the head of the Order of Peace Congregation. See the website for details on applying.
Peace and Conflict Resolved
The parallels and problems of war and peace are an intellectually and practically invaluable study. Though the struggle for peace will perhaps not be resolved entirely within your lifetime, you can push the progress that history has made that much closer by dedicating a life's work to its study and development. There will certainly be job security in a field that so desperately and necessarily requires studiers of integrity and conscience, and there is no shortage of aid to help you qualify for the education to do so. Many fellowships and scholarships like the ones above have been established in the memories of those who have stood for peace in the past, and can now offer full funding and academic challenge for students who desire to carry on that practice.
Social Sciences
Browse Scholarships
Resources
More Educational Resources