Behavioral Science Scholarships
Stable Careers in Mental Health, Economics, Politics and Education
If you're approaching your college career with a definitive interest in people and the study of their behavior towards money, each other, the world, and information, you may be geared up for a degree in the broad Behavioral Sciences.
Behavioral Science programs are often a larger umbrella heading for a collective of disciplines and college majors including counseling, economics, psychology, politics and other social sciences. The specific majors created within Behavioral Science will give you a chance to own a particular field of study while still enjoying the benefits of the department at large which offers a more interdisciplinary approach.
Professionals who have attained their undergraduate degrees in Behavioral Science may be engaged in careers in business, politics and government, counseling, psychology and mental health, education and even law.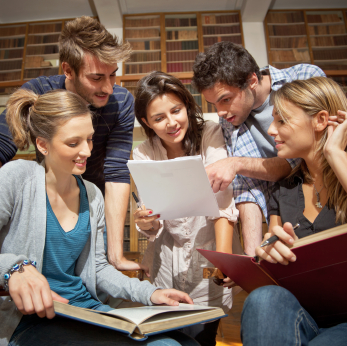 Students who go on to graduate programs in medicine, law, and various liberal arts are prepared with a solid foundation for whatever courses they may encounter. Demand for experts to do these jobs that form the backbone of our society never ceases, so a degree in the Behavioral Sciences is a sure path to eventual career stability as well as a wide range of flexibility within academia.
If you are searching for scholarship monies to begin paying for your Behavioral Sciences degree, look no further than the programs below which sponsor both undergraduates and graduates under the umbrella:
Scholarship Programs
University of Massachusetts – Amherst
The University of Massachusetts-Amherst College of Social and Behavioral Sciences offers general scholarships to some of their SBS students:
Students interested in pursuing studies abroad for a semester in Behavioral Sciences may qualify for the Ansin Study Abroad Scholarships. These awards are open to all students in the SBS who show academic merit and have a well-outlined purpose.
David Der Hagopian Scholarship is designed for a new student pursuing a program in the Behavioral Sciences who is from Florida.
All students who are at least in their junior year in the SBS are considered for the William Field Scholarships. These awards are solely awarded based and academic merit.
Social and Behavioral Sciences Opportunity Scholarships are open to upperclassmen whose academics are outstanding. Applicants must also write an essay.
University of Utah
Scholarship programs open to students enrolled in the University of Utah Behavioral Science Program within their College of Social and Behavioral Science include:
Behavioral Science and Health Departmental Scholarships recognize those students with academic merit and financial need.
Honor Roll Scholarships are designed to offer part-time Behavioral Science students the opportunity to qualify for scholarship funds. GPA must be at least 3.2.
Oakley Gordon Memorial Scholarships are not based on GPA and are open to undergraduate students in the department with a proven financial need.
Marie Gaby Scholarships are based on high GPA in combination with economic disadvantage.
Kennecott Scholarships are solely based on the highest GPA.
Cal Poly Pomona
The Lowell Overton Scholarship for Behavioral Science students is an annual award given to undergraduates in the Cal Poly-Pomona program through the College of Letters, Arts, and Social Sciences. Qualified applicants receive up to $1600 for their academic excellence. In many colleges Behavioral Sciences is the larger heading for a handful of majors, and likewise at Cal Poly students seeking a very interdisciplinary program of study may pursue the Behavioral Sciences degree, which offers a hybridized curriculum with opportunities for concentration.
University of Minnesota – Mankato
The Lin Hamer Memorial Scholarship at the University of Minnesota-Mankato awards funds to an outstanding female in the Behavioral Science program. Awards are up to $1200.
Northern Arizona University
Students pursuing a course of study in Behavioral Science at Northern Arizona University may qualify for a couple of general program scholarships:
Tony Gabaldon Memorial Scholarships are reserved for Hispanic students in the program. Preference is shown to those whose career goals are aimed at jobs in the government sector.
Susanna Maxwell Award for Community Connections is given to a student whose contributions are most outstanding for community involvement.
Mary M. and P. David Seaman Awards for Native American Excellence are given to outstanding Native American students in the behavioral science program. Eligible applicants must be able to prove affiliation to a recognized tribe.
American Cancer Society
Professional behavioral scientists are being rewarded and encouraged by an outstanding partnership between Harvard University and the American Cancer Society for work or interest in the uniquely merged field of "behavioral oncology." Qualified applicants for the American Cancer Society/American Association for Cancer Research Scholarship for Behavioral Scientists must be willing to be present at the annual conference, which is what the $1,000 awards go toward funding. The award is part of the ACS initiative for training the next generation of cancer researchers to innovate and persist.
Applicants are required to provide professional resumes or CVs, as well as a short essay describing their previous experience in the field or goals for research. This is an excellent opportunity for recognition and reward for a student on the health side of the behavioral sciences.
Oglethorpe University
Majors in Behavioral Science and Human Resource Management at Oglethorpe University in Atlanta, Georgia, have access to a uniquely designed program that delivers a focused, yet broad area of study in a range of disciplines. Students with good academic records must apply for the many general merit scholarships that are handed out to dozens of students:
James Edward Oglethorpe Scholarships are awarded to students who are the top winners of an academic exam. Besides this qualified applicants must demonstrate leadership abilities and have an impressive list of activities in which they participate.
New students may qualify for Oglethorpe Scholars Awards of up to $11,000. Selection is based on academic merit.
Oglethorpe Christian Scholarships include participation in church among selection criteria. Recipients must also have superior academics. Awards are $1500.
Options in Behavioral Science
Behavioral Science encompasses a myriad of specializations that a student can master in their years at college. Therefore, it is important that scholarship providers get to know the specific interests of their applicants as closely as possible. Be very direct about your interest in the Behavioral Sciences – vagueness or wishy-washy essays will not make for a memorable scholarship application, but specificity and intention will.
Take advantage of the broadness of the field by contacting the Behavioral Sciences department of your college to inquire into any further scholarships you may be eligible to receive. There may be funds lying around that are targeted to your special interests, along with general ones available to the whole department. Using these monetary gifts, you will be well on your way to a paid off degree under the Behavioral Sciences heading, and will continue on to further success from that stable foundation.
Social Sciences
Browse Scholarships
Resources
More Educational Resources