Human Services Scholarships
Careers offer Satisfying Work with Community Service Programs
Human services is a term covering many of the tasks involved in delivering social services. If you are a human services professional, you can have any number of different job titles, such as case worker in a public department of health or welfare, director of a community organization that campaigns for social justice like Gamaliel or the San Francisco Organizing Project, or counselor in a residential facility for troubled youth or elderly people.
Because so many academic fields are considered part of human services, it is not possible to provide more than a small sample of all the scholarships available, but the following information will give you an idea of what you will find.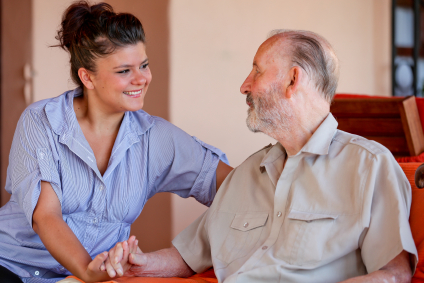 Scholarships From Private Organizations
National Organization for Human Services
Every year, the National Organization for Human Services (NOHS) asks its members to nominate candidates for two scholarships. Nominees must belong to NOHS, they must be enrolled in a degree program which has the words "human service/s" in its name, and one of each scholarship is awarded annually, assuming suitable candidates are found.
The awards are:
The David C. Maloney Scholarship is designated for students with strong academic records (at least a 3.2 GPA on a four-point scale), and if you belong to a minority or have special needs, that will receive consideration.
The Harold McPheeters Scholarship emphasizes a student's record in human services work (including volunteer service). Applicants should be known for maintaining good relations with both clients and colleagues, and GPAs of 2.8 overall and 3.0 in major courses are required.
You will need to supply a transcript, essay, and two reference letters with your application.
Scholarships From Colleges
Western Michigan University
Western Michigan University's College of Health and Human Services offers majors for students interested in careers like social work or counseling those with physical impairments or addiction problems. Examples of scholarships for students in human services disciplines include the following:
The Elissa Gatlin Scholarship (one $500 award for undergraduates and one for graduate students, fall and spring semesters) is for students enrolled in one of these degree programs: occupational therapy, nursing, speech pathology, rehabilitation for the blind, social work, or physician assistant. You must be a minority student to qualify (meaning African American, Native American, or Hispanic American), and you must have a 2.75 GPA as an undergraduate and a 3.0 as a graduate student.
The Georgia Lee Metcalfe Memorial Scholarship goes to a full-time occupational therapy student in the second year. Both financial need and a 3.3 GPA are required, and applicants must plan a career in mental health.
Western Washington University
The Woodring College of Education at Western Washington University (WWU) offers several scholarships for its human services majors, including these:
The One Stone at a Time Human Services Scholarship is reserved for students 25 and older, and those with financial need are preferred.
The Morgan Livingston Human Services Scholarship is for students at WWU's Everett campus.
The Jerry House Human Services Scholarship in the amount of $1,000 looks for students with a history of academic achievement. You must submit a list of your previous human services workplaces and an essay on your goals with your application.
University of Michigan-Flint
The University of Michigan-Flint offers a number of scholarships through its School of Education & Human Services, and here are some of those suited to human services students:
The Donna D. Bader Social Work Scholarship does not require a particular course load, but you must have a GPA of 3.0. Students returning to school to finish an undergraduate degree in social work receive preference.
The Lucille Bigelow Social Work Scholarship Fund also assists those returning students who have been away for at least three years. Preference goes to older students (late twenties-early thirties) who have children, and both financial need and a GPA of 2.5 are required.
The Ralph M. and Emmalyn E. Freeman Education and Human Services Scholarship is for a junior or senior who has a GPA of at least 3.5.
Iowa State University
The Department of Human Development & Family Studies at Iowa State University lists a number of scholarships for which you will be considered after submitting a single online application. Here are a few of those intended for human services students:
The Freda R. Riecken Award is given to older students (at least 25) who have come back to school in one of two fields, Child, Adult, and Family Services (ChFS) or Family Finance, Housing and Policy (FFHP). If no such candidate exists, the award goes to an undergraduate, and its amount is $500.
The Dr. Mary Ellen and Dr. Glenn A. Atwood Scholarship for $1,000 is given to a student in either ChFS or Early Childhood Education. You must be married, have an acceptable academic record, and show financial need. Participation in extracurricular and community-oriented activities will be considered.
The Louise J. Peet Memorial Award for Excellence is also designed for ChFS and FFHP students.
Bowling Green State University
Bowling Green State University's College of Health and Human Services also provides suitable scholarships like these for its students:
The College of Health & Human Services Advocates Board Scholarship, given to a junior or senior, looks at your academic performance, work history, and participation in extracurricular activities.
The Joseph K. and Virginia L. Balogh Scholarship goes to a junior or senior who has both financial need and at least a 3.2 GPA.
The Marjorie E. Conrad, M.D. Allied Health Profession Scholarship is extended to students in human services fields like applied health science, pre-physical or occupational therapy, speech disorders, or social work.
The Children & Youth Social Work Scholarship gives one award to a junior and one to a senior based on current social work activities and financial need.
Social Sciences
Browse Scholarships
Resources
More Educational Resources