Japanese Studies Scholarships
Language and Culture that Move Business
Japan is a country rich in culture, history and a heritage of art, fashion, and ceremonies with a strong Chinese influence. Ironically, the youth of China now turns to Japan for cultural cues as they try to fit into the modern world. Japan has been a lasting world power in an ever changing global climate. After World War II, Japan developed into an economic powerhouse, and remains on the cutting edge of technological development. Even though it made a smooth transition into post-war modernism, it has been able to retain much of its ancient roots.
Japan is an important trading partner of the United States, and U.S.-Japan alliances have become strong in almost every area, including business and industry. Next to English, Japanese is the language used most often online. Today's professional in any field with Japanese language and culture skills will have an advantage.
Therefore, the study of Japanese language and culture not only enriches a student's education, it serves as a practical tool in the workforce. As such, it is a field that offers many financial opportunities for study both in the U.S. and Japan. Several resources are available through private and government programs, as well as individual scholarships and grants offered by schools themselves.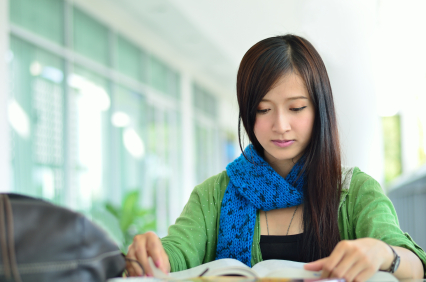 Government Programs
The National Security Education Program (NSEP) offers students the opportunity to study abroad in countries of interest to the U.S. in the form of Boren Awards. These awards are available to students in all fields, but they must be interested in studying less common languages. In exchange for scholarship funding, Boren scholars must agree to work in a government position of national security for a minimum of a year, or the amount of time funded, whichever is longer. Preference is given to students with longer terms of study and a strong interest in working for the federal government.
Boren Scholarships are offered to undergraduate students for a summer term, single semester or full year. Award amounts are $8,000, $10,000 and $20,000, respectively.
Boren Fellowships are offered for overseas graduate study. Programs must be between 12 weeks and 24 months. Overseas study can not be for more than a year. Awards are up to $24,000 for overseas study, with additional domestic language training funding for a possible total of $30,000.
The Benjamin A. Gilman Scholarship Program was established by the International Academic Opportunity Act of 2000, and offers awards for undergraduate study abroad. The purpose of the program is to offer opportunities for study abroad to students that could not afford it otherwise. The hope is to broaden the diversity of tomorrow's leaders by giving today's students a broader international perspective. Over 2,300 awards of up to $5,000 are awarded each year. Applicants must be Pell Grant recipients. Students who are awarded the Gilman Scholarship are then eligible for a Critical Need Language supplement of $8,000.
In 2004, the Japanese government combined several scholastic organizations to form the Japan Student Services Organization (JASSO). JASSO performs many functions including funding students, both domestic and international. Their Support Programs for International Students offers enhanced support programs for international study including: providing scholarships to international students, implementing international exchange programs, as well as collecting and disseminating information on study abroad.
The Consulate General of Japan in New York offers several funding opportunities that exist under the umbrella of the Japanese Government Scholarship Programs :
The Japanese Study Scholarship gives undergraduates studying the Japanese language or culture the opportunity to study abroad for a year.
The Research Student Scholarship provides funding for college graduates and those in graduate school to spend either 18 months or two years in Japan.
High-school graduates can opt to attend vocational training in Japan for three years under the Specialized Training College Scholarship. Applicants are required to learn Japanese and pursue their studies in a Japanese speaking school.
Another option is to sign up for five years of education in Japan under the Undergraduate Student Scholarship. Those accepted into this program will receive a year of Japanese language study before completing their undergraduate degree at a Japanese university.
All of these programs pay a monthly stipend and an arrival allowance. Airfare to and from Japan is also paid for. The Consulate in New York will assist with applications from U.S. citizens only. Students from other countries are to apply for this program at the Japanese Embassy in their country of origin.
Private and College Scholarship Programs
There are several opportunities for financial help for those interested in Japanese studies, both in the U.S. and Japan. There are a number of private organizations that support exchange programs between the two countries, and many universities offer scholarships within their International Studies programs. The following list is a sampling of what is available. Some of these organizations such as the AAS and the University of Washington offer links to more resources. Check with your school to see what other opportunities might be available.
Bridging Scholarships for Study in Japan
The United States – Japan Bridging Foundation and the American Association of Teachers of Japanese partner together to offer the Bridging Scholarships program. 100 undergraduate students will receive funding for living and travel expenses to allow them to study in Japan for a semester or an entire academic year. Applicants can be pursuing any major. Majoring in Japanese is not a prerequisite for receiving financial assistance; it is enough that participants have an interest in learning about Japan's language and culture.
Students planning on being in Japan for one semester will receive a stipend of $2,500; those who are staying for the full academic year will receive $4,000. In addition to an application, applicants are also required to submit a personal essay, an official transcript, and a letter of recommendation.
The Association for Asian Studies (AAS)
Founded in 1947, the AAS is a non-political, non-profit, professional organization open to anyone interested in Asia and the study of Asia. Representing all regions of Asia, and all areas of study, the AAS is the largest organization of its kind. Among the myriad services offered to promote Asian studies are Grants, Fellowships and Prizes. Some of these are offered by the AAS, while many more opportunities from other sources are listed as well.
The AAS is an excellent resource not only for funding, but also for all types of information and networking regarding Japanese (and, in general, Asian) studies both at home and abroad.
The Japan Exchange and Teaching Alumni Association of Northern California (JETAANC)
JETAANC provides a scholarship worth $1,000 to a Nevada or Northern California high school student who is planning on attending either a college or university. The recipient must be able to demonstrate an interest in Japan or its culture in order to be considered for funding. Applicants are evaluated on academic accomplishments, extracurricular activities, personal essays and letters of recommendation.
Valparaiso University, Indiana, Chinese and Japanese Studies Scholarship
As many as five freshman or transfer students who have selected Chinese and Japanese Studies as a major will receive up to $5,000 in scholarship funds in addition to any other scholarships, loans, or grants these individuals may already have been awarded. Funding is renewable for a further three years. Applicants are evaluated on the basis of a statement indicating their interest in this field of study and a letter of recommendation from a teacher. To receive funding for subsequent years, a GPA of 2.75 or more is required; in courses related to the student's chosen major, he or she must maintain a GPA of at least 3.25.
University of Pittsburgh, Asian Studies Center
The following scholarship programs are available to Japanese Studies majors at UP:
The Japanese Studies Undergraduate Scholarship is awarded to a student who has previously studied the Japanese language, for a minimum of two years, as well as taken courses on Japan. The $2,000 is to be used toward tuition at UP's Oakland campus.
The Study-in-Japan Scholarship pays $10,000 for a year or $5,000 per semester toward tuition for those students who have demonstrated a significant interest in Japanese studies. Preference will be given to applicants who have studied the Japanese language for at least two years.
The Japanese Summer Language Study Scholarship provides $2,000 to help defray the cost of studying in either the United States or Japan. In this case, preference is given to those applicants who have studied Japanese for at least a year.
College of St. John's/ St Benedict's University
Several scholarships are offered for Asian studies at both the graduate and undergraduate level, including the Fr. Neal Lawrence OSB Travel Scholarship which provides financial assistance to CSB/SJU students studying in Japan. By applying to the Japan program, students are automatically eligible for this scholarship. Several awards are distributed each year.
University of Washington
The Jackson School of International Studies – Japan Studies program offers a number of scholarships including the Ayako Betty Murakami Scholarship for Japan Studies. This scholarship is open to undergraduate and graduate students, based on academic merit, especially in course work focused on the study of Japan and its language, and on financial need. One or two scholarships, typically in the amount of $1000 are awarded annually.
Social Sciences
Browse Scholarships
Resources
More Educational Resources