Scholarships for Spain
Get Ready to Pack Your Suitcase
Education is meant to broaden the mind, and nothing achieves that better than a term or two studying abroad in a foreign country. The opportunity to see and experience a different land, to immerse oneself in the culture, and to soak up the historical and artistic legacy of another country is unmatched in its ability to give students a new perspective on themselves and their own homeland. Spain, with its rich European history, is one of the most popular study abroad destinations, and continues to draw American college students to its shores.
Students of art and architecture will find Spain a surprising mix of Classical, Gothic, and Modern innovation. History, archeology, and social science majors will be fascinated by the country's long, and sometimes turbulent, history. Whatever the course of study, Spain offers American students a unique opportunity to combine education with life changing cultural experiences.
Modern Spain is a very multicultural country, and American students will have no trouble assimilating once they arrive. While a good command of the Spanish language is a plus, students will find that many Spaniards speak English. Students studying in Spain will find that many of their classes are taught in English. Students will also begin plenty of opportunities to learn Spanish while they are visiting the country.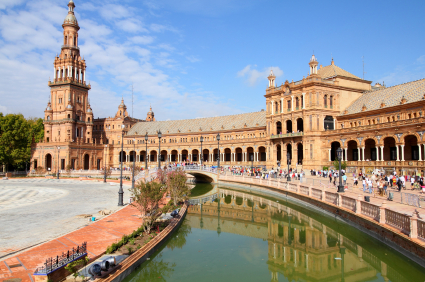 College students wishing to study in Spain will find a variety of study abroad scholarships designed to help them pay for their time abroad. Scholarships may be full or partial, with most programs offering funds to cover part of a student's education expenses. Typically, students will be responsible for paying for their travel costs, plus room and board.
Study Abroad Programs, Travel Visas and Passports
Students planning on studying abroad will first need to make sure their passports and travel visas are in order. American students may stay in Spain for up to 90 days without a student visa. Any student whose course of study extends beyond 90 days must apply for a student visa at the nearest Spanish consulate. Getting a student visa can take several months, so students are advised to begin the process as early as possible. Typically the consulate will require a letter from the hosting university detailing the length of the student's stay. Applicants will also need to show a passport, proof of medical insurance, and proof that they can financial support themselves while in the country.
Scholarships for Studying in Spain
Students wishing to study in Spain will find that there are a great number of scholarship opportunities designed to help them pay for their travel and studies abroad. These scholarship programs are supported by international study abroad organizations, as well as by a select group of American colleges and universities. Students may find that searching for a suitable scholarship for foreign study will be made easier if they focus on a specific field of interest.
Spain is a popular destination for American students wishing to study abroad, and the following scholarships provide only a brief overview of currently available programs.
Spain is a country with a rich, and diverse, cultural history. Students who get the opportunity to study in Spain will return home with a new perspective. Many college students assume that financial restrictions will prohibit them from studying abroad, but exceptional students with the desire to study in Spain will find a wide array of scholarship opportunities available to help them pay for their educational adventures abroad.
Country-Specific Study Abroad Scholarships