Scholarships for Croatia
Not to Mention Cuisine and Climate
Just a stone's throw across the Adriatic Sea from Italy — with an unforgettable strand of islands in between — Croatia is an often-overlooked Mediterranean gem. Since finalizing its independence from Yugoslavia, Croatia has blossomed in attitude, diversity, and style. It's become a hot destination for outdoor adventure, cuisine and culture — all bathed in an ideal climate.
Once upon a time, Croatia was a part of the Roman Empire, a reason it's such a great location for archaeologists, art consultants, historians and writers. There are ruins of ancient civilizations scattered everywhere, and part of its educational allure is that this Balkan state has an Eastern European alter ego.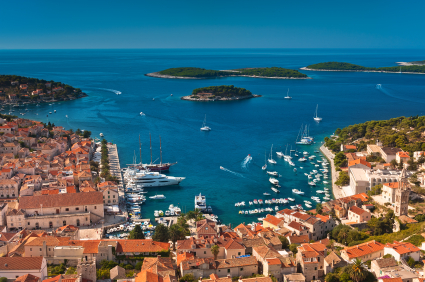 Federal Scholarships
Undergraduate students who have been traditionally left out of study aboard programs for social, ethnic or economic reasons have cause to celebrate. More than 2,300 Benjamin A. Gilman International Scholarships of up to $5,000 annually are given for study programs around the globe, including Croatia. To be eligible, you must be a Pell Grant recipient with an impressive academic record. Beyond that, you will receive prestige if you are pursuing an innovative program in a non-traditional location such as Croatia.
The David L. Boren Scholarships should not be overlooked for students going to Croatia. The fact that Croatia is part of the Eastern European region already suggests it is of interest to national security, the whole purpose behind the Boren Scholarships. This is a scholarship for service, which means that after you graduate, you commit to work for a specified term for the Department of Defense or Homeland Security in return for your free education. There are undergraduate and graduate packages available with award amounts up to $30,000.
Private Funds
The Mediterranean region continues to be one of the most outstanding regions for archaeologists. Croatia's history is ancient and vast. The Archaeological Institute of America provides competitive scholarships that are open to students from all backgrounds. Minority and disadvantaged students are encouraged to apply:
The Harriet and Leon Pomerance Fellowship, $5,000, specifically supports an individual project related to Aegean Bronze Age Archaeology. Preference is given to candidates whose project requires travel to the Mediterranean, so if you have your sights set on Croatia, consider applying for this one.
Jane C. Waldbaum Archaeological Field School Scholarships provide $1,000 to more than a dozen students each year to help pay expenses associated with working in the field on an archaeological project for a minimum of one month. The scholarship is open to students junior and senior undergraduates and first-year graduate students.
The AIA offers fellowships to Ph.D.s and professionals for travel, research, study and excavation who are members of the AIA.
The International Research and Exchanges Board (IREX), a world-renowned organization whose mission is to support the integration of free communication and sustainable development, offers Short-Term Travel Grants to Croatia. Eligible applicants must be graduate or post-graduate students who can propose a short-term research stint that makes a direct impact on the formation of U.S. foreign policy.
The American Council of Learned Societies (ACLS) is a world leader in supporting scholars in humanities and related social sciences at the doctoral and post-doctoral levels. The ACLS funds several research, dissertation, language and digital innovation programs. For instance, the Dissertation Fellowships in East European Studies, $18,000, funds fieldwork or archival research in Croatia for a full year.
College Scholarships
The Croatia Maymester Study Abroad Program offered at the University of Georgia explores the past and present of Croatia. The program invites undergraduate and graduate students from various disciplines to examine its society and culture in transition, taking an intimate tour of its cultural and ethnic flavors that combine to create a unique fusion. Students taking part in the Croatia program may qualify for awards based on academic merit and financial need. A generous scholarship to the university enabled the cost of the entire program to be one of the school's most inexpensive travel abroad program.
Country-Specific Study Abroad Scholarships