Philippines Scholarships
Land of Manila and Imelda Marcos
Students may be engaged in studies in the Philippines ranging from language and culture, to international finance and economics, and even the arts. Some fields of interest include Philippine studies, language and literature, history, politics, government, education, culture, arts and humanities, economics, and environmental studies.
Study abroad may be much easier and affordable than you realize. Their are many opportunities for study with funding offered from both government and private sources. Many universities have study abroad programs. Check with your school to find out what programs are available.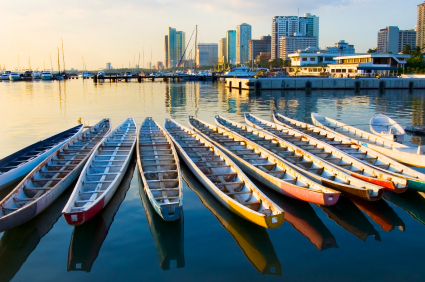 Government Scholarships
Think you can't afford to study abroad in the Philippines? Then take a good look at the Benjamin A. Gilman International Scholarships. Over 2,300 deserving and disadvantaged undergrads are rewarded with up to $5,000 to study abroad. Students are encouraged to study in non-traditional locations such as the Philippines.
The intention of the program is to make international study available to those who, due to financial constraints, would not otherwise have the opportunity. The hope is to broaden the diversity of the population in the ever growing international community. Applicants must be Pell Grant recipients and academically motivated to be considered. Recipients of Gilman scholarships are then eligible to receive an additional $3,000 Critical Need Language Supplement from the Gilman Scholarship Program for a total possible award of up to $8,000.
The National Security Education Program was established to educate U.S. citizens, understand foreign cultures, strengthen U.S. economic competitiveness and enhance international cooperation and security. To this end, they provide undergraduate scholarships, graduate fellowships, and institutional grants - the Boren Awards..Boren Scholars must be willing to work off their scholarships in government positions after graduation, or already be interested in a long-term career in a national security agency. One year, or the same amount of time spent studying abroad with assistance – whichever is longer, is required. Preference is given to longer studies in countries and areas of interest to US national security.
Boren Scholarships are awarded for a summer, semester or full year of study abroad. Awards are $8,000, $10,000, and $20,000, respectively. A wide variety of fields of study are represented in the program, but all students must be interested in studying less common languages.
Boren Fellowships provide up to $30,000 to U.S. graduate students interested in study of uncommon countries and languages of interest to the United States. Specialization in area study, language study, or increased language proficiency are considered.
The Philippine-American Educational Foundation (PAEF) was created by the governments of the United States and the Philippines to create a cultural and educational exchange between the two countries. Since 1948, Fulbright grants have been awarded to 1,700 Filipinos and 700 Americans for graduate degree study, teaching and research in the Philippines and the United States.
Private Funds
Pacific Prime awards a total of three Global Diversity scholarships of $1000 each to students either about to, or currently studying internationally in China, Hong Kong, Japan, Macao, Malaysia, Philippines, Singapore, South Korea, and Taiwan. To apply, write an essay, in English, touching on some (or all) of the following topics: health, travel, diversity, education. The essay should be between 700 and 1500 words.
The Freeman Awards for Study in Asia have been instrumental in assisting hundreds of students with funding for studies in the Philippines and other Asian countries. The funding is provided from philanthropic sources to make sure U.S. students have the opportunity to experience Asian cultures that in many cases have been beyond their reach. Applicants may apply for summer, semester or year programs. Preference is given to those who have never been abroad. Selections are made on the basis of both academic merit and financial need. Up to $7,000 is possible for a year program.
The Luce Scholars Program is funded by the Henry Luce Foundation. Part of the Foundation's mission is to support the educational pursuits of students and professionals who require knowledge of Asia, including the Philippines. The program is open to graduating seniors, graduate students and professionals under 30 years of age in all fields of study. Candidates must be recommended for the scholarships by faculty. Scholarships include language training, travel, housing and stipend for a year program.
The Asian Cultural Council grants are awarded to American and Asian artists in a cross cultural exchange program. The Philippines Fellowship Program is one of the organization's newest offerings. The fellowships provide a two-way opportunity for Filipino and American artists to fund research, study, specialized training or non-commercial artistic pursuits in each other's country. The Council sponsors a generous number of very attractive grants to all areas of Asia.
Rotary International is an internationally renowned organization that spends millions of dollars in charitable projects all over the globe. In order to see that Rotary-style work is accomplished and to educate the next generation of Rotarians, Global Grants are awarded. These are highly competitive among academically talented students. Those who are going overseas to the Philippines with the goal of engaging in humanitarian aid or learning about sustainable development, may qualify for up to $26,000 for the year. Rotary scholars must demonstrate strong character skills and conduct themselves according to Rotary tenets at all times. Recipients must be willing to share their Philippines trip and educational experience with a Rotary audience once back in the U.S.
Country-Specific Study Abroad Scholarships