College Scholarships for Ecuador
One of the Most Diverse Ecological Classrooms on the Planet
Ecuador is the world's classroom. Located on the northwestern coast of South America, Ecuador offers students a vastly rich cultural and environmental immersion. The country is a cradle of intriguing ecosystems: the Andes mountains, jungle and rainforests, agricultural plains, and the Galapagos Islands. For this reason, many programs are focused on biological sciences, ethnic and language studies. Scholarships are plentiful and available through both public and private sources. Part of the northern Inca Empire until the Spanish conquest in 1533, today it is a representative democratic republic. Here is a look at some of the major providers, though it's just the tip of the iceberg.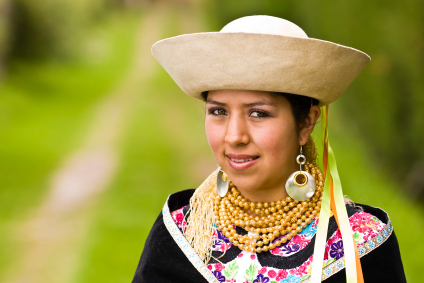 Federal Scholarships
Ecuador is a region of interest in these federally funded scholarship programs:
Benjamin A. Gilman International Scholarships are provided by the federal government and awarded to disadvantaged students who otherwise would not be able to afford to study abroad. More than 2,300 scholarships of up to $5,000 annually are given for study programs around the globe, including Ecuador. The Gilman Scholarship Program aims to support students who have been traditionally under-represented in study abroad, including but not limited to, students with high financial need, community college students, students in under-represented fields such as the sciences and engineering, students with diverse ethnic backgrounds, and students with disabilities. Applicants for the program must be federal Pell Grant recipients. Other criteria for acceptance includes being in good academic standing and a commitment to study in one country for at least four weeks.
The Fulbright Program offers grants for American graduating college seniors, graduate students, young professionals, and artists to study in Ecuador for a full academic year through the Fulbright U.S. Student Program. The English Teaching Assistantship allows Americans students to be English teaching assistants in schools or universities overseas, including Ecuador. The Fulbright U.S. Scholar Program sends American scholars and professionals abroad to lecture and conduct research in a wide variety of fields.
College Scholarships
The aptly named Don Quijote Scholarship sponsored by the University of Richmond provide those studying in Ecuador and other Latin American nations with additional funds for their trip. Recipients participate in an approved program for one academic year of study in Ecuador. Students must have a minimum overall GPA of 3.0 and a minimum GPA of 3.50 in Spanish courses. Awards are $3,000. The university's J. Gray Wright Scholarship, $3,500, goes to a rising junior or senior in the Latin American & Iberian Studies program for study abroad.
Florida State University provides a study program in Napo, Ecuador, for students to gain experience through working with NGO's, local institutions, and Kichwa communities in Amazonian Ecuador. Participants fulfill requirements for their various majors that require Spanish and anthropology coursework while hiking in the rain forest, visiting free-trade factories and learning about ecotourism. Students may apply for various scholarships offered through the university for study in Ecuador including:
Atlantic Coast Conference scholarships go to undergraduates who have an overall 3.5 GPA of 3.5 for this merit-based scholarship. The annual amount in the scholarship is $5,000, and university officials determine the amount of each award and in which academic terms they will be available.
International Programs Achievement Scholarships is a $20,000 annual fund that goes to degree-seeking students who have an overall 3.8 GPA. Scholarships are available for fall, spring, and summer sessions.
The University of Illinois, Urbana-Champlain offers a unique exchange program with Universidad San Francisco de Quito that immerses students in Ecuador's Andean culture and ancient civilization, as well as its modernization. Students may apply for scholarships designed for this program:
Earl and Janice Kellogg International Award pays for study for a semester or academic year in the Global South, which includes Ecuador.
Kathy Riccardo Spanish Immersion Experience Award is for summer study in Central or South America for graduates majoring in social work, education, a social science field, English, or human and community development. Applicants must demonstrate financial need and plan to study the Spanish language while abroad.
Rund Ecuador Study Abroad Scholarship pays for study for a semester or academic year in Ecuador for applicants must demonstrate financial need.
The University of Maryland Department of Geology makes a trip to the Galapagos Islands, located 600 miles from mainland Ecuador, a critical part of its curriculum. Students who participate become immersed in the diverse flora and fauna of this distinctive ecosystem. Scholarships are available on the basis of both academic merit and need to undergraduates with a minimum 2.8 GPA.
Private Funds
Sigma Delta Pi, the National Collegiate Hispanic Honor Society, annually awards generous scholarships to student members who are off to studies in Ecuador. Applicants must be members of the honor society:
Two Juan Manuel Sampere Scholarships provide for study at the Estudio Internacional Sampere (EIS) in Cuenca, Ecuador. EIS provides free registration, tuition and course materials for four weeks of study during in the summer. will provide these scholarships. Sigma Delta Pi provides a monetary travel supplement which may be used toward travel to Ecuador. These scholarships are appropriate for non-native speakers of Spanish
The T. Earle Hamilton Scholarship is a supplemental award that goes to the highest ranked applicant who accepts a scholarship for study in Ecuador or Spain.
Stipends of $2,500 to study abroad with a program in a Spanish-speaking country for the summer are available but cannot be combined with other society scholarships.
Spanish-language teachers may qualify for scholarships offered through the Southern Conference on Language Teaching (SCOLT). Recipients must be able to provide their own travel and auxiliary expenses.
Two weeks of study at Academia Latinoamericana, the linguistic department of Equatorialis University, for teachers of grades 6 through 12. The recipient may choose Ecuador, Peru or Bolivia, or combine two countries.
Estudio Sampere: This scholarship is available to Spanish-language teachers in kindergarten through college; it provides three weeks of study in Cuenca, Ecuador and includes tuition, room, and board.
The Toyota International Teacher Program provides generous funding for professional development for secondary educators of all backgrounds, subjects, and school types. Through the two- to three-week field study in the Galapagos Islands, teachers gain first-hand insight into the human impact on this fragile ecosystem and World Heritage Site. This program covers all the costs of program materials, transportation, meals, and lodging; recipients' schools also receive a $500 stipend.
The world-renowned Rainforest Alliance offers the Kleinhans Fellowships. Up to $16,000 per year for two years is awarded to outstanding post-graduate, doctoral and post-doctoral students with a master's degree in in forestry, ecology, botany, environmental science or a related field.
Study Abroad Organizations
The Ecuador program provided by the School for International Training (SIT) affords students a five-week eco-adventure that takes them to Quito, small towns, a pre-Incan archaeological site; treks through forests and volcanoes and volunteer work with a local nonprofit organization. through a local forest reserve to see rare birds, plants, and pumas; take part in a service project working with a local nonprofit organization; and more. For three weeks, the student lives with a host family in a community of colonial-era Spanish architecture surrounded by the snow-capped Andes.
SIT focuses on helping students gain an advantage in education by providing innovative and discipline-specific study abroad programs. Each year, the organization awards approximately $750,000 in scholarships and grants, ranging from $500 to $5,000, to SIT Study Abroad students. Scholarships are awarded on a first-come, first-served basis. Here are some of the several awards:
The Sally Bragg Baker Memorial Scholarships go to a female participant in any who demonstrates international awareness and a desire to create a more peaceful world through international exchange.
SIT Pell Grant Match Award matches federal Pell Grant funding for all study abroad programs.
The Compton Fund is for students enrolled with environmental, peace studies, or sustainable development themes.
SIT Fund is for students with demonstrated financial need.
HBCU Scholarships are for students enrolled at Historically Black Colleges and Universities (HBCUs).
Country-Specific Study Abroad Scholarships