Zambia Study Abroad Scholarships
Land of Victoria Falls and Copper Mining
Zambia struggles primarily with AIDS and a weak economy. However, they have seen growth in their major industry- copper mining. It is a beautiful land filled with many spectacular cites such as the majestic Victoria Falls. Of interest to students is the AIDS research and related work carried out in the region. In order to help more people discover this beautiful land, and to help the people of this country, there are many organizations and scholarships dedicated to providing medical aid. These organizations provide scholarships to to students interested in AIDS research and learning more about Zambia.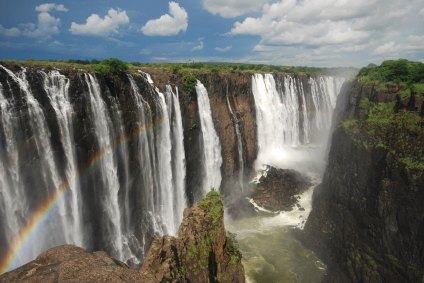 Government Scholarships
There are many nations throughout Africa which are in dire need of medical assistance, including Zambia. With HIV and AIDS rampant, they need aid to help combat the spread of this disease. The National Institute of Health (NIH) is a main advocate of the war on AIDS.
NIH supports various research institutes in Zambia and throughout the rest of Africa. They fund a special scholarship called the Fogarty International Clinical Research Scholars Program where a graduate student undergoes a one-year, mentored training experience. The student gets to participate in clinical research and have hands-on experience at NIH research centers in Zambia. The selected scholar is paired with another International Scholar with similar training backgrounds. The purpose of this program is to support the study of diseases and conditions in developing countries through a mentored research fellowship, and to build international ties through health research in the developing world. The Center for Infectious Disease Research in Zambia requires fellows interested in conducting research focused on HIV and sexually transmitted diseases. Fellowships cover expenses for up to 12 months.
Under the National Security Education Program's David L. Boren Scholarships, students are awarded scholarships to study abroad in a country deemed critical to U.S. national security. There, students will learn the culture and language of the region. There are 2 main purposes of this scholarship: to recruit the next generation of elite national security personnel and educate a more globally aware generation of Americans able to compete on an international level. Students applying for this award must show an interest in the national security sector, and must commit to work for the U.S. Government for at least one year after they graduate. In this case, applicants must show a willingness to immerse themselves in Zambia and its culture. This scholarship provides up to $20,000 in awards.
The Fulbright Scholarship program offered by the U.S. Department of State, is the most recognized international educational exchange program in the world. It allows for students to study abroad in countries that get overlooked in other study abroad programs. It's designed to develop mutual understanding between the United States and other countries. In Zambia, there are awards available for graduate students pursuing Post-doctoral research and teaching opportunities. Students can work toward getting their master's degree or Ph. D. dissertation, or conduct independent study. Students will study at a local university and must already have a full study plan approved by Zambian authorities.
Private Funding
Rotary International is one of the most well recognized organizations for its philanthropic programs and dedication to humanitarian efforts. To those ends the Rotary gives out hundreds of Global and District grants to students each year to not only learn about the world at large, but to help in humanitarian aid projects, learn about sustainable development as well as engage in any of a number of events that will benefit the larger world.
In the past, the Ambassador Scholarships Program allowed students to study abroad, but will be discontinued in 2013. The new system of scholarship funding is through district and global grants. These will allow Rotarians greater flexibility to sponsor the next generation of leaders. District grants are distributed to different grant funds and off funding for short-term activities. These projects can include local or international service projects, vocational training teams, and scholarships. Students who receive these scholarships can be from any college or university, be in any level of study, can be in any area of study. There are also no restrictions on the dollar amount a student can receive.
The Watson Fellowships, offered by the Thomas J. Watson Foundation, is one of the most outstanding study abroad scholarships. The Watson Fellowship provides funding for independent study outside of the United States to graduating college seniors nominated by participating institutions. The stipend for one year is $25,000. As the Watson Fellowship is not involved with any university, students must design their own project and direct their own studies. Self-motivation is not recommended, but is required to be successful in their field of study.
Country-Specific Study Abroad Scholarships