Uruguay Scholarships
Uruguay, formally known as the Republica Oriental del Uruguay, is located between Brazil and Argentina on the Atlantic coast of South America. The country is known for the exceptional freedom it accords its political institutions and labor unions. It features plains, low hills, and four major rivers, so it possesses hydropower, fisheries, and land suitable for cultivation.
Uruguay has always maintained close ties to Brazil, and was even considered part of Brazilian territory at one point. Today, the blend of Portuguese and Spanish called Portuñol is still spoken on the border between the two countries. Uruguay also has an unusually large number of citizens of Italian descent, and has preserved a significant amount of Italian culture in its own customs.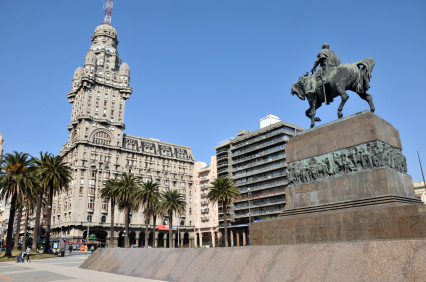 Government Scholarships
The Benjamin A. Gilman International Scholarship Program is funded by the State Department's Bureau of Educational and Cultural Affairs, and its goal is to promote harmonious international relations. To that end, the Gilman program offers scholarships to undergraduates to pay for their studies in other countries, looking for those using Pell Grants in order to diversify the student body.
The Gilmans encourage travel to non-traditional locations like Uruguay, providing as much as $5,000 for that purpose. If you are studying a language on the Critical Need list, you may also receive a $3,000 supplemental award. If you're curious about what a Gilman experience in Uruguay might resemble, there's information about the travel plans of a student from Nebraska Wesleyan here.
The Boren Awards program supporting foreign study consists of the David L. Boren Scholarships, which pay a maximum of $20,000 to undergraduates, and Fellowships, which pay a maximum of $30,000 to graduate students. Note that while Latin America is considered a region of interest, Uruguay itself does not appear on the list of emphasized countries. The Borens require a language component, and Spanish (the official language of Uruguay) is permitted only if the student has achieved an advanced level of fluency.
The Borens are funded by the National Security Education Program (NSEP), which means you must either enter a government career in national security or work one year for each year of financial aid received. Details of the NSEP Service Requirement are here.
Private Funds
Rotary International has established a scholarship program with the same goal as the Gilmans, sending students abroad to promote mutual understanding between America and other nations. The Ambassadorial Scholarships will end in 2013 and be replaced by Rotary Foundation District Grants (to support short-term efforts) and Global Grants (to create long-term, sustainable effects).
To give you an idea of how to tailor the study plan you'll submit with your scholarship request, Rotary's international projects include humanitarian work like educating orphans in Russia and shipping medical teams to Africa. You will need to work closely with your local Rotary chapter during the application process.
A nonprofit known as the Rainforest Alliance administers the Kleinhans Fellowships, which go to graduate students conducting research into rainforest products other than timber. Extracting renewable resources like nuts and medicinal plants can support local villages without damaging the rainforests, and Kleinhans projects must find some way to contribute to that type of sustainable economic development.
Kleinhans candidates must understand both tropical botany and business, and the grants are extended for two years at $16,000 per year.
The Conference on Latin American History sponsors the James R. Scobie Memorial Award to fund short trips abroad for the purpose of conducting dissertation research. The topic must relate to Latin American history, and the proceeds must be used only to pay the cost of traveling to a different country. Awards range up to $1,500, and you must submit the following documents with your application: prospectus, research schedule, curriculum vitae, and two reference letters.
The Fulbright U.S. Student Program prefers graduate students who want to work on their dissertations in Uruguay, and requires proficiency in Spanish. Fulbright grants provide support for one academic year (in Uruguay, March to November) and include health insurance as well as travel and living expenses.
College Scholarships
The University of Texas (Austin) offers the Joe R. and Teresa Lozano Long Travel Scholarships for students who wish to study in a Latin American country. Any major in the Latin American Studies program is acceptable. Awards are for $2,500 or $5,000.
Students at the Abilene Christian University (ACU) can travel to Uruguay to attend the ACU in Latin America classes held in Montevideo, Uruguay's capital. Any financial aid currently paying for your ACU education can also be used to fund your Montevideo studies, which is quite convenient.
NOTE: If your country of choice is under an official travel warning, that may affect any applications you submit. Please check application requirements carefully.
Country-Specific Study Abroad Scholarships