United Arab Emirates
Oasis in the Desert
The United Arab Emirates (UAE) is a federation of smaller, independently governed territories called emirates located in the Middle East, with coastlines on both the Gulf of Oman and the Persian Gulf. Sitting between Oman and Saudi Arabia, the UAE consists largely of desert, with mountains in the east, and its position relative to the Strait of Hormuz gives it a strategic advantage in controlling the shipment of Middle Eastern oil.
The discovery of oil in the UAE over 30 years ago has brought the country wealth which it has managed prudently, diversifying and strengthening its economy and achieving a consistent trade surplus. Foreign students are welcome in the UAE, and it is an excellent place to study languages considered vital to national security, which is one way to obtain scholarship money from the Gilman, Boren, and Fulbright programs (see below). Arabic is the UAE's official language, and its other languages (Persian, Hindi, and Urdu) are also considered security priorities.
The last of the UAE's languages is English, making it a perfect non-traditional study destination for students not versed in many languages. Many students from the U. S. choose the American University in Dubai, which seeks to deliver the same level of education as a typical school in this country.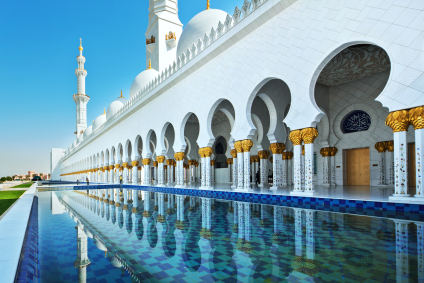 Government Scholarships
The Benjamin A. Gilman International Scholarship Program encourages students of limited financial means (specifically, those receiving Pell Grants from the federal government) to study abroad, in order to send a more diverse group of American students overseas. The Gilmans want students to choose unusual locations like the UAE, and they particularly want those students to learn Arabic, Persian, Hindi, and Urdu, which are all considered Critical Need languages. The study of one of those languages can add a $3,000 supplement to the maximum Gilman award amount of $5,000.
The Boren Awards program, consisting of the David L. Boren Scholarships (for undergraduates) and Fellowships (for graduate students), is funded by the National Security Education Program (NSEP). NSEP pays for language and area studies in foreign countries in order to train students for careers in national security, and expects government service in return for the financial aid it offers under the terms of the NSEP Service Requirement.
The Borens do prefer less traveled countries, a certain group of languages (which in the case of the UAE includes all that nation's languages other than English), and even particular areas of study, and the more closely you tailor your application to those preferences the stronger your application will be. Borens are highly competitive, because of their amounts: scholarships pay $20,000 for an academic year, and fellowships pay as much as $30,000.
The Fulbright U.S. Student Program has a page of information about the full grants it makes to students interested in traveling to the UAE as a Fulbright Fellow to conduct research. You must speak Arabic with sufficient fluency to undertake your project successfully. If you do not arrange your own affiliation with a host university, the U. S. Embassy will do that for you, but it is strongly recommended that you include an affiliation letter with your application.
College Scholarships
Washington State University students in the Education Abroad program who choose to study in the UAE may apply for several of the department's scholarships, including the following:
The Marie Wright Scholarship for Non-Traditional Locations, which rewards those studying in far-flung locations. Priority goes to students who choose Africa or the Middle East, and you must stay abroad for at least one semester.
The Aaron Iverson Scholarship, which goes to financially needy students who have not yet studied abroad and plan to stay for a full year.
The Education Abroad Endowment, also for the financially needy, goes to the best qualified undergraduate in the EA program who has a GPA of at least 2.5.
The WSU Education Abroad Scholarship Endowment is very similar to the Iverson scholarship, benefiting students who otherwise would not be able to study abroad.
The American University in Dubai (AUD) offers the William Jefferson Clinton Presidential Scholarships to American students, including full tuition and dormitory housing for one term. Housing is hard to find and rents are very high in prosperous Dubai, so the inclusion of housing is generous (indeed, necessary). Students must carry a full academic load and adhere to the AUD Code of Conduct, and you will be expected to pay ancillary costs like meals and textbooks.
Private Funding
It's always recommended to check third-party foreign study programs to see what courses are held in the UAE. For example, the Institute for Study Abroad at Butler University (IFSA-Butler) lets you study at the American University of Sharjah. Sharjah is another of the emirates in the UAE, more conservative and less Americanized than Dubai, and that is essential for obtaining a traditional Middle Eastern experience.
IFSA-Butler has financial aid applicable to your Sharjah fees, including general scholarships (from $500 to $2,500 depending on the length of your stay) and the First Generation Scholars Program for students who are the first in their families to attend college.
NOTE: If your country of choice is under an official travel warning, that may affect any applications you submit. Please check application requirements carefully.
Country-Specific Study Abroad Scholarships