Scholarships for Turkmenistan
Looking for Funding?
Turkmenistan, which borders on Iran, Afghanistan, and Uzbekistan, was once part of the Soviet Union. Only one political party is allowed by law today in order to reinforce the president's central control of the government.
Since 80 percent of the country is covered by the Karakum Desert, the region faces economic challenges which are compounded by the inhibiting effect of state control on economic development. For instance, the government runs all news media, as well as most industry and agriculture.
The tight rein on published knowledge about Turkmenistan limits programs of foreign study designed for undergraduates. Most available funding goes to candidates in high-level research, such as doctoral students or post-doctoral scholars. Some of the grants are quite generous.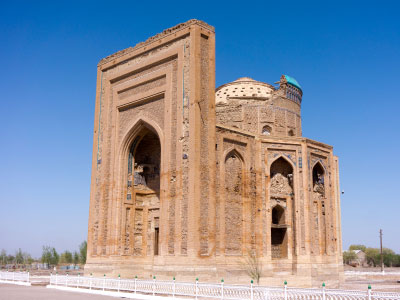 Scholarship Programs
The Social Science Research Council awards seventy-five International Dissertation Fellowships each year. Applicants must be graduate students in the humanities or social sciences, and the fellowships average $19,000 each. Your dissertation may involve any period of history (the best known part of Turkmenistan's history involves Silk Road trading), but must include a contemporary perspective of how that research relates to Turkmenistan today.
Your research proposal must cover nine to twelve months of work in Turkmenistan, and there is a page with detail on other application requirements you will need to fulfill.
The American Councils for International Education is a nonprofit organization focusing on educational exchange among the U.S., Russia, and Eurasia (in which Turkmenistan is located). American Councils provides support for studies that involve Eurasian regions and languages, and it also teaches Russian, which is one of the languages spoken in Turkmenistan.
Under the Department of State's Title VIII grant program, which funds research about nations that used to belong to the Soviet Union, the American Councils and other similar organizations receive and disburse the grant funding provided by the U.S. government.
You can find the American Councils Title VIII application here. The two specific fellowships handled by American Councils are:
The Title VIII Combined Research and Language Training Program, which is intended for students who require not only funding for research on location in Turkmenistan, but also intensive courses in a regional language (including Russian). The application requirements include intermediate proficiency in the necessary language and planned research lasting three to nine months.

Since knowledge of Eurasia is considered vital to U. S. national security, your work must contribute to the improvement of American policy in the region. Your language courses are limited to ten hours a week, while the balance of time is allowed for research projects.

The fellowships provide complete financial backing for the undertaking, beginning with airfare and including stipends for housing and living expenses as well as insurance coverage. Awards range from $5,000 to $25,000, depending on the length of your study.

The Title VIII Special Initiatives Fellowship Program, which goes to post-doctoral scholars with research proposals carefully targeted to improving understanding of the region, again with a view to guiding U. S. foreign policy. Your project must exceed four months in length, and your doctorate must be in one of an approved list of subjects. Awards are as much as $35,000, and you may travel to more than one country.
International Research and Exchanges Board (IREX) is an international organization whose mission is to assist in the building of strong free societies. IREX encourages independent news media, education, and unified communities that work together toward what IREX calls a model of civil society. Since one of Turkmenistan's internal obstacles is government control of media, that means Turkmenistan is a country of interest to IREX.
Opportunities offered by IREX in Turkmenistan include the following:
The Individual Advanced Research Opportunities (IARO) program awards fellowships covering specialized graduate research in subjects relevant to U. S. foreign policy. Your research is limited to a maximum of three countries and nine months.

IREX offers a page of helpful tips on how to write a winning IARO proposal. For example, you will have to prove you need to travel to complete the project. Application requirements can be found here: you must be a U. S. citizen, and you will need to supply a language reference.

Short-Term Travel Fellowships are restricted to research in two countries for a period of up to eight weeks. The shorter period is intended to permit research that does not interrupt one's employment.
NOTE: If your country of choice is under an official travel warning, that may affect any applications you submit. Please check application requirements carefully.
Country-Specific Study Abroad Scholarships