Scholarships for Syria
Language and Culture Studies in One of the Middle East's Oldest Regions
If your collegiate studies have led you on a path of linguistic, religious, social, political or cultural explorations that are relevant to the ancient Middle East, you may want to consider Syria as an ideal hub of all these subjects and an excellent country for study abroad. Located on ancient and hallowed religious ground and a stunning visual vista, the destination is a must-see for serious and passionate students in all of these varying disciplines who desire a tremendously out-of-the-classroom experience.
In most cases, students heading to Syria will make Damascus their home base. Not only is it the capital, it also one of the most ancient cities in the Middle East and a cultural and aesthetic wonder. Students most often visit for language studies, Islamic and Middle Eastern intensive programs and, of course, to experience the richly traditional lifestyle and saturated culture of the country and people. A semester or month in Syria would be an appropriate complement to language, religion, or culture majors with a concentration in the ancient world.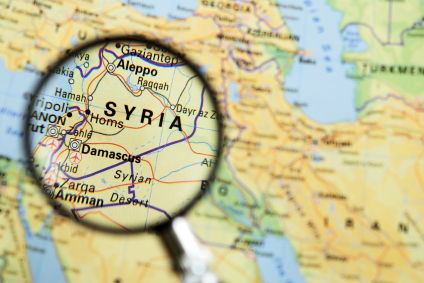 While scholarships for study in Syria are not as easy to come by as those to more common Middle Eastern destinations, this ground is shifting as Syria has become a greater focal point of US interest and engagement in the last decade of so much Middle Eastern drama on the world stage. The availability of funding to Syria may increase as the country is gaining a reputation for providing a hospitable environment for a growing population of international scholars. Start your journey below to find financial aid for Syrian studies, no matter what your level.
Federal Government Pays for Customized Studies in Syria
David L. Boren Scholarships
Middle Eastern countries, including Syria, continue to pique the interest of national security organizations that hope in the future to have a much more highly trained corps of personnel specific to each country, thereby improving America's security standpoint. If you are one of hundreds of other students who may consider a long-term career with the federal government and would like to pursue intense study in Syria, don't overlook the prestigious David L. Boren Scholarships.
Hundreds of these packages are awarded annually to undergraduate and graduate students across the country. You must be engaging in a program in Syria that allows you to learn the language in its most common form or vernacular as well as become intimate with the Syrian culture and norms. This type of customized know-how is critical to the Department of Defense and Homeland Security, either one of which you could find yourself working for after your studies. Boren Scholars are eligible for up to $26,000 for a graduate package, provided that they agree to work for the federal government for a time after their studies are completed.
In addition, the National Flagship Language Program in Arabic provides scholarships for students who will divide intense language study between U.S. sites and those in Damascus, Syria. This award is available as a supplement to the Boren Awards.
Fulbright Scholarships
The Fulbright Scholarship Program is one of the most prestigious awards granted to cream-of-the-crop student scholars and academic professionals. Researchers and educators whose goals run parallel to the academic and altruistic mission of the Fulbright program may apply for these highly competitive and generous fellowships to Syria and other far-flung destinations.
Applicants are expected to have a highly defined proposal for their stint in Syria. Preference is given to those whose goals involve education and multicultural collaboration leading to a deeper understanding of the human condition in an international world. There are a handful of very reputable Syrian universities, including Damascus University, which have hosted dozens of Fulbright Scholars since the program's inception, so that well-established institution might be a good place to start in pursuit of a Fulbright to study in Syria.
Foreign Language and Area Studies Fellowships
The Foreign Language and Area Studies Fellowships sponsored by the government's Department of Education are administered through many colleges and universities throughout the country. The FLAS fellowships are designed to support graduate students who require advanced language study in Arabic and other non-traditional languages.
Applicants must have a scholastic or professional need for the language and may undertake studies abroad to countries like Syria, if travel is currently safe and approved by the institution. Fellowships cover tuition and expenses for approved language programs, and can be up to $18,000 in award money.
Private Funding
The Dallah Institute
The Dallah Institute in Damascus, Syria specializes in teaching Arabic to students and professionals who may require the language for education or their careers. Students may also pursue courses in Islamic and Middle Eastern studies that deepen their knowledge of Syria and the region as a whole.
Dallah also offers custom designed programs that target specific needs of participants. Participants who need financial support for this program are encouraged to contact Dallah through Go Abroad and request current information on their scholarship program, which can be quite generous.
Center for Arabic Study Abroad
The Center for Arabic Study Abroad, located at the University of Texas – Austin, is actually an interdisciplinary organization funded by a variety of private and government educational funds. CASA, as it is commonly called, represents a few dozen colleges and universities in the U.S. who have funded fellowships for students to study at the University of Cairo in Egypt.
Beyond that innovative program, CASA now has a similar program available at Damascus University in Syria. Fellowships are awarded to students pursuing a year of language studies. Awards are very competitive and are given to those with clear-cut intentions and significant research to be done.
University of Arkansas

Archaeological Field School has never been so exotic as when located in Ghassaniyah, Syria, a town between Damascus and Aleppo in which students may opt to study and practice ancient excavation while engaging in both classroom and hands on learning in the field of archaeology. The opportunity is led by an experienced faculty adviser, and is of course only available when travel conditions are clear and the safety of the country of Syria for American citizens is steady and consistent.
Because the program is conveniently offered for credit through the University of Arkansas, students may be able to take their current financial aid with them, or be eligible to receive extra funding through UA for the trip in the form of study abroad endowed scholarships.
More Opportunities in Syria
As you can see, the federal government and private organizations offer a few options for funding for the most deserving and dedicated students who desire to study abroad in Syria. These few governmental incentives and smattering of collegiate programs should be supplemented in your search by other independent opportunities such as the CET's study abroad offering for Arabic and Middle Eastern studies in Aleppo, Syria. In your applications to all of these opportunities, make sure to emphasize your clear intentions and specific goals that make your plan of Syrian study unique and productive. Address the ways, perhaps especially in relation to religious/political dialogue and national security issues, in which you think academics in Syria will help to develop your intellectual and altruistic self, and the ways that you will be able to affect change upon returning from your time abroad.
Of pertinent use to you as you plan and research will be the Syrian Studies Association, which provides news and updates on student presence in the Middle East that may affect your travels depending on the political climate at the time. Make sure to use your school's office of financial aid, study abroad department, and/or Middle Eastern studies department as your biggest assets in your search for comprehensive monetary help. The contacts that you will get in touch with through these avenues may be able to introduce you to scholarships and grants you were not aware of, and will be able to help you form a well-thought-out and clearly defined plan of study and funding for your once-in-a-lifetime trip to the Middle East.
Country-Specific Study Abroad Scholarships