Serbia Scholarships
Eastern European History Provides Classroom for Contemporary Study
Serbia is jammed in the middle of a well-known crowd of Eastern European and Balkan states. Cultural and religious differences go back centuries and there is conflict between Serbia and Kosovo over national independence from each other. The capital of Serbia is Belgrade, and the official language is Serbian, followed very distantly by Hungarian. Due to the region's political evolution, it may provide a ripe experiential classroom for today's student. Serbian studies may take the form of arts and culture, language, contemporary social and political issues, or many others across a wide range of disciplines.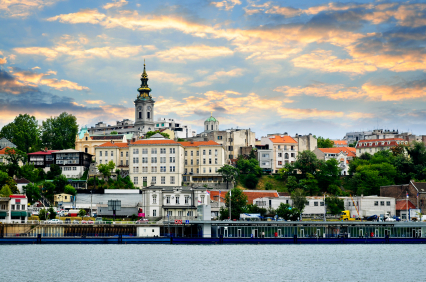 Federal Funding
Serbia is a region of interest in these federally funded scholarship programs:
Economically disadvantaged students have the Benjamin A. Gilman International Scholarships at their fingertips. Thanks to Uncle Sam, the next generation of business and industry leaders will be a highly educated and globally savvy crowd of academically motivated thinkers. Applicants for the program must be federal Pell Grant recipients; this program was designed to support students who have been traditionally under-represented in study abroad, based on income, ethnic background or disability. More than 2,300 scholarships of up to $5,000 annually are given for study programs around the globe, including Serbia. Other criteria for acceptance includes being in good academic standing and a commitment to study in Serbia for at least four weeks.
The popular and prestigious David L. Boren Scholarships — sponsored by the National Security Education Program — are extremely competitive. They come in undergraduate and graduate packages with generous scholarship awards attached for the most outstanding corps of candidates. Scholarships are awarded for up to a year of study abroad. Recipients must be willing to pay back their scholarships with a term of service with the federal government. Undergraduate awards are up to $20,000. For graduate students, Boren Fellowships provide up to $30,000 to U.S. students for 12 weeks to 24 months to study abroad.
Private Funding
Students interested in pursuing fieldwork or research in Serbia may be in luck. The Archaeological Institute of America offers competitive scholarships that are open to students from all backgrounds. Minority and disadvantaged students are encouraged to apply:
Jane C. Waldbaum Archaeological Field School Scholarships provide $1,000 to more than a dozen students each year to help pay expenses associated with working in the field on an archaeological project for a minimum of one month. The scholarship is open to students junior and senior undergraduates and first-year graduate students.
The AIA offers fellowships to Ph.D.s and professionals for travel, research, study and excavation who are members of the AIA.
The International Research and Exchanges Board (IREX) has its focus on civil society, education and media development and is funded by a mix of private, nonprofit and governmental entities. It supports the ongoing work of scholars in many regions of the world, including Eastern Europe. There are two fellowships that are open to eligible applicants wishing to conduct research in Serbia:
The Individual Advanced Research Opportunities Fellowships are earmarked for graduate students. Candidates must be pursuing a well-defined research proposal directly related to foreign policy research or related international affairs. Awards range for two months to nine months abroad. Participants are provided with visa assistance, international round-trip transportation, a monthly allowance for housing and living expenses.
IREX is involved in developing a Media Sustainability Index (MSI) for Europe and Eurasia to assess how media systems change over time and across borders. Part of the MSI is ProMedia Regional Program, which supports investigative journalism initiatives, media law reform, and alternative broadcasting throughout the region. If you are interested in media or journalism, check into this program.
Scholarships for Serbians
The School for International Training (SIT) offers students from Serbia and Montenegro the opportunity to study in the United States for free. Its Global Undergraduate Exchange Program for Serbia and Montenegro provides scholarships for talented students from these countries to attend U.S. universities for one year of undergraduate, non-degree study. The Global UGRAD Program is sponsored by the U.S. Department of State's Bureau of Educational and Cultural Affairs. This generous scholarship covers travel, tuition, room and board, medical insurance, books, and a small monthly stipend.
Country-Specific Study Abroad Scholarships