Scotland Scholarships
Urban and Rural Dichotomies, Ancient Ruins and Scottish Lore
Students wishing to study abroad in Scotland have the opportunity to familiarize themselves with a part of the UK quite distinctive from its neighbors. Scotland offers an engaging dichotomy of urban and rural cultures that juxtapose current culture against a backdrop of ancient civilization, myths and a stunning rugged landscape.
Scotland has a highly skilled workforce and holds an enviable reputation in the fields of engineering, business and the development of innovative technologies. Scotland has 15 universities, 6 specialist higher education institutes which focus on a more specialist area of teaching and research, and 41 further education colleges. With its natural beauty, friendly cities, world-renowned festivals and good travel infrastructure, Scotland is a wonderful place to study, work and live.
There are many reasons to study abroad, and several ways to get help with financing. Studying abroad takes a good deal of planning. Do your research. Check with your school to find out what programs they have available, and look into some of the following opportunities.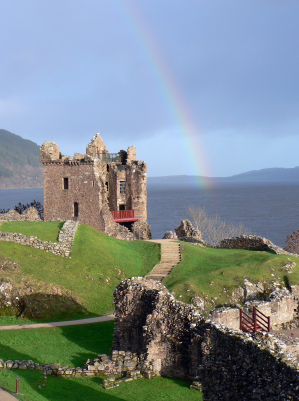 Study Abroad Organizations
Study Abroad organizations can be companies or other universities that arrange study abroad programs. If you attend a small university or one that does not have a wide range of study abroad programs, study abroad providers can offer additional programs for you to choose from. Some organizations may focus on certain academic areas or countries. Before going abroad, make sure you can receive academic credit for these programs.
Using a study abroad organization to study abroad will give you peace of mind that you have the support and service of a professional organization to rely on while abroad. That said, there are hundreds of study abroad organizations and all are not equal. Make sure to do you research and ensure that they organization you're planning to go abroad through is reputable. About one-quarter of students that study abroad use an organization outside their primary school.
Private Organizations
There are many opportunities for study abroad scholarships and grants, however researching options well in advance is crucial. International Education Financial Aid (IEFA) provides a comprehensive listing of grants, scholarships, loan programs, and other information to assist students in their pursuit of study abroad. Here's a small sampling:
The Saint Andrews Society of Washington, D.C. sponsors a number of scholarships that support either U.S. students studying in Scotland or vice-versa. Donald Malcolm MacArthur Scholarships are awarded to U.S. students wishing to study in Scotland. U.S. students must be of Scottish heritage and able to prove it. Awards are made to scholars enrolled in US or Scottish institutions for the third or fourth year of College or University or full-time graduate study. There are generally 5 to 10 awards granted totaling in excess of $20,000. The size and total number of awards varies from year to year. There are also branches of the Saint Andrews Society nationwide.
Fulbright Student Scholarship Program: The U.S. Student Fulbright Program was created to give recent BS/BA graduates, professionals, and artists opportunities for personal development and international experience. Projects are self-designed and may include university coursework, independent library or field research, classes in music conservatory or art school, special projects in the social or life sciences, or a combination. .
GO! Overseas Study Abroad Scholarship: This organization awards up to $1,000 for students participating in a study abroad program. The scholarships are awarded based on the creativity and analysis of writing or video submitions. For more information visit If you have additional questions, please email Scholarships@GoOverseas.com or call (415) 796-6456.
GO! Volunteer Abroad Scholarship: This scholarship is offered to students planning to volunteer abroad. The applicant must sumbit a writing smaple of video submission. The scholarship award is $1,000. For Scholarship description and application instructions, visit . If you have additional questions, please email Scholarships@GoOverseas.com or call (415) 796-6456.
College and University Scholarships
Most colleges and universities have some sort of international study programs available. Most have several, and several offer scholarships to make the experience that much easier. Check with your school to find out what options are available to you. Below are some programs for studying in Scotland, offered by select schools.
The University of Missouri-Columbia School of Journalism features an intriguing Scotland Winter Semester Exchange program. The program makes it possible for U.S. students to become engaged in current Scottish culture on a host of different levels, abilities that are especially important for journalism students. Students who have a desirable combination of academic accomplishment and financial need fare well when it comes to winning scholarships monies. Eligible applicants may be awarded travel scholarships from the School of Journalism and further scholarships from the International Center.
Rowan University in New Jersey provides an International Studies Concentration program that sponsors a number of significant scholarships for students interested in studies abroad. Specifically the university offers the Charlesworth Scholarship designed for an Education major who is interested in studying in Scotland. Eligible applicants must have a GPA of at least 3.4. Awards up to $2,500.
The University of St. Andrews in Scotland is one of the most prestigious university's in the English-speaking world. Scholarships offered to U.S. students interested in pursuing studies abroad at the institution include:
International Undergraduate Scholarship – These entrant scholarships are for international students who will be studying at St Andrews for an undergraduate degree starting in 2013. The scholarships will be awarded as a tuition fee reduction of up to £4,000 per year for each year of the student's undergraduate studies and will be awarded on the basis of financial need.
The Ransome Scholarship is normally open to US students who have been offered a place at the University of St Andrews, and is subject to satisfactory progress for the duration of the course of study. It goes to an undergraduate student with an outstanding academic record who is also intent on studying for four-years. Awards a full tuition.
The Institute for Study Abroad-Butler University provides a Scotland program. Students interested in this program of study may qualify for the Glasgow Scholarship. Eligible applicants must have outstanding academic records and financial need for monetary assistance. Scholarships are only awarded to those students who are enrolled in state colleges and universities here in the U.S. Awards are $1,500 for a semester program or up to $3,000 for the full year program.
UK Scholarships
The British government and other UK organizations offer a range of international student scholarships and awards for studying in Scotland, particularly if you're a postgraduate student. The Education UK website, created by the British Council, is a good source for aid for international study in the UK.
Some of the undergraduate scholarships include:
Among the graduate scholarships are:
Country-Specific Study Abroad Scholarships