Portugal Scholarships
Gateway Between Spanish America and Europe
Located on the Iberian Peninsula of outer western Europe, Portugal is one of the most compelling places on the continent because of its rambunctious history and unique mix of native ethnicities. Portugal's culture and location puts it in the role of being the smart little sister of one the world's top popular study abroad destinations, Spain.
Its advantages to its larger and busier sibling, though, is its specialization of programs, its unique linguistic offerings, and the fact that you won't be competing with nearly so many students as you would if you were traveling abroad in Spain. In other words, you get the stunning scenery and world-class academics that Portugal has to offer, without the masses of American students or the huge contest for funding for your program.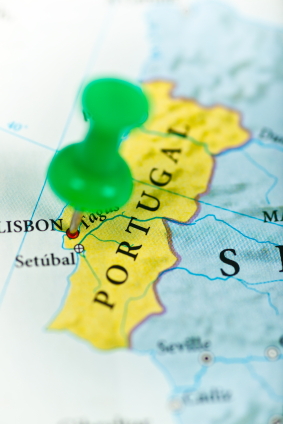 When not hard at work watching the world-class soccer teams, students may engage in language studies, archaeology, and socio-political programs during their time in Portugal, and there are quite a few viable scholarship options for these pursuits. Government funding, private gifts and other college scholarships are available to the best qualified students who apply for them.
Government Scholarship
Gilman Scholarships
Disadvantaged and traditionally disenfranchised student populations now have one of the more generous and reputable scholarships knocking down their front door. The federally funded Benjamin A. Gilman International Scholarships are designed for this type of student who is necessarily low income and yet passionately desires unique international travel and study.
In this particular case, the more socially and economically challenged the student, the better. Why? The Gilman Scholarships not only offer altruistic gifts, but the higher purpose is to position the U.S. with a more diverse global leadership for future generations.
Eligible applicants must be Pell Grant recipients and pursuing studies in a non-traditional location like Portugal. Those focused on international business, the sciences, education or engineering programs will likely take precedence over other courses of study. Some previous knowledge of Portuguese is a preferred characteristic of eligible students. Gilman Scholars may receive up to $5,000 depending on need and year of award.
Private Funds
Rotary International
Students interested in international study programs in Portugal may apply for Rotary International's Ambassadorial Scholarships. These are among some of the most competitive for undergraduate students based on the sheer scope of scholarships awarded and countries accepted for study. Qualified candidates must be able to put their best foot forward on every level, including academic, moral, and extracurricular.
Programs most encouraged for this scholarship's study are those that emphasize humanitarian projects or studies. Recipients are required to make a professional presentation on their experience once they return to the States, at which their audience will be a local Rotary club. The Rotary doesn't hand out scholarships to students heading off to all countries, only those considered non-traditional, which includes Portugal.
Check with your local Rotary club to see if they are offering their Global Grants program in your area, which will present a number of deserving students with a whopping $30,000 to pursue the furthering of education, medicine, or sustainable development in a needy country of their choice.
CIEE Study Abroad
Through the CIEE, one of the premiere study abroad organizations for students from any college or university, students may do a homestay in Lisbon, attend cultural activities and participate in the daily life of Portuguese natives, and take classes in language, social sciences, business or art, among others, at a university in Portugal like the Universidade Nova de Lisboa. CIEE is unique in that they offer language programs at a variety of levels, from beginner's introductions to advanced immersion, so that you may study Portuguese in whatever capacity you feel comfortable. The program can be taken as a semester-long or year-long adventure, and students must have at least a 2.75 GPA to qualify.
CIEE will do practically everything necessary to educate you about your study abroad experience and prepare you in terms of visas, housing, and cultural prerequisites. Their scholarship department may also fully fund your program if you are academically deserving and can prove need. They give away three million dollars yearly in awards for study abroad through their Global Access Initiative (GAIN) and their Language Intensive Focus Track (LIFT), as well as about a dozen other scholarships and grants under their PING program. These awards range from $500 contributions, to full tuition and travel stipends, so do your homework to determine which of these scholarships are right for you before you apply.
College Scholarships
Yale University
Students studying in the Yale Department of Spanish and Portuguese, one of the top-ranked programs in the US, have the opportunity to pursue Portuguese language studies during the summer in Portugal's course offering of a number of eight week classes. The Department offers competitive scholarships and fellowships for this program, among a few other departmental prizes:
Seapine Fellowships for Spanish or Portuguese Language Study provide several students with funding to study in Portugal as well as various Spanish-speaking countries.
Malcolm Batchelor Fund for Portuguese Studies awards summer abroad monies in varying amounts to outstanding students, as well as funding Portuguese language conferences.
The Thomas C. Berry Travel Fellowships are a bit different in that an array of students may be awarded for various locations. The biggest purpose is to support humanitarian projects that may be customized by the student. Students with an interest in a deeply enriching project and helping an aspect needing improvement in Portugal may apply for consideration.
University of Louisville
The University of Louisville in Kentucky offers a summer study abroad program in Portugal. Part of the Portuguese Studies Program, this is a generous opportunity for students to experience one of most interesting countries in the bridge between Spanish America and Europe. Scholarships include:
Portuguese Studies Scholarships are remanded automatically for those students chosen to participate. Awards are $2,000.
Richard and Constance Lewis Scholarships in Latin American and Iberian Studies are awarded to students based on an array of selection criteria. These awards are made through the Latin American Studies department, and the amounts vary. Further information about application is available through the website.
University of Wisconsin – Madison
Coimbra, Portugal and Madison, Wisconsin become sister cities through the University of Wisconsin's partnership with the European gateway. The Portuguese Language and Culture Program takes place at the Universidade de Coimbra, where students may take courses in those two subjects as well as any other general studious pursuits. Juniors and Seniors can apply for the program at three different levels – from elementary to advanced – to suit their language comfort and abilities, and can opt to stay in Portugal for a semester or a year. Eligible students will have at least a 2.5 overall GPA with at least a 3.0 in any Portuguese language courses.
UW – Madison offers a series of IAP scholarships, campus scholarships, and endowed study abroad scholarships to cover the costs of the program and its associated fees. Students with outstanding academic merit and well-demonstrated financial need will be considered for these valuable awards and are encouraged to apply through the website.
University of Iowa
The U Iowa College of Law has ties with Catolica University in Lisbon, Portugal which enable its American students to engage in an exchange program whereby they pursue their studies in "International Business Law and Law in a European and Global Context" abroad. This semester or year-long opportunity gives University of Iowa students a chance to continue and complete their Master of Law (LLM) which immersing themselves in European legal practices and Portuguese culture.
Students are advised to consult the financial aid office to see what scholarship opportunities might be available for this foreign exchange program. Iowa Law has several internal scholarships for its high-achievers as well as a number related to public interest and justice, some of which may be used to study at Catolica.
Further Opportunities for Study in Portugal
To continue your hunt for funding for your studies in Portugal, make sure you take advantage of the opportunities waiting for you through your own closest academic resources. The financial aid office, study abroad department, and even the Spanish or language studies department of your college or university may have access to scholarships that will assist you in your quest. You may also want to familiarize yourself with the choices of university you will have in Portugal through the fantastic resource of the Portuguese University Network, comprised of sixteen institutions offering everything you could ask for in Bachelor's, Master's and PhD programming.
One organization worth checking out is Amerispan Study Abroad, which often offers programming in Portugal in an effort to bridge the gap between the US and Portuguese-speaking countries through internships, teaching English, career placement, and volunteer opportunities. Other community sources of funding may lie in Spanish-American ambassadorial associations, local language training programs, and Portuguese centers for culture in your community. Be sure to look out for and get in touch with these non-obvious places that may be able to point you towards more funding for your semester of a lifetime in Portugal.
Country-Specific Study Abroad Scholarships