Niger Study Abroad Scholarships
Monetary Opportunities Fund Challenging International Studies
The Republic of Niger, in western Africa, enacted a new democratic constitution in 2010. However, the country is one of the poorest in the world (per capita GDP is only a few hundred dollars) and is beset by famine, poor agricultural practices, a struggling economy, and reports of human rights violations.
Students willing to engage in work related to the country's current development will find a rich experiential classroom, a living laboratory in which to study the challenges presented by poverty in a growing nation.
Government Scholarships
If you are a graduate, post-graduate, or Ph.D. candidate, you might consider applying for a Fulbright grant for students. This well-known program provides hotly contested fellowships for seniors graduating from college, graduate students, professionals, and artists to study abroad for nine months (one academic year). A Fulbright will take you to many African nations, including Niger.
There are two types of Fulbright awards for American students heading to Niger: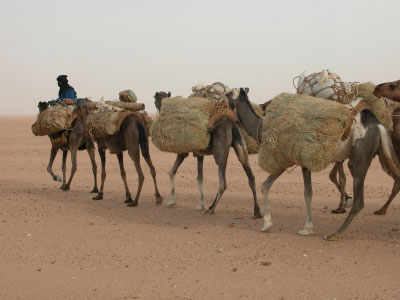 Applicants for Niger are required to be fluent in French and must submit all research proposals in French. It is recommended that candidates also speak an African language that is used in the area where they will conduct their research.
Financially needy undergraduate students, who have traditionally been underrepresented in study-abroad programs, have been using the Benjamin A. Gilman International Scholarships as a path to overseas study. This immensely popular program also directs students to non-traditional countries, as part of an effort to position the U.S. advantageously for dealing with the effects of globalization.
The Gilman scholarships offer candidates a maximum of $5,000 to study abroad in Niger and similar locations. If you study a critical need language, such as Arabic or Turkic, you will be eligible for an additional $3,000 supplement. The program is administered by the Institute of International Education (IIE), which is itself a valuable resource for those who wish to study abroad.
Gilman has one interesting application requirement, the Follow-on Service Project Proposal, in which you describe how you will communicate your experience to others in the hope of sparking their interest in international education. This is an excellent chance to make your application stand out. Outreach projects have included giving presentations in classrooms and lecture halls, or building website pages about your travels for your department in college.
The David L. Boren Scholarships, for undergraduates, and Fellowships, for graduate students, are designed to provide generous funding to students who want to study in countries considered important to national security, including countries in Africa. A complete list of Boren countries can be found here.
The Boren awards' funding comes from the National Security Education Program (NSEP), and there is a great deal of competition for them because of their high dollar value. Scholarship amounts range up to $20,000, and fellowships up to $30,000. There is a stipulation: you must fulfill the terms of the NSEP Service Requirement by working for the U.S. government.
The West African Research Association is funded in part by the Department of State, which sponsors other similar programs that promote international education. WARA maintains headquarters at the University of Boston and in Dakar, Senegal.
WARA provides two types of fellowships that make it possible for students to study in Niger and other West African countries:
WARA Pre-Doctoral Fellowships are awarded to eligible U.S. scholars for the purpose of either formulating a graduate research project or working on research for ongoing master's degree studies. Applicants who are in the pre-dissertation phase of their graduate work receive preference.

The fellowships cover a summer semester, which includes travel costs and an additional amount of up to $3,500.

WARA Post-Doctoral Fellowships provide the same level of funding for the same period of time, but applicants must intend to complete old research, start a new research project, or clarify a particular point for academic purposes.
College Scholarships
Niamey is the capital of Niger, and the Niamey International Development Program from Boston University is a service learning opportunity offering intensive course work in Niger's language, society, and development.
Participants may apply for the Pamela Posen Endowed Memorial Scholarship if they are juniors or seniors already enrolled in a study-abroad program who can show financial need. The annual awards can be as much as $2,500.
NOTE: If your country of choice is under an official travel warning, that may affect any applications you submit. Please check application requirements carefully.
Country-Specific Study Abroad Scholarships