Study Abroad Scholarships in Morocco
Catch the Marrakesh Express to Study Abroad Scholarships
The country of Morocco is a beautiful region located in North Africa along the North Atlantic Ocean and the Mediterranean Sea. Many see it as a destination for vacation, romance, and relaxation. However, it is has a large Islamic influence and social and political disputes which creates a center for students wishing to study these subjects abroad.
Government Scholarships
The Federal Government is the biggest provider of study abroad scholarships. They continually strive to get American students international exposure to make them better leaders in the global community.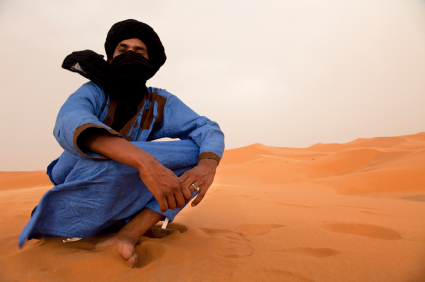 One scholarship they offer is the Boren Awards for International Study. Funded by the National Security Education Program, this is a $20,000 award given to undergraduate students to study abroad in areas that are critical to the United States' interest. They focus on sending students to regions which are largely overlooked by other study abroad programs. These areas include countries in Asia, Latin America, the Middle East, and Africa. There is no required field of study, but students should be interested in learning a language that isn't normally taught in traditional schools, such as Swahili or Morocco's largest spoken language, Arabic.
In exchange for this generous scholarship, students must agree to enter into a service requirement. After graduation, those who have participated in this program will work for the Government in a role with national security responsibilities. They will employee the skills and experiences learned while studying abroad on a daily basis.
Another way to receive funding from the government is the Benjamin A. Gilman International Scholarship program. This awards scholarships to students specifically who already receiving Federal Pell Grants. This is because they want to expand the diversity of students who are studying abroad. It gives an opportunity to students with high financial need, who attend community colleges, with disabilities, or are from diverse ethnic backgrounds to study abroad. Like the Boren Awards, students must study abroad in places overlooked by most other study abroad programs. These countries include those outside of Western Europe, Australia, and New Zealand. Over 2,300 of these scholarships are awarded each year and the amount awarded varies depending on the length of study. The maximum amount is $5,000 with the average amount being around $4,000. Also, there is a Critical Need Language Supplement award that those who receive the Gilman Scholarship are eligible for. This extra funding is for $3,000.
Private Organizations
There are also private organizations that offer funding to those wishing to study abroad. The Rotary Club is one such organization which focuses on serving in the community, workplace and all around the globe. They offer Global Grants to students whose studies or research will have significant long-term impact. To receive this award, applicants must prove how their project will benefit the selected community they are traveling to. The minimum amount awarded regardless of the area study is $30,000!
The School for International Training (SIT) is one of the leading travel abroad organizations. They offer many different scholarships to help aid those wishing to study abroad. One particular scholarship which can specifically be used for study in Morocco is the Middle East and Islamic Studies Scholarship- Islam is the biggest religion in this nation.
College Scholarships
Washington State University has a plethora of study abroad scholarships. They provide scholarships based on area of study, merit, and location. The Marie Wright Scholarship for Non-Traditional Locations is for students who wish to study in places outside Western Europe, Canada, Mexico, Australia and New Zealand. In fact, special priority is given to students wishing to study in the Middle East or Africa, including Morocco.
The University of Georgia offers an extensive program on the study of Islam. Their study abroad program allows students to get first-hand exposure to Islam in the heart of Morocco. They also offer many scholarships to help fund this experience. For Georgia residents, there are the HOPE scholarships which cover most of the costs of studying abroad. These scholarships are funded through the state lottery. There are other scholarships which are provided by the University of Georgia itself. The Katherine John Murphy Scholarship is given to undergraduate students who demonstrate financial need and are attend a study abroad program through the University of Georgia. Students must have a 3.3 GPA to be eligible. For a complete list of all of the study abroad scholarships they offer, check out their study abroad scholarship page.
Country-Specific Study Abroad Scholarships