Mexico Study Abroad Scholarships
Study Language, Mayan Ruins, Business and the Environment
Mexico has a colorful history and it's closely linked to the United States through its border, people and both nations' histories. The country is sought out for its stunning landscapes – from mountain rainforest to stunning beaches to bustling Mexico City. It has been home to the world's oldest known civilizations. For American students studying in Mexico, it is both popular and accessible. Students may go for language and cultural immersion, or for archaeology, literature, anthropology, art and history.
Increasing numbers of students are also studying in Mexico in areas of global and international business. One hot location is Guanajuato, a large hub for new Mexican business and industry, where students can become engaged in an interdisciplinary curriculum.
Due to escalating narcotics-driven violence, the U.S. Department of State Bureau of Consular Affairs has issued travel warnings for various parts of Mexico. There is no advisory in effect for some regions, including Guanajuato in Southern Mexico, but carefully read the State Department's warnings and advisories before considering a study abroad program in Mexico.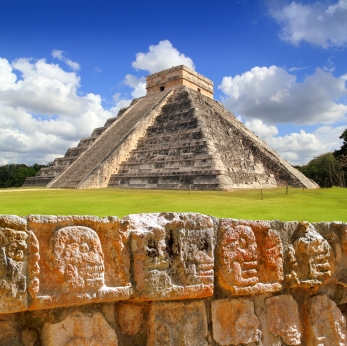 Scholarship Programs for U.S. Students
The University of Iowa offers $500,000 each year in merit and need-based awards specifically to encourage and support study abroad through approximately 75 programs scattered across every continent (except Antarctica). Qualified applicants must have outstanding academic records and be able to demonstrate a financial need. Award amounts are based on available funding and the needs of the student(s). UI is also part of the Committee on Institutional Cooperation, a consortium of Big Ten universities plus the University of Chicago, which offers a Traveling Scholar Program that pays for doctoral students to spend up to a full academic year pursuing specialized courses of study. This program has been offered since 1963.
The University of California has a system-wide Education Abroad Program that offers dozens of scholarships — a total of $700,000 each year — for students of all backgrounds and majors, and for all kinds of study abroad programs. Scholarships range from $1,000 to $3,000. The UCEAP recently expanded study abroad opportunities for UC students by offering an additional $500,000 in scholarships annually for the next three years, beginning in the 2012-2013 academic year. The university system offers four distinct study abroad programs in Mexico.
The International Studies Abroad organization specializes in helping students find and fund a wealth of study abroad programs. In essence, ISA is the middleman between college and student and the host institution abroad. Students interested in studying in Mexico may be qualified to benefit from ISA programs, including scholarships, if ISA is affiliated with the student's home college or university. Each year, $45,000 in Dr. Carlos E. Castañeda Memorial Scholarships are available to students with an above-average academic record as well as significant financial need. Awards are $1,000 toward summer tuition or $2,500 for a year of study in Mexico. Applicants must also meet Spanish-language proficiencies. The ISA also works with the Council on International Educational Exchange (CIEE), a non-profit organization promoting international education and exchange, by offering GAIN Scholarships for study in Mexico ranging from $1,000 to $5,000.
You can always find scholarships to study in Mexico through Sigma Delta Pi, the National Collegiate Hispanic Honor Society. While scholarship details change each academic year, there are plenty of scholarships that make it possible for accomplished Spanish-language students to study in various South American countries, including Mexico.
Scholarship Programs for U.S. and Mexican Students
The University of Texas-Dallas Center for U.S.-Mexico Studies is much more than a travel studies program. The Center regularly hosts Mexican scholars and noted authorities to stimulate discourse designed to affect deeper understanding between American and Mexican cultures. The Center continues a lucrative exchange program with the Mexican Council for Science and Technology that allows for academically accomplished Mexican doctoral level students in the tech arena to apply for scholarships to study at UTD. The Center also provides undergraduate American UTD students with a chance to study in Mexico. Scholarships are awarded to qualified students through the Travel Abroad Program.
Fulbright Scholarships are broadly awarded to students engaged in specialized projects abroad. For its NEXUS Scholars Program, applicants must be from Latin America, Canada, the Caribbean or the United States with a project focused on science, technology, and innovation; sustainability; or entrepreneurship. These focused concepts can be applied to a locale or organization in Mexico.
Diversity Abroad has partnered with several organizations to offer study-abroad grants and scholarships to economically disadvantaged and minority students, including Hispanic/Latino students, for immersion in Mexico and many other countries.
Country-Specific Study Abroad Scholarships