Mali Study Abroad Scholarships
Study Among Nomads and the Sahara Desert
The Republic of Mali is one of the largest countries in West Africa, but since it is covered by the inhospitable Sahara desert it is also one of the poorest. Malians belong to many ethnic groups with diverse lifestyles (for example, nomads, cliff-dwellers, craftsmen, and farmers). These demographics lend themselves to significant areas of study that regularly attract U.S. students.
Many students travel to Mali to work in fields related to health, art and religion, efforts in sustainable development and economics, and service-oriented projects. Solid knowledge of French is very helpful, because Mali was once a possession of France.
Government Scholarships
The National Institutes of Health Clinical Center funds an infectious diseases training program that falls under the umbrella of the National Institute of Allergy and Infectious Diseases (NIAID). That training includes post-graduate research fellowships designed for clinical investigators, and Mali is one of the countries in which the Infectious Diseases Fellows work.
Recent research projects based in Mali include studies of malarial immunity in children, pulmonary hypertension in children who have malaria, and simultaneous infection with HIV and hepatitis B. As you might have guessed, malaria is a severe public health problem for Malians, accounting for about 30% of all hospital deaths.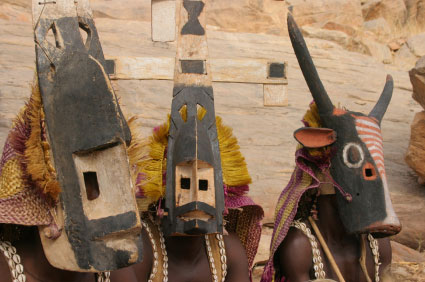 The West African Research Association (WARA) at Boston University was founded to facilitate exchanges of ideas and foster cooperative academic enterprises between West Africa and the U.S. It provides support for American and West African scholars and programs through funding and other types of resources. Fellowships available through WARA for study in Mali and other West African countries include:
WARA Pre-Doctoral Fellowships cover a summer term for graduate students with a doctoral research proposal or other research project. The applicant must attach an abstract of the plan, a comprehensive description of the research itself, and an itemized budget. Awards include travel expenses and a stipend of up to $3,500.
WARA Post-Doctoral Fellowships are awarded to scholars pursuing additional research, including the completion of a previous research project. These fellowships are also scheduled during the summer, and award amounts are the same as those for the pre-doctoral fellowships.
Fulbright awards are available to fund work in Mali. Depending on your level of study– from graduating college senior to practicing professional– you can choose either the Fulbright U.S. Student Program (one year of study abroad), Fulbright U.S. Scholar Program (to lecture or conduct research in Mali), or the Fulbright Specialist Program (for expert academic consultants). Fluency in French is required for these awards.
The Benjamin A. Gilman International Scholarship Program sends financially needy undergraduates to study abroad in nontraditional locations. Other students for whom Gilman awards are intended include those in underrepresented fields and disabled students, and the program aims at ethnic diversity. Gilman awards range up to $5,000, and applicants must be U.S. citizens.
The National Security Education Program sponsors the David L. Boren Scholarships (for undergraduates) and Fellowships (for graduate students). The Boren program's goal is to increase the number of U.S. experts in the languages and cultures of those countries less often chosen by students going abroad, in the interest of promoting good international relations. You can study one of 63 less usual languages, from Akan/Twi to Zulu.
Recipients of Boren awards must make a commitment to government service and fulfill the NSEP Service Requirement. The duration of that service must equal one year or the duration of the Boren award, whichever is longer. The program hopes to attract students to careers in national security. The maximum scholarship amount is $20,000, and the maximum fellowship amount is $30,000.
Study Abroad Organizations
The School for International Training (SIT) administers a study-abroad program, including a fascinating investigation into the roles women and family health play in the ongoing development of Mali. It's called "Mali: Gender, Health and Development," and in the event Mali's political situation deteriorates the course will move to neighboring Senegal.
SIT scholarships are available to program participants, and range from $500 to $5,000. If you apply for a SIT Study Abroad scholarship, your application will be submitted for thirteen other awards. Here are some examples:
The Compton Fund looks for students interested in environmental work, peace studies, or sustainable development.
HBCU Scholarships go to students attending Historically Black Colleges and Universities (HBCUs). Applicants must demonstrate financial need.
Sally Bragg Baker Scholarships are awarded to women who want to work toward international collaboration and peaceful relations.
College Scholarships
Students at Yale University who would like to pursue studies in Mali may apply for the Barry Travel Fellowship. Focusing on developing nations, Barry awards are designed for freshmen or sophomores who want to devise their own study-abroad projects and share their experiences when they return. Barry awards can be used at any time of year.
NOTE: If your country of choice is under an official travel warning, that may affect any applications you submit. Please check application requirements carefully.
Country-Specific Study Abroad Scholarships