Scholarship Programs for Macedonia
See the World Through a Different Lens
Diminutive Macedonia is sandwiched into the heart of Southeastern Europe — with Greece, Albania, and Serbia — at the doorway to the Mediterranean. This country could be considered new in some respects: It gained its independence from Yugoslavia in 1991. Despite its contemporary evolution culturally and politically, it is also known for its richness in ancient history from the eras of the Byzantine and the Holy Roman Empire. Greek and Roman myths sprang from this territory, as did philosophical scholars, such as Sophocles and Plato.
Students heading to Macedonia may be focused on traditional language and culture studies, but there are many reasons to consider this destination as an experiential classroom.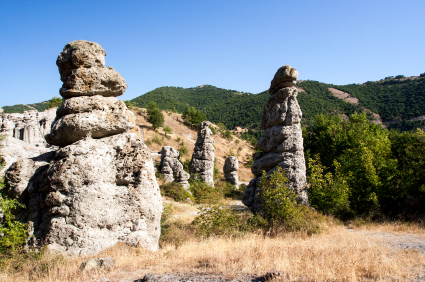 Government Scholarships
With one of the popular government-funded scholarships, you stand to make headlines around your campus before heading off the exotic lands beyond. Here are three of the major ones:
If you are a Pell Grant recipient, check into Benjamin A. Gilman International Scholarships, which provide the chance-in-a-lifetime to study abroad for students who may not otherwise have the means. Applicants must be in good academic standing with a commitment to studying in Macedonia for at least four weeks, or up to an academic year. The Gilman Scholarship Program supports students who have been traditionally under-represented in study abroad programs, such as community college students, students with disabilities or from diverse ethnic backgrounds, those with high financial need, and students in under-represented fields, such as the sciences and engineering. More than 2,300 scholarships of up to $5,000 annually are given for study programs around the globe, including Macedonia.
The Fulbright Program offers top-notch grants for American graduates and graduate students to study in Macedonia for a full academic year. Fulbright has different programs tailored for Macedonia. Awards vary, from amounts that cover all travel expenses, to those that cover the whole experience. Program proposals must be specifically targeted on issues facing Macedonia. The Fulbright U.S. Student Program offers 8,000 grants annually for graduating college seniors, graduate students, young professionals and artists to study, research, or teach English for up to a year. The Fulbright U.S. Scholar Program sends about 800 American scholars and professionals abroad for two months to a year to lecture and conduct research in a wide variety of academic and professional fields each year.
Let's not forget the David L. Boren Scholarships — competitive scholarships open to both undergraduate and graduate students — offered through the National Security Education Program. Scholarships of up to $20,000 are awarded for up to a year of study abroad. Boren Fellowships of up to $30,000 allow American graduate students to study abroad for up to 24 months. This is a scholarship for service program — you get funding in return for paying it back by working for the federal government for a predetermined term. Applicants for Macedonia must study the language while abroad, and will be given preference if they are already studying it. (Macedonian and Albanian are both the official languages.) Students should also be interested in cultural studies, business, law, the sciences or agriculture, and be able to articulate how the study abroad program, and their career goals, will contribute to U.S. national security.
Private Scholarships
Macedonia is an alluring region for archaeologists because its history is ancient and vast. Students interested in pursuing fieldwork or research in Macedonia may be in luck. The Archaeological Institute of America provides competitive scholarships that are open to students from all backgrounds. Minority and disadvantaged students are encouraged to apply:
Jane C. Waldbaum Archaeological Field School Scholarships provide $1,000 to more than a dozen students each year to help pay expenses associated with working in the field on an archaeological project for a minimum of one month. The scholarship is open to students junior and senior undergraduates and first-year graduate students.
The AIA offers fellowships to Ph.D.s and professionals for travel, research, study and excavation who are members of the AIA.
The Cotsen Excavation Grant Program provides two grants per year of up to $25,000 each. One grant goes to a first-time project director launching a new project, and the other is awarded to all professionals working in the field.
Country-Specific Study Abroad Scholarships