Lithuanian Scholarships
European Union Member, Economically Advanced
Compared to other Baltic States, Lithuania is economically and politically advanced. Located in Eastern Europe, between Latvia and Russia on the Baltic Sea coast, Lithuania was for a long time a republic of the Soviet Union but was the first to declare its independence in 1990. It is now part of the European Union.
The capital city of Vilnius is more cosmopolitan and globally connected than its name may imply. Students are typically based in Vilnius, where business majors may experience the new upstarts of Eastern European markets and language students may become immersed in the official language, Lithuanian, while comfortably surrounded by English-speaking professionals and students.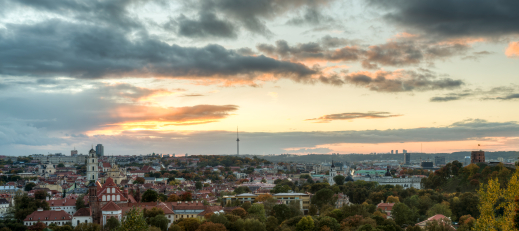 Government Scholarships
The Benjamin A. Gilman International Scholarships are provided by the federal government and awarded to academically successful, disadvantaged students who would not be able to study abroad in places like Lithuania the monetary support. The purpose is to diversify the next generation of global movers and shakers by putting engaging international experiences at the fingertips of traditionally disenfranchised populations. Recipients must be Pell Grant recipients and top scholars wanting to study in non-traditional countries, especially those outside of Western Europe, Australia and New Zealand — so Lithuania fits the bill. The award maximum is $5,000, unless you study a critical language.
Private Funds
Do you have a need to travel to Lithuania for research purposes? If so, you might be eligible for the IREX travel fellowships. The awards are provided by the International Research and Exchanges Board (IREX). They are not designed for a long-term research stint, but a shorter trip only requiring minimal amounts of time in an Eastern European country. IREX promotes the work of students, scholars and professionals whose research and projects are focused on civil society, education and media development, including Lithuania. Here, IREX offers two opportunities:
The Individual Advanced Research Opportunities Fellowships are earmarked for graduate students. Candidates must be pursuing a well-defined research proposal directly related to foreign policy research or related international affairs. Awards range from two months to nine months.
Short-term Travel Fellowships are awarded to post-graduate and post-doctoral degree holders for a stint in Lithuania lasting up to eight weeks. Candidates must not be in a degree program at time of application.
College Scholarships
The University of Pittsburgh administers a scholarship through its Lithuania Nationality Room to students pursuing a study abroad program in Lithuania. The Lithuanian Room Committee Scholarship awards $4,000 to a deserving undergraduate who desires to study in Lithuania or another country of their choice.
The University of Missouri-Kansas City makes many scholarships available to students pursuing study abroad programs. Their format is flexible and permits students to apply for awards regardless of program length. Students planning to study in Lithuania may qualify for any number of scholarships, among them:
UMKC International Travel Awards provide a modest $500 scholarship intended to help offset the cost of studying abroad during the summer term.
Ernest Dick Memorial Fund Scholarship for International Study is awarded to an outstanding undergraduate or graduate students in international studies. The award, which varies in amount, is available directly through the Henry W. Bloch School of Management.
Undergraduate and graduate business students in the Bloch School of Management who are participating in sponsored study abroad programs are eligible for funding support based on academic achievement and financial need.
Lithuanian Government Scholarships
Through Vilnius University, international students outside of the European Union may apply directly for grants that cover one semester tuition fee. Students, lecturers and researchers from foreign higher education and research institutions may also apply for state-funded scholarships for Vilnius University or other institutions.
Country-Specific Study Abroad Scholarships