Kosovo Education Scholarships
Learn Life Skills Outside the U.S.
Not long ago, Kosovo was the daily focus of media coverage surrounding the U.S. participation in quieting the political unrest that threatened to dissolve all remnants of the then recognized Serbian province. In 2008, Kosovo declared its independence and is recognized by roughly half of the UN participating countries. Students pursuing studies in Kosovo and the surrounding region will find it may be behind other Eastern European countries in respect to social and economic reforms, but it is rich with history and political stories to tell. Nestled in the mountainous region of Southeast Europe, Kosovo offers majestic views and century old cities as well. And though it is a country with a turbulent history, students will find a rich environment of culture and entertainment.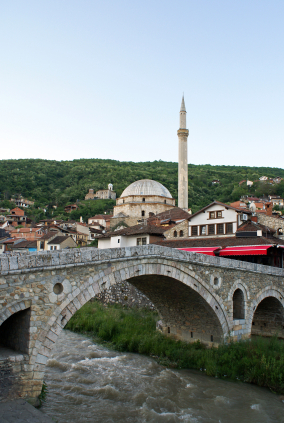 There are many scholarships available to study in Kosovo, offered through governments and schools, to attract new people to the region and help spread information about this "new" presence in the world.
Scholarship Programs
The Benjamin A. Gilman International Scholarships are awarded to undergraduates and underprivileged students. Applicants must be Pell Grant recipients to qualify. The purpose of this program is to provide an opportunity to those looking to study abroad who could not otherwise be able to afford it. The goal of the program is to create a more diversified field of people in the ever growing international market. Over 2,300 of these awards of up to $5,00o are given out annually.
The David L. Boren Awards are available to undergraduate and graduate students. These awards are offered through the National Security Education Program (NSEP) and administered by the Institute of International Education (IIEL). The purpose of these awards is to help develop knowledge of growing countries in the changing political landscape of the world for national security. Applicants should have high academic skill and a passion for language and cultural studies, although all fields of study are accepted. Awards of up to $20,000 in travel funds for a summer, semester or year program are available. Boren Fellowships award up to $24,000 for graduate students, with an extra $6,000 that can be applied to domestic language study. Acceptance of these awards requires return service in a national security agency. The duration of the NSEP Service Requirement is one year or the duration of assistance provided under the program, whichever is longer. Applicants with a career interest in security are given preference, as are longer terms of study.
The School for International Training (SIT) is one of the foremost providers of study abroad programs and works in concert with hundreds of colleges and universities to accommodate all manner of U.S. students and their increasing zeal for more challenging study abroad programs. Their program, Serbia, Bosnia, and Kosovo: Peace and Conflict Studies in the Balkans engages students interested in peace and conflict studies, history, international relations, and political science with the ongoing efforts of peace building and reconciliation in the Balkans. SIT offers several scholarships, with only one application to complete.
The International Research Exchanges Board (IREX) is an internationally recognized organization whose primary goal is to effect scholarly exchange among high-level students and scholars especially in the Eastern European region of the world. To those ends IREX provides the following scholarships for post-graduate students and higher who have a need to study or carry on research in Kosovo or another Eurasian country. Candidates must be tackling topics related to foreign affairs or specific political and social climates in the region:
Individual Advanced Research Opportunities Fellowships are open to students at various levels of education: graduate, post-graduate and professional. The program may be applied for up to nine months and award monies cover applicable living costs, round-trip travel and a stipend.
Short-term Travel Scholarships are provided to those post-graduate, post-doctoral and professional applicants whose research project must be conducted on-site in Kosovo, but is designed for a short-term stint. $5,000 awards cover almost all costs.
Erasmus Mundus is offered through the EU to promote higher education with scholarships and cooperation between Europe and other countries. This program offers scholarships to students at all levels of higher education from all parts of the world. awards are available to follow an Erasmus Mundus Masters Course or Joint Doctorate at two or more European universities, as well as scholarships to promote the mobility of students between European and non-European universities.
The American University in Kosovo (AUK) is a private not-for-profit university that teaches completely in the English language, and it has a partnership with Rochester Institution of Technology (RIT) in New York. It provides the same standards, rules, degrees, and more than often professors, that RIT uses in New York. A number of scholarships are offered through their financial aid office.
In order to create a diverse student body, Universum University College currently offers eight scholarships and assistantships for international students in their MA in Management Program. The assistantship covers the full tuition fees for the program (7,200 euro) and provides a monthly salary of 200 euro to the candidates for 15 months. Assistants are required to work 20 hours a week as an undergraduate teaching or research assistant, tutor, academic adviser or do administrative work in one of the offices or departments (i.e. International Education and Study Abroad Office). In addition to the Assistantships, Universum offers 4 scholarships. The scholarship covers 25-75% of tuition fees for two years. Scholarship holders are obliged to volunteer in college or community projects for 200 hours during two years.
Scholarships for Kosovar Students
As much as American students are excited to have the opportunity to experience Kosovo, so are Kosovar students with engaging in studies in the U.S. American social and political issues are just as foreign to Kosovars as theirs is to American students. The Ron Brown Fellowship program is funded by the federal government and is offered to students in a range of Eastern European countries who are interested in studying for up to two years at a U.S. college or university. The program covers a full complement of funding from round-trip travel to accommodations and tuition.
The Hubert H. Humphrey Fellowship Program brings accomplished mid-level professionals to the United States for up to one year of combined academic (NON-DEGREE) and professional work. Fellows are selected based on potential for leadership and commitment to public service.
Country-Specific Study Abroad Scholarships