Kazakhstan Education Scholarships
Free Money? - High Five!
If you know anything about Kazakhstan, chances are you've learned about it through the farcical black comedy, "Borat." (The movie stars Borat, a fictional, nincompoop Kazakh reporter whose extremist Eastern European viewpoint and pseudo-Russian accent are intended to poke fun at American cultural excesses and other international idiosyncrasies.) But there is a whole lot more to this ancient place, including the fact that it is the ninth largest country in the world by land areas.
Kazakhstan straddles Eastern Europe and Central Asia, abutting China, Russia and a few other "-stans:" Turkmenistan, Uzbekistan, Kyrgyzstan, and Tajikistan. Underscoring its position to the Middle East, Afghanistan and Pakistan are just south of these. Historically, Kazakhstan takes up what might be referred to as the "cradle of humanity," the region of the world where it is believed most of the world's civilizations first developed before spreading forth.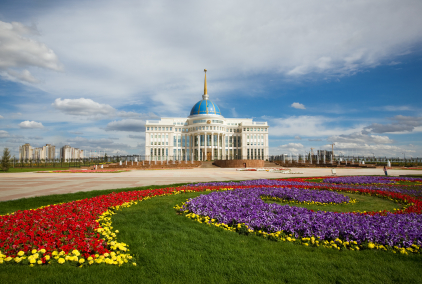 For students, this Eastern European country offers a varied palette of studies, from those focused on language and culture to the more contemporary curricula of society, politics and economy that play out each day in the region.
Government Scholarships
American Councils for International Education is world-recognized organization that designs programs and provides technical assistance in education for governments and development agencies throughout Eurasia and the United States. The organization sponsors various scholarships for students interested in studying abroad or the Kazakh language.
The American Councils Eurasian Regional Language program provides graduate students, advanced undergraduates, scholars, and working professionals with intensive individualized instruction in the languages of Eurasia. Participants may in enroll in semester, academic year, or summer programs. The program takes place in Almaty, the nation's largest city.
The Research Scholar Program and Combined Research and Language Training Program (CRLT) provide up to nine months of full support for overseas research in Kazakhstan. Funded by the U.S. Department of State (Title VIII), both programs provide full fellowship ranging from $5,000 to $25,000.
The federal government, whose main interest is in training the next-generation of security and intelligence personnel, also funds the hugely popular David L. Boren Scholarships. This is a scholarship-for-service program, which means that once you've graduated, you will be expected to repay the government with a term of service in national security. Applicants interested in an innovative and engaging program of study in Kazakhstan should apply. Undergraduate and graduate students are considered for slightly different versions of the scholarship. Awards are up to $20,000 for undergraduates for up to a year of study abroad. For graduate students, Boren Fellowships provide up to $30,000 to U.S. students to study abroad for 12 weeks to 24 months.
The International Research and Exchanges Board (IREX) is an international organization focused on civil society, education and media development. It supports the ongoing work of scholars in many regions of the world, including Eastern Europe and Eurasia. There are a few fellowships that are open to eligible applicants who want to conduct research in Kazakhstan:
The Individual Advanced Research Opportunities Fellowships are earmarked for graduate students. Candidates must be pursuing a well-defined research proposal directly related to foreign policy research or related international affairs. Awards range from for a minimum of two months and a maximum of nine months. Participants are provided with visa assistance, international round-trip transportation, a monthly allowance for housing and living expenses.
Short-term Travel Fellowships are awarded to post-graduate and post-doctoral degree holders for a stint in Kazakhstan lasting up to eight weeks. Candidates must be motivated and have a targeted research proposal. They may not be in a degree program at time of application.
The Media Sustainability Index Study for Europe & Eurasia is an ongoing survey in different countries to investigate the region's media in the context of whether it is providing the public with useful, timely, and objective information. This is an ongoing project, so check to see what programs they have for Kazakhstan.
Country-Specific Study Abroad Scholarships