Jordanian Related Scholarships
Recommended: Arabic Language, Middle Eastern Culture, Islamic Studies
The Middle Eastern nation of Jordan shares borders with Syria, Iraq, Saudi Arabia, and Israel. The Jordanian monarch's responsiveness to popular protests in 2011 helped Jordan to navigate that politically sensitive time successfully, and furthered Jordan's progress toward political reform and accountable government.
Jordan is largely a desert plateau, with highlands in the west. The need for supplemental assistance from foreign governments guarantees Jordan's cooperation with its international partners, which benefits the United States due to Jordan's strategic location. Jordan plays host to a number of international students interested in examining Middle Eastern politics and culture at institutions like the University of Jordan's Center for Strategic Studies, located in the Jordanian capital city of Amman.
Government Scholarships
Jordan's location means the country is considered vital to America's national security, and that means the federal government invests money in scholarship funding to send students there. If you are receiving a Pell Grant and want to study in Jordan, you may apply for an award from the Benjamin A. Gilman International Scholarship Program. Designed to send a more diverse population of students abroad by removing financial obstacles, the Gilman Program, sponsored by the State Department's Bureau of Educational and Cultural Affairs, is highly competitive.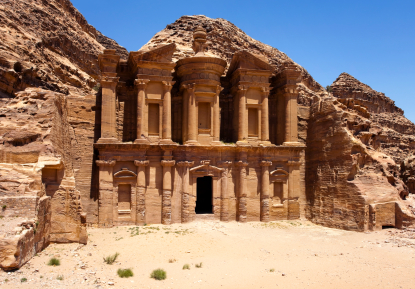 The Gilman Program selects students that have financial need, attend community colleges, study in sciences and engineering, have diverse ethnic backgrounds, or have disabilities. It prefers to send students to nontraditional locations, including Jordan. There is more information about eligibility here. Scholarships range up to $5,000, and anyone studying a Critical Need language, like Arabic, may receive an additional $3,000.
The David L. Boren Awards are also funded by a government agency, the National Security Education Program (NSEP). NSEP's goal is to give American students the necessary knowledge and experience to serve the country in its international relations, and to that end they underwrite Boren Scholarships, for undergraduates, and Boren Fellowships, for graduate students.
Borens bring up to $20,000 for scholarships and $30,000 for fellowships ($24,000 for foreign study and $6,000 for language preparation in the U. S.). In return for the funding, students are expected to fulfill the NSEP Service Requirement, which exacts a year of national security service for each year of financial assistance.
The Fulbright U.S. Student Program has reserved 20 grants specifically for study in Jordan. Candidates for the Arabic language and research program should have completed a minimum of two years studying the language, three if plans include courses at a Jordanian university. The Critical Language Enhancement Awards, which require only one year of training in Arabic, provide funding for a session of language study in Jordan to be taken prior to the Fulbright grant period.
College Scholarships
Washington State University's International Programs center offers the Marie Wright Scholarship for Non-Traditional Locations, which is suitable for studies in Jordan. You must be at least a sophomore and plan to spend a minimum of one semester abroad.
St. Lawrence University's Patti McGill Peterson Center for International and Intercultural Studies has established a partnership with an institution in Amman in order to offer study-abroad programs in Arabic and Middle Eastern studies. Their page for scholarship information is here, and you may apply for a Travel Enrichment Grant or a Travel Research Grant.
Study Abroad Organizations
The School for International Training (SIT) sponsors two different study abroad programs in Jordan called "Modernization and Social Change" and "Intensive Arabic Language Studies." The former examines recent changes in Jordanian society and government, and the latter is a full-immersion Arabic language program.
SIT offers a number of scholarships to support its students, and those traveling to Jordan may be particularly interested in applying for the following:
The Middle East and Islamic Studies Scholarship, which is intended for just such programs as the Arabic immersion course above
The Sally Bragg Baker Scholarship, given to a female student who wants to work for world peace and harmonious international relations (always a topic of importance in the Middle East)
The SIT Fund, designed to help financially needy students
The SIT Pell Grant Match Award, which will double your Pell Grant funding.
The Council on International Educational Exchange (CIEE) offers intensive study in the Arabic language, plus area studies, in Amman. CIEE has devoted an entire page to its list of scholarships, and awards range from $500 to $5,000.
Private Funding
An organization called America's Unofficial Ambassadors (AUA), which seeks to better relations between America and the Muslim world, sends students abroad to volunteer for community service in countries with Muslim majorities. Jordan is an ideal location for this effort because 92% of its people are Sunni Muslims, and service efforts focus on direct assistance to the country's people by way of education, health, and other programs related to human development.
The AUA Mosaic Fellowship Program lets students gain experience while making vital contributions, such as teaching English to Palestinian children or working with local industrial cooperatives.
NOTE: If your country of choice is under an official travel warning, that may affect any applications you submit. Please check application requirements carefully.
Country-Specific Study Abroad Scholarships