College Scholarships for Indonesia
From Tsunami-Ravaged Sumatra to once Exotic Bali and War-Torn Timor
The former Dutch colony called the Republic of Indonesia had the fourth largest population of any other nation in 2012. It is located on an archipelago between the Pacific and Indian Oceans and, like Hawaii, is an excellent location to study earth science due to the proliferation of volcanoes, the activity of which produced the chain of islands belonging to Indonesia.
Recent fiscal reforms, added to Indonesia's rich deposits of natural resources like petroleum and gold, have placed Indonesia with India and China as a country rapidly developing into prosperity. The Indonesian and U. S. governments have participated in educational exchanges for at least fifty years, and American students can choose from a number of disciplines like tropical botany, anthropology, and marine biology.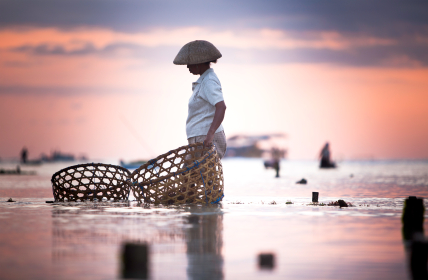 Government Scholarships
The Boren Awards program is sponsored by the National Security Educational Program (NSEP), which takes a great interest in sending American students to Indonesia. Indonesia has the largest Muslim population in the world, and reaching a rapprochement with that group is critical to our nation's security. David L. Boren Scholarships, designed for undergraduates, and Fellowships, for graduate students, encourage regional and language studies in areas like Eurasia, where Indonesia is located.
The Boren scholarships pay up to $20,000, and the fellowships up to $30,000. A list of Boren countries can be found here, and there is also a list of languages available on the same site. The official language of Indonesia is called Bahasa Indonesia ("bahasa" meaning "language"), and it is a form of Malay, which is on the Boren list. Since the program is funded by NSEP, the NSEP Service Requirement applies after graduation, when recipients must contribute one year of government service for each year of financial aid.
If you are a Pell Grant recipient, you may qualify for funding from the Benjamin A. Gilman International Scholarship Program. The goal of the Gilman program is to send a more varied population of American students abroad by providing funds to those students who otherwise would not be able to travel for financial reasons. You must study at least four weeks in one country.
Groups targeted by the Gilmans include community college students, students who have disabilities, those in science and engineering programs, and those from ethnically diverse backgrounds. Awards range up to $5,000, and if you are studying a language on the Critical Need list, like Bahasa Indonesia, you may also receive a $3,000 supplement.
The Fulbright U.S. Student Program currently has ten grants available for study in Indonesia. You do not have to know Bahasa Indonesia to apply, but you should make plans to study it since knowing the language will strengthen your application. To pay for those studies, you may request a Critical Language Enhancement Award. It funds between three and six months of intensive study in any language on the Fulbright list.
The Fulbright grant period is 10 months, and you must establish an affiliation with a university in Indonesia. Consult the AMINEF (American Indonesian Exchange Foundation) site for information on how to begin that process.
Private Funds
The Freeman Asia Awards give financially disadvantaged U.S. students monetary assistance with costs for study-abroad programs in Asia. Indonesia is one of the countries to which Freeman sends students, and you must not have spent any length of time there already. You must spend at least eight weeks in one country, and you are encouraged to study an Asian language during that time.
Awards come in three tiers: up to $3,000 for summer, $5,000 for a semester or quarter, and $7,000 for an academic year.
Study Abroad Organizations
The School for International Training (SIT)'s Study Abroad program offers a number of foreign study courses, including one in Indonesia. The course is called "Indonesia: Arts, Religion, and Social Change," it involves cultural study on the islands of Java and Bali, and it includes intensive study in Bahasa Indonesia.
SIT offers various scholarships to its students, and some of the awards suited to Indonesian study are:
The SIT Pell Grant Match Award, which matches the amount of your Pell Grant
The SIT Engineering Scholarship, for financially needy undergraduates in engineering programs
The HBCU Scholarships, which go to students attending Historically Black Colleges and Universities (HBCUs).
Award amounts vary between $500 and $5,000, and if you apply for one scholarship you will automatically be considered for the remainder.
NOTE: If your country of choice is under an official travel warning, that may affect any applications you submit. Please check application requirements carefully.
Country-Specific Study Abroad Scholarships