College Scholarship Awards for Greece
Experience The European Culture
Whether you are a college student devoted to architecture, sociology, history or language, Greece as a study abroad destination has something uniquely Mediterranean to offer you. Students in almost any discipline will discover Greece to be the root of most scholastic studies including the very study of mankind, his first civilizations and sports, and now his history.
Consider everything related to Greece that is a huge part of our historical and political education, and you will understand why the island has such a special grip on the modern world since ancient times. It's no wonder that archaeology students flock to the country – the region is rich in ancient ruins and innumerable social, political, economic and even recreational creations and institutions that are begging to be delved into and dug up by an interested student. Finally, because the Olympics were an invention originally of the Greeks, sports fanatic students will also find their niche in the country.
On top of the plethora of courses to be engaged in, Greece is also one of the most visually sublime locations on the planet. Most people only dream of lazing along the white washed edges of the blue Greek coastline, so when not on some important archaeological dig or dusting off tomes in a Greek library, make sure you take a study break to enjoy the landscape.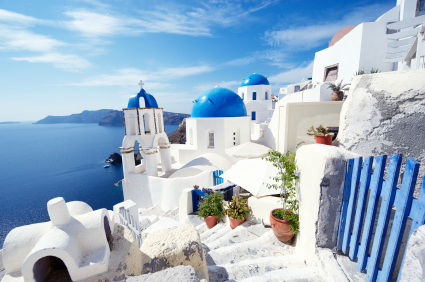 Luckily, if you are determined to find a way to study abroad in Greece, you will be rewarded in your search by a variety of scholarships available to you for your studies. A few of the federally funded, privately funded, and university funded award opportunities are listed here.
Government Scholarships
From the federal government, two scholarships are well-recognized and widely applied for to fund travel to a multitude of countries, including Greece. These options have distinct eligibility requirements, but offer incomparable rewards if you do find that you fit the prerequisites.
The Benjamin A. Gilman International Scholarships help underprivileged undergrads who are traditionally not part of study abroad programs because of financial lacking. Applicants must be Pell Grant recipients, necessarily low-income and facing significant financial challenges. Students with a proposed program of study in Greece may qualify with up to 700 others for awards up to $7,000.
The David L. Boren Scholarships are training the next level of Americans to be more internationally savvy and aware of the world outside our borders and how it affects us at many levels. Applicants must be top-notch students with outstanding academic and extracurricular records who are pursuing either a language and culture program in Greece or one emphasizing law, education, technology or the sciences. This scholarship is open to undergraduate and graduate level students who are comfortable committing themselves to working for the federal government in the region of security for some time after their studies are completed. Up to $26,000 available per award for this ideal opportunity for students who don't mind a education-job package deal.
Private Funding
Archaeological Institute of America
The Archaeological Institute of America (AIA) sponsors the following fellowships and scholarships for student scholars seeking funding to pursue excavation, advocation, and education-related projects abroad in Greece:
Harriet and Leon Pomerance Fellowships are intended for graduate or post-graduate archaeology students whose concentration is in the Bronze Age and within the region of Greece. Eligible applicants must have a well-defined project to pursue. Awards are $4,000.
The Olivia James Traveling Fellowship gives away an extremely generous $22,000 for just the right student. Applicants must be pursuing fieldwork in Greece or the surrounding area, and have a very defined plan of study.
Anna C. and Oliver C. Colburn Scholarships go to eligible and talented students who are heading into their Ph.D. studies and are wishing to study at the American School of Classical Studies in Athens. Qualified applicants compete for up to $11,000 for a year-long program.
Rotary International
Rotary International has become one of the largest and most well known philanthropic organizations in the world. Besides humanitarian and sustainable development projects and organizations, the Rotary also funds one of the most competitive and large-scale scholarships in the country.
The Ambassadorial Scholarships come in many versions according to student need and intention and assist outstanding students with around $26,000 for a year of study in an eligible country, including Greece. Applicants must be excellent in every way and embody the character and moral tenets of the Rotary.
Global Grants may be offered through your local Rotary Club chapter. These enormously generous funds are devoted to students who dedicate themselves to improving the areas of medicine, education, or sustainable development in a country with need. Awards are $30,000. Check with your local chapter of the Rotary to see if these awards have begun to be available yet.
Alexander S. Onassis Foundation
The Onassis name is, of course, associated historically with both wealth and Jackie Kennedy. The Alexander S. Onassis Public Benefit Foundation, from the same family, funds scholarships for graduate and Ph. D. students who wish to do research or study in the country for a length of time.
Eligible applicants may be pursuing a flexible range of disciplines, including any you would want to do in Greece. Awards vary based on project and length of proposed study/research.
Hellenic International Studies in the Arts
Paros, the lovely Greek island, is home to a number of artistic pursuits for students who study through the Hellenic International center. Full-length semester courses are possible, as well as shorter academic field trips to exotic destinations. Paros provides a stunning and historically and culturally rich context for the arts and their practice, and students will be pleased with the array of college-level courses offered by HISA.
Those passionate about visual arts, art history, creative writing, photography, media, women's studies, film, music, and literature will be well equipped to receive a scholarship to a program to further their academics in Greece. With small enrollment numbers – usually limited to 25 students – and a multitude of aid opportunities, the courses are highly sought after. Tuition grants are available, as well as the Jason Schindler scholarship for exceptional writers in the amount of $1000-$2500 and the HISA Photography Fellowship for $1000, among others.
College Scholarships
American School of Classical Studies at Athens
The American School of Classical Studies at Athens is the premiere hub of US students in Greece and is chock full of international scholars at their graduate level or above that are studying everything from law to archaeology. The university offers, among others, the following fellowships and scholarships in differing award amounts and with varying target recipients:
Cotsen Traveling Scholarships assist scholars with the funds necessary to study at the school for a short term. Awards are $2,000.
M. Alison Frantz Fellowships are offered to applicants who are graduate or heading into post-graduate programs in the area of Byzantine Studies or Modern Greek Studies. Applicants are considered based on how relative their proposed research is to on-site study and their educational goals. Awards are $10,500.
If you are needing to rework a dissertation with rare Greek texts, the Jacob Hirsch Fellowships award for $10,500 is for a stint of study at the school for just such purposes.
Students conducting research at the school may require additional funding for in-country travel. In that case, the Paul Rehak Memorial Traveling Fellowships are designed to fund short periods of travel with up to $1,000.
The American College of Greece
The American College of Greece is fully inundated with a vast majority Greek student body, and provides full access to all things Mediterranean from its Athens headquarters. Inbound students wishing to engage in a variety of studies there will be very pleased to learn that the ACG is the only Grecian school accredited by the New England Association of Schools and Colleges, making future credit transfer a painless process.
The ACG has partnered with the Greek America Foundation to make Hellenic Legacy Scholarships available to qualifying students who will win a semester's worth of tuition costs to study abroad there. This particular opportunity is open to American and Canadian students who are outstandingly dedicated to study in Greece and who have top-notch academics and extracurriculars.
Arcadia University
The Arcadia Center for Hellenic, Mediterranean and Balkan Studies is centrally located in famous and beautiful Athens. Semester-length internships and study as well as summer term study are possibilities for interested students. Notably, Arcadia also hosts an EU symposium for Politics and Economics in Athens and Rome meant for those studying political economy.
Those in Athens will study language, general courses in their major, and culture while enjoying country-wide excursions and living in a Greek neighborhood. No previous fluency in Greek is required, and Arcadia even offers a fundamental course called the Greek Key that acts as a one-stop-shop for introducing and immersing students in Greek language and culture. Luckily, the College of Global Studies awards two million dollars a year for its study abroad students in increments of $250-$2000 for semester programs, depending on need and merit.
More Opportunities in Greece
Finally, the private study abroad association CCIS offers a program at the American School in Thessaloniki, located in the island's second largest city, through which a student can spend a semester studying arts, sciences, or business in either Greek or English. In addition to what you will find through the above college and miscellaneous programs, don't forget to check with your own college or university's financial aid office and study abroad department to see what extra funding opportunities they might have to offer you. Many schools that don't have a specific study abroad program to a location that their student is dedicated to traveling to will allow students to create their own courses of study in regions important to them.
The Greek America Foundation, sponsor of the Hellenic Legacy Scholarship we mentioned above, is also a great source of scholarship information, things to know before you go to Greece, and internship and career possibilities. If you were raised in the Baltimore/Washington/Virginia region of the US and want to study abroad in Greece, check out their Tsakalos Scholarship for your special circumstances.
If you have a very nicely defined and well-thought-out plan of action in your Greek studies, take advantage of this potential money maker and present it to your college to see if they will fund your foreign travel and research to this end. Through this possibility, as well as the generously funded awards from private and public sectors that we have listed, you will find that funding for a semester or year in Greece is entirely possible with a little hard work and persistence.
Country-Specific Study Abroad Scholarships