Scholarships for Finland
Interact with other International Students in State-of-the-Art Universities
Finland offers students the opportunity to explore a wide array of studies in a rather non-traditional location. One member of the family of northern European Scandinavian countries, Finland is home to a devastatingly beautiful landscape of lakes and rivers within its prime location situated between Sweden and Russia. Like its sister nations, Finland is heavily invested in educating its youth and puts much government funding towards the schooling of its citizens and their higher education.
For this reason, the country is riddled with universities and "polytechnics" providing multi-disciplinary and professional and technical programs. Not only is Finland a photographer's dream and an inspiring canvas for artists of all kinds, its universities offer studies ranging from language and culture to the sciences, history, economics and technology. If you know some Finnish or Swedish, you will fare well, although there are also many programs in English. In some cases, scholarships do require that you know a bit of the language to be comfortable in this country.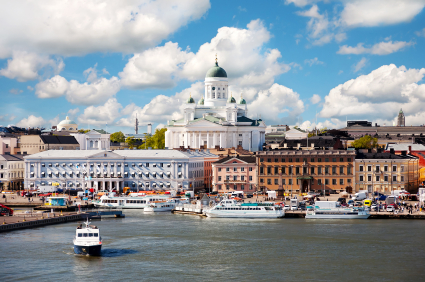 For those who are attracted to the cool climate, unique language, ubiquitous bodies of water, and heavily emphasized educational opportunities of Finland, there are some scholarship opportunities that will help you along your journey to study there. Private organizations and colleges are the benefactors behind most of these awards, although the US government has a general scholarship opportunity available for study in Finland that may be very interesting to low-income students.
Government Scholarships
Benjamin A. Gilman Scholarships
The federal government's Bureau of Educational and Cultural Affairs funds the now well-known Benjamin A. Gilman International Scholarships. The awards are competitive thanks to the over 700 awarded to undergraduate students across the U.S. The goal of program is twofold: to provide a future where global leadership is much more diverse and to make it possible for traditionally disenfranchised students to participate in international studies.
Eligible applicants must be academically heads and shoulders above most of their peers, interested in immersing themselves in challenging abroad studies and pursuing a program in a non-traditional location, such as Finland. Candidates must be receiving Pell Grants to qualify, so they must be necessarily low-income and have enormous demonstrated financial family need. Those from minority backgrounds, community college students and those with disabilities are given first preference. Awards are up to $5,000 depending on need. These Gilman awards are ideal for the under-privileged or otherwise disadvantaged student who puts academics and leadership above all else and is bent on studying in an extraordinary country like Finland.
Private Organizations
Rotary International
Rotary International Ambassadorial Scholarships reward top-notch students heading off to international studies with notable humanitarian programs laid out and in place. The Rotary does not fund travel to every destination, but it does fund travel to Finland if an extraordinary student desires to make an altruistic difference there. Students are free to pursue a wide array of disciplines, but the most important focus of the program is philanthropy towards the country in question. Students who study or participate in aid-based programs are given preference. Candidates must be willing to make a presentation to a local Rotary upon return to the States. Applications are reviewed for destination, planned program, educational fit with student's major, philanthropic intention, and in light of academic and financial factors. You must contact your local Rotary Club to find out more information about applying from your area.
Make sure to check with your local branch of Rotary International to see if they are offering their Global Grants. These awards are part of a new program that is dedicated to the funding of necessary medical aid, educational ventures, and sustainable development projects in countries where there is a high need for one of these fields. These grants will be given out in amounts of $30,000 to deserving students with well-thought out plans of study and work.
American-Scandinavian Foundation
The American-Scandinavian Foundation is the primary bridging organization that acts for form and maintain positive relationships between the US and the Scandinavian countries, including Finland. The Foundation provides graduate level fellowships for study in Finland, a part of the nearly one million they dole out each year to students. Their website also provides an enormous amount of helpful information to any students planning to go abroad in Finland, including entrance advice, visa guidelines, and travel tips. They also offer some funding opportunities in the other direction – to Finnish students desiring to spend time in the US.
The Graduate Fellowship awards provide complete travel expenses, allowance and tuition costs to their recipients. Eligible applicants must be proficient in the Finnish language and have a well-planned research project to qualify. Preference is given to those candidates who are first-time applicants and clearly dedicated to their field. Notably, a number of different internships and grants are also available to interested students wishing to spend a semester working or doing pertinent research in Finland.
Society for the Advancement of Scandinavian Study
Another organization devoted to supporting Scandinavian research and strong international relations is the Society for the Advancement of Scandinavian Study (SASS). Again, their website is an extremely helpful resource for all things Finnish, including Scandinavian conferences, the Centennial Campagian for Scandinavian Studies, and relevant Finnish news.
The Birgit Baldwin Fellowship in Scandinavian Studies is their nod to "Nordic" studies, particularly in regards to research culture and film. Eligible applicants must be entering their post-graduate studies with a significant research project or dissertation on Finnish or Nordic literature and other arts. The nature and depth of the project must require that students be present in Finland to access resources, such as libraries and databases. Proficiency in the language is a must, along with an outstanding academic record and financial need. Awards are up to $24,000 and the deadline is December 1 of the year preceding your intended study.
Center for International Mobility
The Center for International Mobility (CIMO) is a leading organization providing international studies programs in Finland. Their website is well-organized into helpful categories for prospective study abroad students such as "Study Options", "Institutions" and "Living in Finland". Since Finland is one of the more educationally grounded countries and the university system is comprised of hundreds of universities and "polytechnics", the choices are myriad and CIMO helps students narrow down and piece together suitable choices that fit their courses of study.
Through CIMO's Study in Finland program, students from around the globe are welcome and invited to participate in interdisciplinary studies from undergraduate studies through doctoral research. In fact, many programs offer English options, even though it is desirable for you to know at least a little of either Finnish or Swedish. CIMO provides hundreds of scholarships to international students based on both academic merit and financial need, including the CIMO Fellowships, the Scholarships for Kindred Peoples, Scholarships for Master's Degrees in Finnish Language, Scholarships for Researchers of the Finnish Language, and a pool of Finnish government scholarships. Their variety of options make CIMO an organization not to be missed when hunting for study abroad awards for Finland.
American Council of Learned Societies
The American Council of Learned Societies (ACLS) is not only a useful overall resource for those completing their higher education, but provides up to 15 million dollars a year in grants and fellowships to graduate students pursuing important research in foreign countries. Master's or Doctoral candidate students wishing to study the humanities or related social sciences in Finland are asked to present a detailed and well-researched plan of academics when requesting funding. Proposals focusing in on one specific cultural, geographical, or linguistic region are also encouraged.
ACLS offers over a dozen different grant opportunities for places all over the globe, including the Charles A. Ryskamp Research Fellowships, which provide over $65,000 for 9-month research term at a university such as the Helsinki Collegium for Advanced Studies at the University of Helsinki in Finland. These awards may be given to high-level graduate students who are also serving as assistant professors in their chosen field.
College Scholarships
Michigan State University
Outstanding students at Michigan State University's Eli Broad College of Business have a unique opportunity to participate in the Business Studies at Helsinki's Aalto University School of Business Administration. Besides being the capital of Finland, Helsinki is a leading European business hub and a perfect context for business studies. Aalto is the largest business school in Finland, and is most well-respected.
Michigan State offers competitive scholarships to outstanding participants in the Helsinki Business program based on academic accomplishment, especially in the department, and financial need for the travel funding. Some monies are even sponsored by MSU partner corporations Ford, Chrysler and Meritor. Scholarships may be applied for online.
Montana State University
Montana State gives its undergraduate and graduate students an opportunity to study abroad in north-central Oulu, Finland at the University of Oulu. Courses at the college are taught in English, Swedish, and Finnish, and range in subject matter from nature and the environment to computer science, modern languages, and Scandinavian studies. Oulu is a beautiful river town and offers much opportunity for students to see the sights and wonders of the countryside.
Any student who has completed at least a year at Montana State and has a 3.0 GPA is eligible to apply for this program. In terms of financial aid, students are eligible for funding and scholarship from the university, which usually creates quite a generous package. Students who receive an "Exchange Placement" will pay only the same tuition that they would pay if they were still in Montana; students who do not receive this qualifier must pay an additional study abroad fee. Students interested must apply for funding through the office of financial aid.
University of Albany
The University of Albany, part of the SUNY collection of colleges, has exchange partnerships with two colleges in Finland: Oulu University – mentioned above – and Abo Akademi University, Finland's only Swedish language multi-faculty college. Students requesting entrance into either of these programs do not necessarily have to have any previous language experience, but must have and maintain at least a 3.0 GPA.
Students may choose from almost any course of study at either of these two Finnish universities. The University of Albany offers cost estimates to help students prepare for the program, as well as a comprehensive financial aid plan including several scholarships that they offer. LinguaLinx, a private translation company, offers some scholarship funding to study abroad students at the university who submit an essay. The partner institutions may also be able to provide some aid in many cases.
More Opportunities to Study in Finland
There are many more private and state colleges and universities that offer study abroad funding and specific programs in Finland. For instance, check out the widespread international offerings at the University of Idaho, which has partnerships with more than a dozen Finnish universities and offers all classes in English. Any student wishing to study abroad in Finland should contact their own home university to see what programs or partnerships they may already have set in place with the Nordic countries.
Graduate students, in particular, may be able to find extensive scholarship offerings to make their study and research in Finland more affordable. Many of these monies are available through private organizations like the ones listed above. To this end, the Society for the Advancement of Scandinavian Study offers the Einar and Eva Lund Haugen Memorial Scholarship which gives $6000 to a graduate student working on a dissertation on a Scandinavian topic.
Country-Specific Study Abroad Scholarships