College Scholarships for Costa Rica
Learn in a Stable, Peaceful and Advanced Environment
Costa Rica offers a rich and varied palette for higher education. University studies that focus on the environment often include coursework in volcanology, rain forest ecosystems, and agriculture – making Costa Rica an interesting and relevant case study. Costa Rica's sustainable ecosystems are studied by biologists, climatologists and other researchers. The country is a pioneer in resource management, and operates a successful government system that is taken-in by many environmental studies degree-seekers.
Conservation of natural resources and economic sustainability are two Costa Rican hallmarks that draw academics, but they are not the country's only areas of study. Tourism and high-tech exports have grown in importance, relative to Costa Rica's traditional agricultural economy, which includes coffee and bananas. Costa Rica's 12 distinct ecological zones draw tourists and students who discover rain forests, rugged mountains, active volcanoes, and beaches facing two oceans—all within a country the size of West Virginia.
The following examples illuminate educational programs and financial opportunities that are in-place for Costa Rican studies: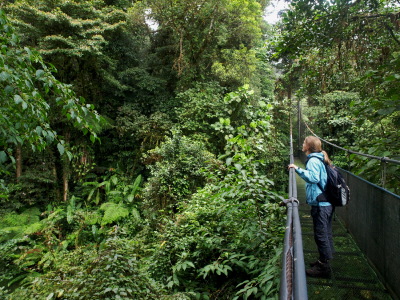 College Programs
The University of Utah sponsors an Environmental Studies in Costa Rica program that attracts competitive applicants. Students accepted into the program may qualify for the following scholarships, to be applied toward travel expenses and tuition costs:
Honors Scholarships for Study Abroad are given to outstanding Honors students. Academic merit is the primary consideration for scholarship administrators who distribute the awards. Each scholarship is worth $1,000.
Global Diversity Scholarships offer awards either to minority students or to those who are studying in a non-traditional country/program. Eligible students must qualify based on academic merit and financial need.
The College of Social and Behavioral Science is responsible for the availability of the Honor Roll, Marie Gaby, and Oakley J. Gordon Memorial Scholarships for the 2013-2014 academic year. Eligible applicants must be:

majoring in one of the undergraduate, degree-granting departments of the College of Social and Behavioral Science (Anthropology, Economics, Environmental and Sustainability Studies, Family and Consumer Studies, Gender Studies, Geography, Health Society and Policy, Political Science, Psychology, Social Science Composite, or Sociology);
able to maintain a minimum 3.2 cumulative GPA (except for the Oakley J. Gordon Scholarship which does not carry the minimum GPA requirement);
enrolled as a full time student (minimum of 12 hours per semester) to qualify for a full-time scholarship; or a part-time student (minimum of 6 hours per semester) to land a part-time scholarship. Part-time students are only eligible for the Honor Roll or Gordon scholarships.
in financial need paying for college
The University of Minnesota sponsors study abroad opportunities in Costa Rica that allow students to pursue multi-disciplinary courses of study on-location in beautiful Costa Rica. Scholarships available to students who participate in the program include:
Joshua Haglund Memorial Peace Scholarships are given to students participating in the Costa Rica program. Awards are worth $500 each.
Billman International Scholarships are open to undergraduate and graduate students engaging in international programs. Outstanding academic transcripts and financial need are required for successful application. Awards are valued at $500 each.
Costa Rican financial aid zeros-in on specialties appropriate to the region, some of which are highly specialized. Students from the University of Kansas are eligible to participate in the Neotropical Bat Ecology in Costa Rica program. Another initiative, The Howieson Opportunity Fund, is a scholarship program sponsored by the KU Biology Department. Students pursuing biological studies abroad are eligible to apply for college funding. Students may also apply for Office of Study Abroad scholarships, which are awarded for summer, semester or year-long programs. All scholarship awards are issued based on a combination of each applicant's academic merit and financial need.
The University of South Florida's Costa Rica Globalization and Community Health Summer Field School program provides a unique opportunity for anthropology students to observe healthcare systems in dramatic flux. Studies take place in a high rain forest preserve. Some candidates qualify for competitive scholarships offered directly through the Office of Study Abroad. Graduate students may apply for fellowships through the Anthropology Department.
Private Organizations
Toyota International Teacher Program is a fully funded financial aid initiative that makes it possible for dozens of qualified educators, from public school systems, to visit Costa Rica and observe the country's educational system in action. Teachers are selected for the program from a handful of states. Candidates are required to undertake rigorous physical activity, so fitness is required. The scholarship program enables teachers to interact with their Costa Rican counterparts, to experience firsthand how the country's educational structure functions alongside social and economic systems.
National Spanish Exams sponsors annual educational scholarships that allow college graduates, working in education, to study abroad in Spain and Costa Rica. Cultural immersion and on-location language studies provide continuing education for Spanish teachers who land NSE scholarships.
Country-Specific Study Abroad Scholarships