Burma (Myanmar) Scholarships
Volatile Political and Social Climate
Myanmar (which is often referred to by its old name, Burma) is located in Southeast Asia, sharing borders with Bangladesh, India, China, Laos, and Thailand, with a coastline on the Bay of Bengal. It was a colonial possession of Britain until 1937, and has been ruled by its military since 1962. Since 2011, the government has become increasingly more open and enthusiastic about instituting political and economic reforms.
Myanmar is rich in natural resources like hydrocarbons, timber, and minerals, meaning the country requires assistance in extracting those commodities in a benign fashion and devising sustainable development practices. In 2012, President Barack Obama became the first American president to visit Myanmar, sending a strong message of intent to include the country among the nation's Asian allies.
Its climate and terrain make Myanmar a perfect location for studying tropical medicine or botany as well as the effects of rising sea levels.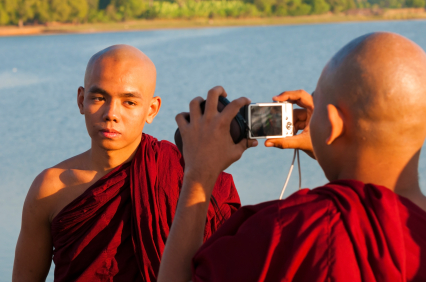 Government Scholarships
Although the David L. Boren Scholarships (for undergraduates) and Fellowships (for graduate students) do not list Myanmar (or Burma) as a preferred country, the program is willing to send you there to study if you make a strong case for the necessity of doing so. Myanmar's geopolitical position makes that justification a simple process, because of America's interest in Southeast Asia.
The Boren Scholarships bring as much as $8,000 for a summer course and $20,000 for a full year, and the Fellowships range up to $30,000. The focus of the Boren program is on studying languages considered useful for national security purposes, since the program is funded by the National Security Education Program (NSEP), and your plans for Boren studies must include both a language and an explanation of how your work relates to the security effort.
Boren awards are made in exchange for government service, in this case fulfilling the NSEP Service Requirement, which means working in government departments like Defense, Homeland Security, or State.
The Fulbright U.S. Student Program is currently offering a Fulbright Public Policy Fellowship in Myanmar. These fellowships are remarkable opportunities for graduate students to work in a foreign government while also conducting research. Recommended fields of study are education, government, and economics in relation to a developing nation.
Familiarity with the Burmese language is preferred, as is knowledge of the region's culture and history.
Private Funds
Blakemore Foundation
If you're planning a career in a profession like law, government, or medicine and you will have frequent need to use the Burmese language, the University of Wyoming's study-abroad office recommends the Blakemore Freeman Fellowships. These awards will send you to Myanmar for an academic year of advanced language study. You must have an undergraduate degree, have mastered the language's intermediate level, and spend all your time in language studies while in Myanmar.
Asian Cultural Council
If you're sufficiently advanced in Burmese studies to design your own course of independent study, you can submit an application for funding to the Asian Cultural Council, which supports both artistic endeavors and graduate-level research. These awards are highly competitive and the level of sophistication expected in your proposal is high, but if you can appeal to the judging committee's sense of scholarly value the Council will send you to work in Myanmar.
Scholarships From Colleges
University of Hawai'i at Manoa
The Center for Southeast Asian Studies at the University of Hawai'i at Manoa offers the Moscotti Fellowship for Graduate Studies of Southeast Asia, which can be used to pay for travel to and research in Myanmar. The awards are usually between $750 and $1,500. You must be studying in the College of Arts & Sciences toward a degree related to Southeast Asia, and you should be attending full-time with a GPA of 3.0.
Northern Illinois University
Northern Illinois University has established the Paul J. Bennett Memorial Fund to support the field of Burmese studies, which underwrites scholarly projects related to Myanmar for students at NIU and other universities. To give you an idea of what work is likely to be funded, recent awards include $2,000 to a graduate student doing archaeological research and $2,500 to publish an English translation of a Burmese book.
Cornell University
Cornell University's Department of Asian Studies provides complete training in the Burmese language, including both literary and colloquial styles, and for students who wish to travel to Myanmar there is the Asian Studies Summer Travel Award. The award pays your travel and living expenses for a summer. You must have finished two years of study in the Burmese language, and plan to attend Cornell in the fall semester following your travels.
NOTE: If your country of choice is under an official travel warning, that may affect any applications you submit. Please check application requirements carefully.
Country-Specific Study Abroad Scholarships