Scholarships in Bangladesh
Brush Up on Your Bangla
Bangladesh is a low-lying Southeast Asian country bordering India and Burma and the Bay of Bengal. Students headed to Bangladesh are typically studying in culture and language. Economically, the country remains relatively poor, with the garment industry and rice production heading its main economic sectors. It has long suffered from inefficient governance, infrastructure and corruption, but many forecasts suggest the country is an emerging factor in the global marketplace. Bangladeshis regularly battle monsoons and floods and scratch out a meager existence, which also makes the region applicable for humanitarian and sustainable developments studies and projects. The primary language is Bangla, though English is widespread, too, due to its long British colonial history.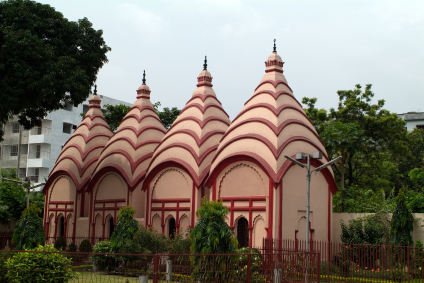 Government Funding
Council of American Overseas Research Centers
The Council of American Overseas Research Centers (CAORC) encourage pre-doctoral and senior scholars to pursue independent research that will increase of America's knowledge and understanding of foreign cultures. Students at a pre-dissertation level can participate in the American Institute of Bangladesh Studies (AIBS) program to study history, anthropology, sociology, gender and other subjects, such as politics, religion and sustainable development. Funding for CAORC programs comes from the U.S. Department of State, the U.S. Department of Education, and the Smithsonian Institution, as well as from private foundations and individuals. The focus is on countries of vital importance to the United States, as well as the conservation of cultural heritage and the interpretation of modern societies.
National Institutes of Health
If you are interested in pursuing clinical or global health research through an international study abroad program in Bangladesh, you might consider exploring the options available through the National Institutes of Health Fogarty International Center. It is a clearinghouse for global health initiatives funded through the NIH and non-NIH organizations. Providing breast cancer care and arsenic studies are two fields that have been undertaken recently in Bangladesh by American doctors and scholars. Fellowship opportunities and programs change, so investigate your area of interest.
Benjamin A. Gilman International Scholarships
More than 2,300 scholarships of up to $5,000 annually are given for study programs around the globe, including Bangladesh. Benjamin A. Gilman International Scholarships are provided by the federal government and awarded to disadvantaged students who otherwise would not be able to afford to study abroad. The first clue is that applicants for the program must be federal Pell Grant recipients. The Gilman Scholarship Program targets students who have been traditionally under-represented in study abroad, including but not limited to, students with high financial need, community college students, students in under-represented fields such as the sciences and engineering, students with diverse ethnic backgrounds, and students with disabilities. Other criteria for acceptance includes being in good academic standing and a commitment to study in one country for at least four weeks.
Country-Specific Study Abroad Scholarships